Edited by Gavin Cawthra
African Security Governance: Emerging Issues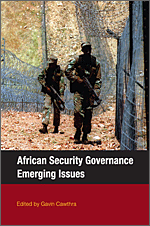 African Security Governance: Emerging Issues
Edited by Gavin Cawthra
ISBN: 978-92-808-1177-3
218 pages; paper; US$32.00
December 2009
Sample chapter (1.9 MB PDF)
Africa faces a seemingly ever-increasing range of security challenges. The traditional threats of civil and border conflicts, crises of governance and military coups may have receded but they remain active. Meanwhile, other issues have risen to prominence, such as globalisation, security sector reform, terrorism, private security actors, peacekeeping and peace-building and the proliferation of weapons of mass destruction.
This book is a result of research carried out over a number of years by the Southern African Defence and Security Management Network (SADSEM) on many of these new and emerging security issues, in cooperation with the Danish Institute for International Studies and the Friedrich-Ebert-Stiftung.
The broad focus is on security governance – the role of state and a wide range of social actors in the areas of both human and state security. It deals with a range of sectors, themes and national case studies and makes an important contribution to debates on security sector reform. The topics covered include policing transformation, intelligence governance, regulation of private security actors, challenges of nuclear proliferation, regional security, peace diplomacy and peace missions, the relationship between development and security and new challenges in governance of the military.
Written by scholars as well as practitioners, and African as well as international researchers, it brings a variety of insights to new as well as traditional security concerns.
Gavin Cawthra is Chair in Defence and Security Management at the University of the Witwatersrand, Johannesburg.
Table of contents
Introduction
Security: Some critical observations about concepts and policies, Dietrich Jung
The security sector: Leviathan or Hydra? Bjørn Møller
Transforming safety and security in Southern Africa: Some trends and more challenges, Elrena van der Spuy
Governing intelligence in the South African Transition, and possible lessons for Africa, Sandra Africa
Regulating private military and security companies: South Africa and the continent, Raenette Taljaard
Nuclear Weapons: Implications for Africa, Gavin Cawthra and Bjørn Møller
Southern African Security Governance: A Cautionary Tale, Anthoni van Nieuwkerk
Peace diplomacy: The South African National Defence, Force in Burundi, Thomas Mandrup
The link between sustainable development and, security in Botswana, Mpho G Molomo
Governance of the military in Zambia, Godfrey Haantobolo
Governance of defence in Namibia, Vincent Mwange
◊◊◊
Page last modified 2019.04.16.
Top