Carolyn Bull
No Entry Without Strategy: Building the Rule of Law under UN Transitional Administration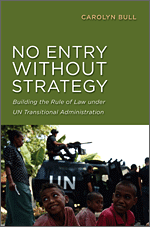 No Entry Without Strategy Building the Rule of Law under UN Transitional Administration
By Carolyn Bull
ISBN 978-92-808- 1151-3
360 pages; paper; US$35.00
March 2008
Sample Chapter (276 KB PDF)
For international actors seeking to consolidate peace and democracy in disrupted states, the importance of establishing the rule of law is now well-recognised. Yet this goal has proven frustratingly elusive. UN peace operations have struggled to ensure lasting security against violence and to build legitimate structures to redress disputes peacefully. It has proven even harder to instill principles of governance that promote accountability to the law, protect against abuse and generate trust in the state. In championing such goals, UN state-building missions have pitched against the odds. Beyond the complicated tasks of reforming laws, judiciaries and police forces, UN actors have confronted a fundamental dilemma: if embedding the rule of law rests on complex political and social transformations regarding conflict, power and the state, can external actors make a difference? This book investigates the challenges faced by UN transitional administrations in establishing the rule of law in Cambodia, Kosovo and East Timor. In so doing, it explores conceptual understandings of the UN's state-building agenda and speaks to broader questions about the role of external actors in disrupted states.
"The UN's resources for keeping the peace and building states are being strained by so much peace to keep and so many fragile states to nurture and consolidate. In this significant contribution to the theory and practice of UN peacebuilding, a number of cases are studied to draw key lessons for establishing domestic and international order on the secure foundations of a robust rule of law."
—Ramesh Thakur, Distinguished Fellow, The Centre for International Governance Innovation and former Senior Vice-Rector of the United Nations University and Assistant Secretary-General of the United Nations
Carolyn Bull has a Ph.D. in Politics from the University of New South Wales. She currently manages the East Asia regional portfolio for the Australian Agency for International Development. She was a career diplomat with the Australian Department of Foreign Affairs and Trade from 1993-2006.
Table of contents
Themes
Introduction: The elusive goal
Ambitions: The state-building agenda of UN transitional administrations
Concepts: The rule of law in UN state-building missions
The line of least resistance: The UN Transitional Authority in Cambodia
State-building without a state: The UN Interim Administration Mission in Kosovo
Beyond the blank slate: The UN Transitional Administration in East Timor
No entry without strategy
◊◊◊
Page last modified 2019.04.16.
Top