UNU's ISO status has been renewed (valid until 2013)
Cool UNU campaign starting on 1 July 2009


United Nations University (UNU) starts the Cool UNU campaign from 1 July until 30 September 2009 in the United Nations University Headquarters building in Tokyo. During the campaign, we will set the air conditioning temperature at 28 degrees Celsius in office space and 26 degrees Celsius for the conference halls.
United Nations University implemented the "Warm UNU" campaign during December 2008 - February 2009. This campaign aimed to reduce the energy consumption of the UNU and increase the awareness of the staff while keeping the comfortable working environment. The campaign has significantly reduced the 5% of electricity and 12% of gas consumption in the United Nations University Headquarters building.

Warm UNU campaign is launched on 1 December 2008!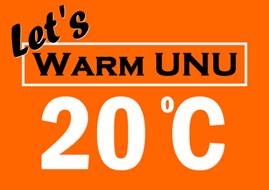 In order to reduce the energy consumption and green house gases foot print of the United Nations University Headquarters, we started to implement the "Warm UNU" campaign from December 1, 2008. The campaign will be conducted for 3 months until the end of February 2009. The Warm UNU campaign is initiated by the UNU's ISO Working Group.
During the Warm UNU campaign, we will reduce the temperature of the conference hall and office rooms. We are urging all units to set the heating temperature at 20 degrees Celsius. We encourage our colleagues and guests to wear suitable clothing and practice work styles that help to keep you warm. The use of electric heating devices will not be banned, yet should also be refrained by your generous efforts.
As a part of the Campaign efforts, thermometers will be distributed to each room and space in UNU Centre.
Let's Warm You and You.
ISO Working Group
ISO Report 2007 is now available
The ISO Report 2007 is now available. The report examined UNU-Centre building's utility consumption as well as its CO2 emission. The report also analyzed the CO2 emission from individual UNU-Centre travelers.
The ISO Report 2007 --- 140 KB
Encouraging environmental management of UN and academic organizations
UNU ISO 14001 Co-Implementation Officer visited Colombia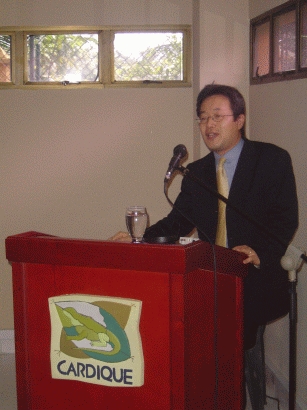 Dr. Fukuya Iino, one of the ISO 14001 Co-Implementation Officers has visited Colombia with kind support of the Colombian Japanese Chamber of Commerce and Industries, Universidad de Ciencias Aplicadas y Ambientales - U.D.C.A,, Politécnico Grancolombiano Institución Universitaria, and other organizations between 20-26 October to share the UNU's ISO 14001 efforts with universities and private sectors. Colombian universities have started exploring possibilities to introduce such environmental management systems into their campuses.
New management team to reactivate the ISO 14001 activities
The UNU ISO 14001 Working Group is going to revitalize its Environmental Management Systems. The new working group is determined to work on UNU's travel and renewable energy policies of the UN House in Tokyo.
◊◊◊
Top