Asia POPs Monitor
Issue 22, October 2007
Project result from Thailand
Distribution of Persistent Organic Pollutants (POPs) in Water and Sediment from Aquatic Environment, Thailand
Boonyatumanond Ruchaya, Thongklieng Sunitra
Environmental Research and Training Center, Technopolis, Klong 5,
Pathumthani 12120, Thailand
Submitted to 3rd JSPS, 3-5 August, 2007, Indonesia

Abstract
To assess the status of persistent organic pollutants (POPs) in Thailand, we collected sediment and water samples from four main rivers and the coastal area during 2004 to 2005. All samples were analyzed for Hexachlorobenzene, heptachlor, aldrin, dieldrin, endrin, cis-chlordane, trans-chlordane, mirex, DDT-isomers and polychlorinated biphenyls (PCBs). The POPs concentrations detected in water samples ranged from ~1 to 20 ppt (ng/L). The sediment samples identified aldrin, trans-chlordane, cis-chlordane, dieldrin, endrin, p,p-DDD, and p,p-DDT. The highest concentration of POPs residue in sediment ranged p,p-DDT 0.5 to 11.5 ng/g. The total PCBs concentrations were calculated from 44 isomers and congeners. The results showed a decreasing trend of PCBs concentration in sediment from canals, the river mouth of the Chao Phraya River and the estuary of the Chao Phraya River to the upper Gulf of Thailand. The amounts detected ranged from 933 to 112 pg/g, 70 to 217 pg/g, 25 to 56 and 128 to 194 pg/g, respectively. Comparison of PCBs residues among the four main rivers, which flow to the upper Gulf of Thailand, indicated that the Chao Phraya River was the main contributor of PCBs to the upper Gulf of Thailand.
Abstract : persistent organic pollutants, POPs, sediment, river, PCBs, Thailand

UNU presented its project results at Dioxin 2007
The 27th International Symposium on Halogenated Persistent Organic Pollutants (Dioxin 2007) was held between 2-7 September 2007, in Tokyo. UNU presented its project results between 2002-2006 on monitoring POPs in water, sediment, and biota samples.
UNU Project Poster (660KB)
Dioxin Conference Website (external link)

Upcoming Events
14 November 2007, Indonesia
UNU Symposium on POPs: Global Transport, Best Environmental Practice, and Risk Perception
The Environmental Monitoring and Governance in the Asian Coastal Hydrosphere project hosts a symposium every year at the project partner country. This year the symposium will be held in Indonesia and will focus on POPs issues linked to the specific issues of this region, haze issues.
Opportunities at UNU
UNU International Course 2008: The application deadline is 10 January 2008.
Introduction of External Publication by Eric Wolanski
Ecohydrology is a multidisciplinary science that integrates disciplines such as hydrology, ecology and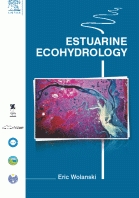 mathematical modeling with the aim of generating solutions for the worldwide water crisis. This book, appropriate for use as a textbook and as a reference, focuses on the principal components of an estuary, including the river, the estuarine waters, the sediment, the nutrients, the wetlands, the estuarine food web, and the coastal ocean. Although each chapter contains rigorous specialist knowledge, it is presented in an accessible way that encourages collaboration between aquatic, marine and wetland biologists, ecologists, oceanographers, geologists, geomorphologists, chemists, and ecosystem modelers.
Estuarine Ecohydrology demonstrates how, based on an understanding of the processes controlling estuarine ecosystem health, one can quantify its ability to cope with human stresses. The theories, models, and real-world solutions presented will serve as a toolkit for designing a management plan for the ecologically sustainable development of an estuary.

◊◊◊
Top