Towards a Vibrant Africa
UNU and the TICAD Process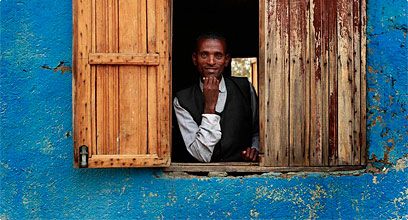 Photo courtesy of Steve Evans.
The Tokyo International Conference on African Development process was begun in the early 1990s by the Japanese government with the aim of highlighting the need for and importance of developed countries to further strengthen their support for the African continent. When the first Tokyo International Conference on African Development was held in 1993, it ushered in a continuing process of support for Africa and consensus-building around African development priorities with the TICAD conference being held every five years. The TICAD process has evolved into a major global platform for Asia and Africa to collaborate in promoting Africa's development.
TICAD aimed from its inception to enable high-level policy dialogue between African leaders and development partners. The conference is co-organized with the United Nations Office of the Special Advisor on Africa, the United Nations Development Programme, and the World Bank.
With the end of the cold war, a general sense of aid fatigue set in during the early '90s which manifested in a decline in aid. The Japanese government with the first TICAD conference in 1993 reinvigorated the development dialogue and brought to the forefront African development issues, making them a top priority on the international agenda.
The longstanding efforts of the Japanese government to further African development and achievement resulted in African leaders' participation in the G8 Summit outreach dialogue held in Okinawa in 2000.
Over the past decade, the United Nations University has contributed to the TICAD process through its research and capacity development activities. In 1998, the UNU and the African Economic Research Consortium prepared a policy brief entitled Strengthening Africa's Participation in the Global Economy. Five years later, in 2003, UNU took into account priorities identified by the New Partnership for Africa's Development (NEPAD), such as the role of infrastructure, capital flows, integration and the possible synergies between NEPAD and the TICAD Process, and presented some policy recommendations in a document entitled TICAD III: United Nations University's Policy Brief.
◊◊◊
Page last modified 2019.04.16.
Top