Expert assails "dirty" electronics industry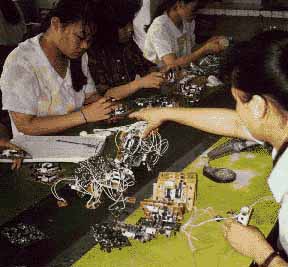 Young women workers in an electronics factory
Workers in the electronics industry suffer higher exposure to toxic substances than their counterparts in the pesticide and chemical manufacturing industries, participants at a recent UNU Institute for New Technologies (UNU-INTECH) research seminar were told.
"Electronics could be a clean industry, but it's not," said Prof. David A. Sonnenfeld, associate professor of community and rurla sociology at Washington State University and currently a guest professor with the Environmental Policy Group at Wageningen University, The Netherlands.
Drawing on numerous examples taken from across the spectrum of raw materials extraction, production and assembly through the end-of-life disposal of computing and electronic equipment, Prof. Sonnenfeld painted a picture of an industry that has been every bit as 'dirty' as most traditional manufacturing industries.
He said that of the 700 compounds that go into the production of one computer workstation, a large number (including lead, cadmium, barium, mercury, bromine and carbon black) are toxic, exposing workers to a range of serious health risks such as cancer, miscarriage and birth defects.
Among the cases cited during the seminar:
Chinese labourers ". . . using acid, fire and their bare hands to recycle mountains of electronic scrap, most of it from the U.S. The peasant works without a break, smashing cellphone chargers, battery packs from laptop computers and other electronic refuse."

A typical e-scrapping operation involving hundreds of thousands of peasants and migrant workers spread across several villages ". . .breaking down imported computers in hundreds of small operations" with disastrous human health and environmental consequences."

Sonnenfeld
Sonnenfeld also discussed some of the industry's positive accomplishments including elimination of the use of ozone-depleting chloroflourocarbons; adoption of environmental product design practices and ISO 14000 environmental management systems; development of lead-free soldering, components, products; some firms' adoption of occupational health and safety system; and even a few which have recognised trade unions. Much remains to be done however, he argued, to make electronics manufacturing more socially and environmentally sustainable.

He cited as one of the 'best governance practices', the European Union's WEEE (Waste from Electronic and Electrical Equipment) Initiative requiring producers of electronic goods to be responsible for the end-of-life disposal of electronic waste. The potential of this law is already being demonstrated in the action taken by some companies to voluntarily eliminate the use of lead even in advance of implementation of the initiative, he said.

STOP SPAM! A Javascript-enabled browser is required to email