This is the old United Nations University website. Visit the new site at http://unu.edu
---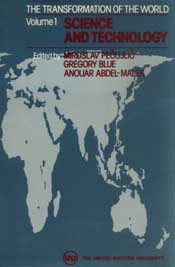 Science and technology in the transformation of the world - Volume I
---
---
Edited by
Miroslav Pecujlic,
Gregory Blue and
Anouar Abdel-Malek
THE UNITED NATIONS UNIVERSITY
in association with
MACMILLAN PRESS LTD
© The United Nations University 1982
English language edition (c) Macmillan Press Ltd 1982
All rights reserved. No part of this publication may be reproduced or transmitted, in any form or by any means, without permission.
First published 1982 by
Scientific and Medical Division
MACMILLAN PRESS LTD
London and Basingstoke
Companies and representatives throughout the world
Typeset in Press Roman by Multiplex Techniques Ltd. Orpington, Kent.
ISBN 0 333 32903 1
---
---
Preface: The transformation of the world - The gearbox of priorities
I Science and technology as formative factors of contemporary civilisation: From domination to liberation
II Technology generation and transfer: Transformation alternatives
III Biology, medicine and the future of mankind
IV The control of space and power
V From intellectual dependence to creativity
Appendix 1 Reports on sections and general report on the international seminar