This is the old United Nations University website. Visit the new site at http://unu.edu
---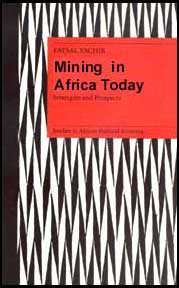 Mining in Africa today - Strategies and prospects
---
---
General Editor: Samir Amin
THE UNITED NATIONS UNIVERSITY/THIRD WORLD FORUM
STUDIES IN AFRICAN POLITICAL ECONOMY
The United Nations University's Project on Transnationalization or Nation-Building in Africa (1982-1986) was undertaken by a network of African scholars under the co-ordination of Samir Amin. The purpose of the Project was to study the possibilities of and constraints on national autocentric development of African countries in the context of the world-system into which they have been integrated. Since the 1970s the world-system has been in a crisis of a severity and complexity unprecedented since the end of the Second World War; the Project examines the impact of this contemporary crisis on the political, economic and cultural situation of Africa today. Focusing on the complex relationship between transnationalization (namely, the dynamics of the world-system) and nation-building, which is seen as a precondition for national development, the Project explores a wide range of problems besetting Africa today and outlines possible alternatives to the prevailing development models which have proved to be inadequate.
TITLES IN THIS SERIES
M.L. Gakou
The Crisis in African Agriculture
1987
Peter Anyang' Nyong'o (editor)
Popular Struggles for Democracy in Africa
1987
Samir Amin, Derrick Chitala, Ibbo Mandaza (editors)
SADCC: Prospects for Disengagement and Development in Southern Africa
1987
Faysal Yachir
The World Steel Industry Today
1988
Faysal Yachir
Mining in Africa Today: Strategies and Prospects
1988
Other titles in preparation
Mining in Africa Today - Strategies and Prospects
Faysal Yachir
The United Nations University
Tokyo
Zed Books Ltd.
London and New Jersey
Mining in Africa Today: Strategies and Prospects
was first published in 1988
by
Zed Books Ltd. 57 Caledonian Road, London N1 9BU, UK, and
171 First Avenue, Atlantic Highlands, New Jersey 07716, USA
and
The United Nations University, Toho Seimei Building,
15-1 Shibuya 2-chome, Shibuya-ku, Tokyo 150, Japan
in co-operation with
The Third World Forum, B.P. 3501, Dakar, Senegal.
Copyright © The United Nations University, 1988.
Cover designed by Andrew Corbett.
Typeset by Acorn Printing and Typesetting, Bath.
Printed and bound in the United Kingdom at The Bath Press, Avon.
All rights reserved.
British Library Cataloguing in Publication Data
Yachir, Faysal
Mining in Africa today: strategies and prospects. -
(The United Nations University/Third World Forum studies in African political economy; 5).
1. Africa. Mining industries
I. Title II. Series
338.2'096
ISBN 0-86232-738-5
ISBN 0-86232-739-3 Pbk
Library of Congress Cataloging-in-Publication Data
Yachir, F.
Mining in Africa today.
(Studies in African political economy)
Translation of: Enjeux miniers en Afrique.
1. Mineral industries - Africa. 2. Mines and mineral resources - Africa.
I. Title. II. Series.
HD9506.A382Y3413 1988 338.2'096 88-17166
ISBN 0-86232-738-5
ISBN 0-86232-739-3 (pbk.)
---
---
1. Deficit in the north, specialization in the south
Mineral specialization in Africa
Mining countries and mineral specialization
2. Africa in world mining geography
3. Trends in mineral specialization
4. Control of the world mineral industry
The aluminium oligopoly
The copper oligopoly
Concentration in the iron and uranium sectors
5. The technology of mining and metallurgy
6. The strategies of transnationals
Technological strategies
Investment diversification strategies
Collective investments
Finance strategies
7. Control of African mineral fields
8. Mine rents and mineral prices
9. Mining or industrialization specialization?
The unbalanced processing of copper in Africa
Bauxite processing and aluminium production in Africa
Iron ore export and steel production