---
This is the old United Nations University website. Visit the new site at http://unu.edu
---
Towards an interim local government
The Chamber was the brainchild of the Soweto Civic Association, itself the popular alternative to the (puppet) Black local authority of Soweto. The Chamber was formally constituted in April 1991, following the signing of the Soweto Accord in September 1990 by five of the bodies involved in the provision of services to Greater Soweto. The parties initially involved were the Transvaal Provincial Administration, the municipal councils of Soweto, Diepmeadow, and Dobsonville (see fig. 5.4), and the Soweto People's Delegation (an organization of civics with links to the African National Congress). The agreement settled a two-year-long running dispute over poor services, rent boycotts, and unviable local authority structures. In the Accord, provision was made for the writing-off of rental arrears, the introduction of new service tariffs, the ending of the rent boycott, the establishment of joint technical committees, which would provide expertise for the Chamber, and the creation of a trust fund (or local fiscal base) known as the Greater Soweto People's Fund (Jute, 1990; Solomon, 1992; Turok, 1993).
Despite a number of crises that saw disputes about membership, the setting of interim tariffs, renewed boycotts, and sporadic outbreaks of violence in the townships, the Chamber managed by September 1994 to reach agreement not only on the formation of a Transitional Metropolitan Council (for Greater Johannesburg) but also on the realignment of the municipal boundaries of its current constituent municipalities into seven new municipal substructures (or MSSs). They were designed to serve as the base for the first democratic local authority elections in November 1995, after which the Transitional Johannesburg Metropolitan Council became the supreme local authority. In August 1995, the boundaries were again reorganized and reduced to the four MSSs that were used in the November 1995 elections (fig. 5.6). In essence the municipality of Johannesburg has been slashed and linked to formerly peripheral municipalities (see figs. 5.2 and 5.6). Parts of "old" Johannesburg are now part of the enlarged municipal areas of Randburg and Sandton, with the Black township of Alexandra being incorporated with the latter. Dobsonville (formerly part of Greater Soweto) has been amalgamated with Roodepoort. The central parts of Johannesburg, including the CBD, have been amalgamated to give rise to an enlarged "new" Soweto (or southern MSS). The manner in which the boundaries have been drawn is such that virtually every new municipal area includes a mixture of old political groupings as well as areas of "haves" and "have note." The new boundaries mean that a significant number of depressed areas, black townships, and informal settlements now fall within and have become the responsibility of essentially white-contributing tax bases.
Only after the local elections will the black townships begin to experience by right what a local authority should provide, viz. sanitary services, electricity, piped water, roads, public transport, libraries, parks, and communal recreational services. In respect of health, housing, education, and policing, the communities will remain dependent upon the administration of the province, which in turn is dependent in large measure on the central government for its share of the state's financial resources.
The challenge for the immediate and foreseeable future is how to meld the disadvantaged and advantaged parts of the metropolitan area into a functional whole, while uplifting the underdeveloped areas but retaining the ability to draw sustainable taxes for the common fiscal base from the more developed areas. Unfortunately the task will not be easy. Despite having written off general arrears incurred up to 1990, in September 1994 local authorities were again hit by a massive boycott of rent and service payments from residents in black areas. Despite agreeing that arrears for service charges up to January 1994 would be written off, the region was again in turmoil as residents (mainly in Black, Coloured, and Indian townships) demanded very low "flat rates" for sanitary services and unlimited amounts of water and electricity regardless of the incomes of individual consumers. Furthermore there was a demand that the houses they occupy should be given to them, irrespective of whether they are rented from the state or are still mortgaged to private financial institutions. By the beginning of October 1994 communities of impoverished white residents were claiming the same concessions.
Fig. 5.6 The new "municipal" boundaries of the Johannesburg Metropolitan Area (Source: based on Johannesburg Transitional Metropolitan Council, Map of Greater Johannesburg Metropolitan Council, August 1995)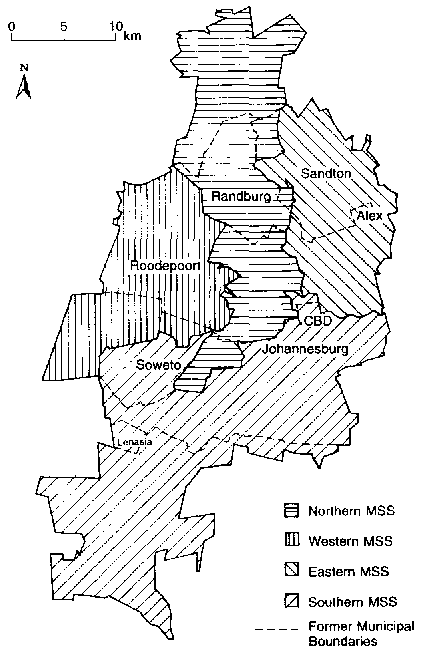 Not only will resolution of the "give me" demands be difficult but the creation of a non-racial urban texture will be slow. In the foregoing text, some indication of the spatial marginalization and the both relative and absolute differences between Soweto and former white "Johannesburg" has been given. It is now necessary to provide a little more of the contemporary detail that relates to key geographic areas and aspects of the job market in the formal sector. Thereafter it will be possible to highlight some aspects of the specific frameworks and strategies that are on the drawing-board to satisfy the political challenges that are a prerequisite to a peaceful racially integrated metropolitan area.
Stagnation and population increase: Foundation problems facing the Johannesburg Metropolitan Area
As indicated earlier, the rosy picture that can be painted of the infrastructural strengths of the PWV in general, and particularly of Johannesburg and its immediate neighbouring municipalities, is rather one sided. Over the past dozen years in particular, the dynamics of South Africa's primate metropolitan region were stifled and allowed to become contorted. On the one hand, the economy of the country, and hence the PWV region, was increasingly choked by the effect of economic sanctions, not least the refusal of foreign bankers to roll over loans. On the other hand, the state was engaged in a last desperate fling of the apartheid dice and was determined to make the Bantustans viable in the hope that this would "solve" the "problem" of too many Black people being in the white metropoles. As the effects of sanctions and a general recession bit deeper and popular resistance forces grew in strength, unemployment rose partially as a result of lost markets and partially because businesses invested in job-cutting machines. A decade of severe droughts and the relative lack of success of the government's decentralization policy in the Bantustans saw many more Black people streaming to the cities (Urban Foundation, 1990, 1991). In the case of Johannesburg and the central Witwatersrand, the accommodation crisis, for those people then still excluded by apartheid laws from the white space, manifested itself in an increasing number of backyard shacks and shack settlements in the relatively rural area on the immediate periphery of the metropolis. By 1990 the number of people living in informal settlements in the PWV had reached 377,000. In addition there were about 1.2 million people living in some 422,000 self-built backyard shacks in the formal Black townships, together with a further 700,000 living in formal brick-and-mortar outbuildings (Urban Foundation, 1991; Beavon, 1992b). Many of the informal settlements beyond the black township boundaries were established on land that is on the periphery of the formal built-up area of the metropolis. Under the apartheid regime, that land was owned by private white people and their public bodies, including municipalities. Conflicts inevitably arose when land was illegally occupied and were resolved only when squatters were evicted or compensation was paid. One of the grounds for eviction was that shelters did not accord with the building regulations applicable to the occupied land. Since 1991 it has been possible for groups of people who legally occupy peripheral land, under whatever agreements, to erect self-help housing that is now legal under the specifications contained in the Less Formal Township Development Act promulgated in 1991 (Latsky, 1991).
Against the backdrop of the preceding remarks, it should be clear that the need for, and, since April 1994, the expectations of, acceptable formal housing for some 2 million shack and informal settlement people, representing 23 per cent of the PWV population and some 43 per cent of the region's Black population (Crankshaw, 1993), are high. Furthermore the needy expect that housing to be provided by the "new" government. Notwithstanding the fact that large tracts of derelict former mining land, still owned by mining houses, have long stood virtually empty within a short distance of the CBD of Johannesburg (see figs. 5.3 and 5.7a) and parallel with the main east-west transportation corridor of the Witwatersrand, no attempt was made by the apartheid regime, the mining houses, or the white local authorities to utilize that space in an attempt to solve at least some of the accommodation crisis. Although only minor pockets of informal housing had sprung up on the vacant land by late 1994, the possibility of a major land invasion remains.
It is to a slightly more detailed consideration of some of the matters just mentioned that attention now turns. In so doing, the setting for the consideration of the future will be completed.
Almost immediately on taking office in 1948, and certainly from 1950, the National Party, which governed South Africa continuously until the end of April 1994, conflated regional development policy and practice with the social engineering of apartheid (Rogerson, 1994a). The essence of the government's regional development was to decentralize manufacturing, and thus jobs and job opportunities, to a variety of specifically selected "growth points" situated either just on or within the borders of the Bantustans, despite the very real agglomeration economies that were offered by the PWV region in general (Rogerson, 1988; Tomlinson, 1990) and the Johannesburg Metropolitan Area in particular. Following the 1976 uprisings the state was determined to "move" its problems away from the white metropolises as soon as possible. Consequently the early 1980s saw the introduction of a more vigorous programme of regional industrial development (known as the RIDP), of which the intention was to drain industry, notably from the core of the PWV, to a host of peripheral growth points. The plan was "lubricated" by massive startup incentives and tax breaks. The minor successes and the overall failure of the RIDP by the late 1980s are not matters for concern here, but can be followed up elsewhere (see, inter alia, Cobbett et al., 1985; Wellings and Black, 1986; Rogerson, 1991). More immediately relevant to the focus of this chapter is the fact that growth in formal employment in the PWV stagnated during the 1980s (Hall et al., 1993; Mabin and Hunter, 1993). Not only did the demand for labour fall some 2 per cent shy of the 4.5 per cent growth in the economically active population between 1985 and 1989 (DBSA, 1991b), but the major loss of jobs was in manufacturing. Between 1980 and 1991, it is claimed that the PWV lost some 143,400 manufacturing jobs, of which 59,000 were from the central Witwatersrand or Johannesburg Metropolitan Area (Central Witwatersrand Metropolitan Chamber, 1993, Annexure 6). The significance of these data helps to explain the surge in informal sector participants who operate not only in the Black townships but in overwhelming numbers in the central business areas of Johannesburg. In 1979/80 a survey of hawkers operating in the "defended space" of the white CBD of Johannesburg revealed a total of between 200 and 250 (Beavon and Rogerson, 1982). Recent estimates by the City Council of informal operators in Greater Johannesburg put the current number at 15,000 (Rogerson, 1993), with some 5,000 in the central city area.
Fig. 5.7 Zones of opportunity and priority areas identified in the Interim Strategic Framework (Source: based on GAPS, 1993)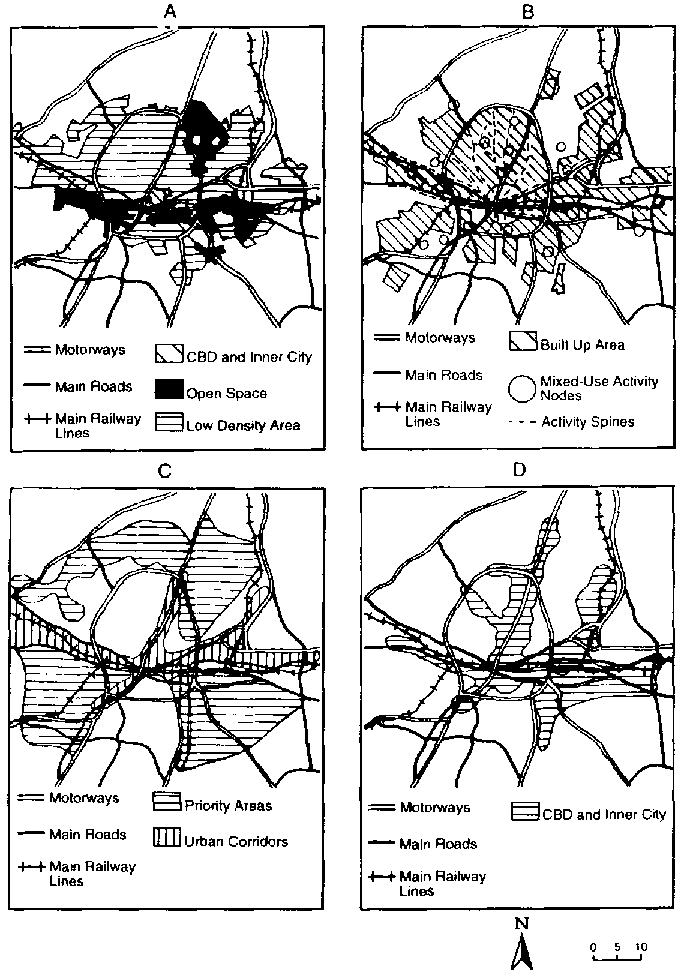 The regional development policy was revised substantially in 1991 (after President de Klerk had undertaken to lead the country towards democracy). From 1991 there was a pattern of graded industrial incentives spread across the country. There are, however, no incentives on offer for industries wishing to locate in the core region of the PWV, although firms selecting sites in the immediate periphery of the core can attract a 60 per cent establishment allowance (Rogerson, 1994b). By late 1994 there had been no change in the policy by the new government. None the less, the possibilities for changes to match the state's intentions as set out in the Reconstruction and Development Programme cannot be ruled out, and that could alter the prospects for increased formal job opportunities in the Johannesburg Metropolitan Area.
In the early to mid 1980s, accommodation pressure in the Indian, Coloured, and Black townships grew considerably. At the same time, formal businesses in the CBD were increasingly aware that apartheid was entering its death throes and many city-centre firms, in disregard of then current racial laws, began to employ increasing numbers of office workers who were not white people. In 1960 there were approximately 7 whites for every 1 black employee in the CBD. In the 1970s the ratio was 2 to 1 and in 1993 it was 1 white employee to 0.85 black (Mandy, 1984; Prinsloo, 1994). The combination of accommodation pressure in black areas and employment in the city centre, together with the inadequacies of public transport to and from the peripheral "locations," prompted an increasing number of so-called "non-white" people to seek rental accommodation near their new places of work. The events of 1976, and the growing mass actions of the 1980s, had already induced a degree of white flight from the innermost parts of the city, where owners of old apartment blocks were advertising an increasing list of vacancies. When the white tenants "dried up," the landlords "decided" to admit people of other racial groups, and the process known in South Africa as "greying" commenced (Hart, 1989; Cloete, 1991).
Despite various attempts by the state to put a stop to "graying," the process of ethnic transformation in the inner-city residential areas continued. Given that they were "illegal" residents in an area reserved under apartheid legislation for white people, the poorer of the new arrivals soon fell victim to unscrupulous landlords. Rack-renting became common but, because the tenants were black, they were unable to seek legal respite, because in the eyes of the "law" they were first and foremost "illegal" residents in the "wrong group area." The net result over several years was overcrowding of inner-city apartment blocks as additional "sub-tenants" were brought in to assist those already there in meeting escalating rentals per unit. What has followed in recent years is deterioration of the inner-city apartment stock and the emergence of new "slums" populated by poor, underemployed, and unemployed black people.
The repeal of the Group Areas Acts in the early 1990s, almost four years before the general election, did little to stop the rot and improve the living conditions of the new inner-city residents, notwithstanding that access to all facilities was available to all people. By then the building stock had deteriorated to such an extent that lending institutions had implemented "red-lining," thereby in effect preventing new inner-city owner-occupiers from emerging (Crankshaw and White, 1994). Now (in 1994), although the inner-city residential areas, with 45 per cent Black residents, 20 per cent Coloured, and 14 per cent Indian (Dauskardt, 1993), more closely represent the demographic profile of the country, they have become a zone of physical blight, which in turn makes the "besieged" central business district distinctly unattractive to retail businesses. As such, many new commercial developments tend to seek premises not only in the low-density northern suburbs, but also in the distant and affluent suburbs of the "new" south, which are predominantly occupied by white people. Consequently, it can be argued, there is a current tendency to replicate a form of residual de facto segregation. Thus, as the metropolis enters a new era, it is confronted with several harsh realities that have the potential to sabotage the Reconstruction and Development Programme in the heart of Gauteng, the major province of South Africa. By way of illustration, five "problems" are highlighted here.
First is the fact that the Johannesburg Metropolitan Area lost formal jobs, in absolute and relative terms, throughout the 1980s and early 1990s at a time when ever-increasing numbers of its people are reaching job-market age. Secondly, those seeking respite in the informal sector have seen its numbers grow, and their activities on the congested pavements of the central area have prompted additional flight of formal businesses and jobs from the CBD. Thirdly, the demand for accommodation of at least a minimally acceptable standard for a growing population of homeless people on the periphery of the metropolitan area has increased. Fourthly, the opportunity of developing a stable middle-income group of apartment dwellers and owners employed in the CBD and living in the inner residential zone has been lost. And fifthly, the open space "buffer" between the former whites-only Johannesburg and Soweto remains not only a hindrance to economic integration but open and sufficiently derelict for it to be lost in an invasion of informal housing before it can be used more constructively in the redevelopment and healing process that is now under way.
As hinted at in the opening section of this chapter, the word-picture just presented is in stark contrast with the glass and glitz image of Johannesburg. Yet, notwithstanding the genuine gloom that the "picture" reflects, one of the Technical Task Groups set up by the Metropolitan Chamber believes that its analysis of the strengths and weaknesses of the Johannesburg Metropolitan Area shows a way forward towards a sustainable and better future for increasing numbers people in the metropolitan area (GAPS, 1993). The focus now shifts to a consideration of the essence of what the Task Group charged with (urban) planning has recently put forward.
Towards spatial restructuring of the Metropolitan Area
It is not possible to present here the detailed arguments, along with the wealth of illustrative material (see GAPS, 1993), that underpins the Interim Strategic Framework (henceforth the ISF) document that currently informs those engaged in detailed negotiations associated with the transition period. Consequently what is presented below is only the essence of the ISF, based on policy guidelines placed before the Metropolitan Chamber in late 1992. Fundamental to the proposals in the ISF is the recognition that it is necessary to curb the unbridled spread of low-density physical growth that has already created a metropolitan area greater in areal extent (fig. 5.1) than that of Mexico City, probably the world's largest urban place in terms of population. The Chamber and its advisers were of the opinion that what is needed is a spatially more compact area. It should be one that can be achieved by infilling and making use of current strengths in the existing system, which include, in particular, an excellent transportation structure, a physically well-developed and well-endowed CBD, and tracts of open and derelict land both close to the core and farther afield. There is no suggestion that the ISF is a blueprint for the future. Rather it is believed that the ISF contains a logical set of arguments, coupled to an associated set of spatial considerations and implications, that should inform political leaders and their planners. At the base of the argument is the belief that ways must be found to assimilate the growing population of the area within a metropolitan urban system in such a way that the capacity for increasing the common wealth of all is enhanced.
More precisely, the consensus was that restructuring should aim to achieve an urban system that is predicated on a viable, sustainable, formal, and informal economy, that meets the immediate demands, particularly of the poor, in respect of housing and shelter, and that integrates place of living with place of work. The aim is to promote affordable access and mobility through coordinated transport services, to exploit opportunities offered by existing patterns of development, and to use social and service infrastructure to the full. It is believed that the goals of the ISF need to be coupled to strategic areas of concern (GAPS, 1993) and inter alia, following have been identified. Intensification, densification, and infilling of the existing urban pattern is a priority. In addition, there should be a programme of upgrading and renewal of those parts of the urban system that are under stress.
The team responsible for the ISF has identified what it styles "zones of opportunity," where opportunity can imply existing infrastructure in good order or parcels of land that have potential for development and are well located to play a key role in the restructuring process. The leading eight "zones" include the Johannesburg CBD and inner city (fig. 5.7a), activity nodes and spines (fig. 5.7b; see also the major employment zones in 5.7d), urban corridors (fig. 5.7c), low-density suburbs (fig. 5.7a), strategically located land that is currently vacant or underutilized (fig. 5.7a and 5.7c), the urban fringe, existing peripheral townships or suburbs, and the informal settlements beyond the urban fringe. To allow the ISF initiative to gather momentum as speedily and as successfully as possible, it has been suggested that it be targeted in the first phase on the priority areas just listed (fig. 5.7c).
Two important decisions since the April 1994 elections have already given momentum to aspects of what is contained in the ISF. It has now been decided that Johannesburg rather than Pretoria will be the seat and headquarters of the provincial government. The Johannesburg City Hall, located in the centre of the CBD, is currently being renovated as the provincial Capitol, and it is anticipated that a significant number of office blocks in the downtown will be taken over by provincial ministries, which should serve as a considerable boost for the hitherto waning fortunes of the CBD. In addition, the Johannesburg Metropolitan Area will receive a large slice of the central government's budgeted capital for housing through the National Reconstruction and Development Programme, full details of which are not yet available. Notwithstanding that no strategic area outside of the CBD has yet been targeted for specific upgrading, it can be anticipated that early attention will be given to integrating the newly demarcated municipal area of Soweto (see fig. 5.6) with the Johannesburg CBD and parts of Roodepoort, through developing activity spines across the vacant land separating it from the main western urban corridor and encouraging the construction of new housing on the vacant land. Similar developments are most likely to follow sooner rather than later in respect of the north-eastern sector and the new municipality of Sandton/Alexandra (figs. 5.6 and 5.7c).
Conclusion
Given its fundamental importance to the economic welfare of the country as a whole, it is important for all concerned that the process of reconstruction and development of the Johannesburg Metropolitan Area should succeed. However, political leaders will have to take care to balance proposals with how much tax revenue can be raised. In particular, care will have to be taken not to overextend those who still have a capacity to pay some more by not containing the categories of those who will be exempted from paying anything at all. The continued boycotts of rents, bond repayments, and charges for essential services by regions that contain citizens who have the vote, and also significant numbers of people who can afford to pay, is a matter for serious concern and will have to be solved very soon. Many changes to the "rules" of the "urban game," particularly planning and property tax regulations, will have to be made after the local authority elections in 1995.
What has been attempted here is to present two views of the same metropolitan place, using evidence from both the present and the past, as a base for understanding some of the current problems and strategies for dealing with them that are being devised as part of the transformation of South Africa.
Notes
1. Racial terms in South Africa evolved specific historical meanings, which overlapped in part with those used in other colonies. "Black" refers to indigenous residents, who were also called Africans. Here, Black with a capital "B" is used to denote this particular group. "Coloured" refers to people of mixed race descent. Indians are people from or descended from parents who originally came from India, Pakistan, Bangladesh, and Sri Lanka. "Whites" are Caucasians, descended from people with mostly European origins. Today, and in this chapter, "African" denotes the whole population of South Africa and "black" is used to mean people other than the whites.

2. The population of Soweto has never been measured accurately. Because of the perils associated with the apartheid era, many "illegal" South African residents in Soweto evaded enumeration in the census years. Between 1989 and 1992 estimates of the population of Greater Soweto ranged between 555,443 and 3,500,000 with a mode of approximately 1,200,000 (see Mabin and Hunter, 1993).
References
Amprops. 1994. Vacancy survey of completed office buildings. Unpublished report, Anglo-American Property Services, Johannesburg.
Appelgryn, M. S. 1984. Johannesburg: Origins and Early Management 1886-1899. University of South Africa, Pretoria.
Beavon, K. S. O. 1982. Black townships in South Africa: Terra incognita for urban geographers. South African Geographical Journal 64: 3-20.
Beavon, K. S. O. 1989. Informal Ways: A Window on Informal Business in South Africa. Small Business Development Corporation, Johannesburg.
Beavon, K. S. O. 1992a. Some alternative scenarios for the South African city in the era of late Apartheid. In: D. Drakakis-Smith, ed., Urban and Regional Change, in Southern Africa. Routledge, London.
Beavon, K. S. O. 1992b. The post-Apartheid city: Hopes, possibilities, and harsh realities. In: D. M. Smith, ed., The Apartheid City and Beyond. Routledge, London, and University of Witwatersrand Press, Johannesburg.
Beavon, K. S. O. Forthcoming. Johannesburg. World Cities Series, John Wiley, London.
Beavon, K. S. O. and C. M. Rogerson. 1982. The informal sector of the Apartheid city: The pavement people of Johannesburg. In: D. M. Smith, ed., Living under Apartheid. Allen & Unwin, London.
Beavon, K. S. O. and C. M. Rogerson. 1990. Temporary trading for temporary people: The making of hawking in Soweto. In: D. Drakakis-Smith, ed., Economic Growth and Urbanization in Developing Areas. Routledge, London.
Benjamin, A. 1972. A social history. In: A. Benjamin, C. M. Chipkin, S. Zar, and H. Aron, Parktown 1892-1972: A Social and Pictorial History. Studio Thirty Five, Johannesburg.
Bureau of Market Research. 1976. Income and Expenditure Patterns of Urban Black Households in Johannesburg. Research Report No. 50.3, Bureau of Market Research, Pretoria.
Bureau of Market Research. 1977. Greater Johannesburg Area: Home Interview Report on Coloureds, Asians and Blacks. Study conducted on behalf of the City Engineer's Department of the Johannesburg City Council, Bureau of Market Research, Pretoria.
Carrim, N. 1990. Fietas: A Social History of Pageview, 1948-1988. Save Pageview Association, Johannesburg.
CDE (Centre for Development and Enterprise). 1995. Post-Apartheid population and income trends: A new analysis. CDE Research 1.
Central Statistical Services. 1992. Population Census 1991: Geographical Distribution of the Population with Review for 1970-1991. CSS Report No. 03-01-02 1991, Central Statistical Services, Pretoria.
Central Witwatersrand Metropolitan Chamber. 1993. Report of the Economic Research Team of the Economic Development Working Group, 24 March, mimeo, Central Witwatersrand Metropolitan Chamber, Johannesburg.
City Engineer. 1967. Central Area Johannesburg. Report by the Forward Planning Branch, City Engineer's Department, Johannesburg City Council, Johannesburg.
City Health Department. 1973. Medical Officer of Health Report 1969-1973. Johannesburg City Council, Johannesburg.
Cloete, F. 1991. Greying and free settlement. In: M. Swilling, R. Humphries, and K. Shubane, eds., Apartheid City in Transition. Oxford University Press, Cape Town.
Cobbett, W., D. Glaser, D. Hindson, and M. Swilling. 1985. Regionalisation, federalism and the reconstruction of the South African state. South African Labour Bulletin 10(5): 87-116.
Coovadia, C. 1991. The role of the civic movement. In: M. Swilling, R. Humphries, and K. Shubane, eds., Apartheid City in Transition. Oxford University Press, Cape Town.
Crankshaw, O. 1993. Squatting, Apartheid and urbanisation on the Southern Witwatersrand. African Affairs 92(366): 31-52.
Crankshaw, O. and C. White. 1994. Racial Desegregation and the Origin of Slums in Johannesburg's Inner City. CPS Development Policy Series, Research Report No. 36, Centre for Policy Studies, Johannesburg.
Crush, J., Jeeves, A., and Yudelman, D. 1991. South Africa's Labor Empire: A History of Black Migrancy to the Gold Mines. Westview, San Francisco.
Dauskardt, R. 1993. Reconstructing South African cities: Contemporary strategies and processes in the urban core. GeoJournal 30: 9-20.
Davenport, T. R. H. 1991. Historical background of the Apartheid city to 1948. In: M. Swilling, R. Humphries, and K. Shubane, eds., Apartheid City in Transition. Oxford University Press, Cape Town.
DBSA (Development Bank of Southern Africa). 1991a. A Regional Profile of the Southern African Population and its Urban and Non-Urban Distribution, 1970-1990. Demographic Information Series No. 2, Centre for Information Analysis, Development Bank of Southern Africa, Midrand.
DBSA (Development Bank of Southern Africa). 1991b. South Africa: An Inter-Regional Profile. Development Bank of Southern Africa, Midrand.
Department of Regional and Land Affairs. 1992. A Spatial Development Framework for the PWV Complex. Government Printer, Pretoria.
Development and Democracy. 1994. Interview with Lechesa Tsenoli: President of the South African National Civics Organization. Development and Democracy 8:31 -35.
Dikobe, M. 1973. The Marabi Dance. Heinemann, London.
Eskom. 1993. Statistical Yearbook. Electricity Supply Commission, Megawatt Park.
Fair, T. J. D. 1977. The Witwatersrand: Structure, shape and strategy. South African Geographer 5: 380-389.
Fair, T. J. D. and J. G. Muller. 1981. The Johannesburg Metropolitan Area. In: M. Pacione, ed., Urban Problems and Planning in the Developed World. Croom Helm, London.
Fourie, J. J. 1978. Afrikaners in die Goudstad: Deel 1 1886-1924. In E. L. P. Stals, ed., Afrikaners in die Goudstad. Part 1. Hollandsch Afrikaansche Uitgevers Maatschappij, Cape Town.
GAPS. 1993. An Interim Strategic Framework for the Central Witwatersrand: Document 2 Policy Approaches. Discussion Document, Central Witwatersrand Metropolitan Chamber, Johannesburg.
Gray, E. L. and J. Gray. 1940. Discovery of the Witwatersrand Goldfields. Central News Agency, Johannesburg.
Gray, J. and J. A. McLachlan. 1933. A history of the introduction of the MacArthur
Forrest cyanide process to the Witwatersrand goldfields. Journal of the Chemical Metallurgical and Mining Society of South Africa 33: 375-395.
Hall, P., G. Saayman, D. Molatedi, and P. Kok. 1993. A Profile of Poverty in the PWV (2 vols.). Southern Africa Labour and Development Research Unit, University of Cape Town, Rondebosch.
Hansard. 1953. Debates of the House of Assembly (Hansard), 82, Cape Times, Cape Town.
Hardie, G. J. and T. Hart. 1986. Homeownership and the "Big Sale" of state-owned housing: A view from the townships. The Property Economist (Opinion Survey) 5: 1-12.
Hart, D. M. and G. H. Pirie. 1984. The sight and soul of Sophiatown. Geographical Review 74: 38-47.
Hart, G. H. T. 1989. On grey areas. South African Geographical Journal 71: 81-88.
Hart, T. 1990. South Africa. In: W. van Vliet, ed., International Handbook of Housing Policies and Practices. Greenwood, New York.
Hellman, E. 1935. Native life in a Johannesburg slumyard. Africa 3: 34- 62.
Hendler, P. 1988. Urban Policy and Housing. South African Institute of Race Relations, Johannesburg.
Hendler, P. 1991. The housing crisis. In: M. Swilling, R. Humphries, and K. Shubane, eds., Apartheid City in Transition. Oxford University Press, Cape Town.
Hindson, D. 1987. Pass Controls and the Urban African Proletariat. Ravan, Johannesburg.
Hirschson, N. 1974. The Naming of Johannesburg. Nugget Press, Johannesburg.
Hlope, S. S. 1977. The crisis of urban living under Apartheid conditions: A socioeconomic analysis of Soweto. Journal of Southern African Affairs 11: 343-354.
Horrell, M. 1978. Laws Affecting Race Relations in South Africa (to the End of 1976). South African Institute of Race Relations, Johannesburg.
Huddleston, T. 1956. Naught for your Comfort. Hardingham & Donaldson, Johannesburg.
Juta. 1990. Greater Soweto Accord. Juta's RSC Report 4: 23.
Kalley, J. A. 1988. Pressure on Pretoria: Sanctions, Boycotts and the Divestment/Disinvestment Issue 1964-1988. A Select and Annotated Bibliography. South African Institute of International Affairs, Bibliographic Series No. 17, Johannesburg.
Kane-Berman, J. 1978. Soweto: Black Revolt, White Reaction. Ravan Press, Johannesburg.
Katz, M. M. (chairman). 1994. The Future Structure of the Johannesburg Stock Exchange: A Report of the Research Sub-Committee to the Johannesburg Stock Exchange Committee. Johannesburg Stock Exchange, Johannesburg.
Khosa, M. 1992. Changing state policy and the Black taxi industry in Soweto. In: D. M. Smith, ed., The Apartheid City and Beyond: Urbanization and Social Change in South Africa. Routledge, London, and Witwatersrand University Press, Johannesburg.
Koch, E. 1983. "Without visible means of subsistence": Slumyard culture in Johannesburg, 1918-1940. In: B. Bozzoli, ed., Town and Countryside in the Transvaal. Ravan Press, Johannesburg.
Latsky, J. 1991. Developing new urban land delivery systems for the poor: Reviewing the policy of First World technicality. In: South African Institute of Town and Regional Planners, The First World/Third World Ratio - A Recipe for Prosperity or Poverty? National Biennial Conference Papers, South African Institute of Town and Regional Planners (Eastern Cape Branch), Port Elizabeth.
Lewis, P. R. B. 1966. A "City" within a city: The creation of Soweto. South African Geographical Journal 48: 45-85.
Lewsen, J. 1953. The City Council and the "Western Areas" Removal Scheme. In: South African Institute of Race Relations, The "Western Areas" Removal Scheme: Facts and Viewpoints Presented at a Conference Convened by the S.A. Institute of Race Relations at the University of the Witwatersrand 22nd August 1953. South African Institute of Race Relations, Johannesburg.
Lupton, M. 1992. Class struggle over the built environment in Johannesburg's Coloured Areas. In: D. M. Smith, ed., The Apartheid City and Beyond: Urbanization and Social Change in South Africa. Routledge, London, and Witwatersrand University Press, Johannesburg.
Lupton, M. 1993a. Collective consumption and urban segregation in South Africa: The case of two Coloured suburbs in the Johannesburg Region. Antipode 25: 3250.
Lupton, M. 1993b. Ennerdale Newtown, South Africa: The social limits to urban design. GeoJournal 30: 37-44.
Mabin, A. S. and R. Hunter. 1993. Final Draft Report of the Review of Conditions and Trends Affecting Development in the PWV. PWV Forum, Johannesburg, mimeo.
Mabin, A. S. and S. Parnell. 1983. Recommodification and working-class home ownership: New directions for South African cities. South African Geographical Journal 65: 148-166.
McCarthy, T. S. 1986. A guide to the geology of the Johannesburg area. In: F. Mendelsohn and C. T. Potgieter, eds., Guidebook to Sites of Geological and Mining Interest on the Central Witwatersrand. Geological Society of South Africa in association with the South African Institute of Mining and Metallurgy, Johannesburg.
MacDonald, W. 1926. Johannesburg after forty years. In: D. Wall's Jones, ed., Johannesburg's 40th Birthday: An Official Souvenir. Johannesburg Publicity Association, Johannesburg.
Maher, M. G. K. (compiler). 1994. The JSE Handbook. Flesch Financial Publications, Johannesburg.
Mandy, N. 1984. A City Divided. Macmillan, Johannesburg.
Mashile, G. G. and G. H. Pirie. 1977. Aspects of housing allocation in Soweto. South African Geographical Journal 59: 139-149.
Maud, J. P. R. 1938. City Government: The Johannesburg Experiment. Clarendon Press, Oxford.
Moodie, T. D. 1994. Going for Gold: Men, Mines, and Migration. University of California, Berkeley, Calif.
Moon, B. P. and G. F. Dardis. 1988. Introduction. In: B. P. Moon and G. F. Dardis, eds., The Geomorphology of Southern Africa. Southern, Halfway House.
Moroney, S. 1978. The development of the compound as a mechanism of worker control 1900-1912. South African Labour Bulletin 4(3): 29-49.
Moroney, S. 1982. Mine married quarters: The differential stabilisation of the Witwatersrand workforce, 1900-1920. In: S. Marks and R. Rathbone, eds., Industrialisation and Social Change in South Africa: African Class Formation, Culture, and Consciousness, 1870-1930. Longman, London.
Morris, P. 1980. Soweto. Urban Foundation, Johannesburg.
Morris, P. 1981. A History of Black Housing in South Africa. South Africa Foundation, Johannesburg.
Niekerk, J. van. 1995. The impact of illegal aliens on safety and security in South Africa. ISSUP Bulletin 7 (Institute for Strategic Studies, Pretoria).
Onselen, C. van. 1982a. Studies in the Social and Economic History of the Witwatersrand 1886-1914, Vol. 1, New Babylon. Ravan Press, Johannesburg.
Onselen, C. van. 1982b. Studies in the Social and Economic History of the Witwatersrand, Vol. 2, New Ninevah. Ravan Press, Johannesburg.
Orkin, M., ed. 1989. Sanctions against Apartheid. David Philip, Cape Town, and Catholic Institute for International Relations, London.
Parnell, S. M. 1991. Sanitation, segregation and the Natives (Urban Areas) Act: African exclusion from Johannesburg's Malay Location, 1897-1925. Journal of Historical Geography 17: 271-288.
Parnell, S. M. 1993. Johannesburg slums and racial segregation in South African cities, 1910-1937. Unpublished Ph.D. thesis, Department of Geography and Environmental Studies, University of the Witwatersrand, Johannesburg.
Pirie, G. H. 1984a. Letters, words, worlds: The naming of Soweto. African Studies Journal 43: 43-51.
Pirie, G. H. 1984b. Ethno-linguistic zoning in South African Black townships. Area 16: 291 -298.
Prinsloo, D. 1994. Economic and spatial trends in the Johannesburg CBD. Unpublished report, Urban Development Studies, Johannesburg.
Proctor, A. 1979. Class struggle, segregation and the city: A history of Sophiatown 1905-1940. In: B. Bozzoli, ed., Labour, Townships and Protest. Ravan Press, Johannesburg.
Randall, P. 1973. From Coolie Location to Group Area. South African Institute of Race Relations, Johannesburg.
Richardson, P. 1982. Chinese Mine Labour in the Transvaal. Macmillan, London.
Richardson, P. and J. J. Van-Helten. 1980. The gold mining industry in the Transvaal 1886-99. In: P. Warwick, ed., The South African War: The Anglo-Boer War, 1899-1902. Longman, London.
Rogerson, C. M. 1986. A strange case of beer: The state and sorghum beer manufacture in South Africa. Area 18: 15-24.
Rogerson, C. M. 1988. Regional development policy in South Africa. Regional Development Dialogue 9 (special issue): 228-255.
Rogerson, C. M. 1991. Beyond racial Fordism: Restructuring industry in the "New" South Africa. Tijdschrift voor Economische en Sociale Geografie 82: 355-366.
Rogerson, C. M. 1993. The PWV informal economy: Bibliography and review. Unpublished paper prepared for the PWV Economic and Development Forum, June 1993.
Rogerson, C. M. 1994a. Democracy, reconstruction, and changing local and regional economic planning in South Africa. Regional Development Dialogue 15(1): 102-118.
Rogerson, C. M. 1994b. South Africa: From regional planning to local development initiatives. Geography 79(2): 180-184.
SAIRR (South African Institute of Race Relations). 1953. The "Western Areas" Removal Scheme: Facts and Viewpoints Presented at a Conference Convened by the S.A. Institute of Race Relations at the University of the Witwatersrand 22nd August 1953. South African Institute of Race Relations, Johannesburg.
Sarakinsky, M. 1989. American disinvestment and unemployment. South African Labour Bulletin 14(1): 54-57.
Schoeman, E. (compiler). 1988. South African Sanctions Directory 1946-1988: Actions by Governments, Banks, Churches, Trade Unions, Universities, Investment and Regional Organizations. South African Institute of International Affairs, Bibliographic Series No. 18, Johannesburg.
Scott, P. 1951. The Witwatersrand Gold Field. Geographical Review 41: 561-589.
Shorten, J. R. 1970. The Johannesburg Saga. J. Shorten (Pty) Ltd. Johannesburg.
Shubane, K. 1991. Black local authorities: A contraption of control. In: M. Swilling, R. Humphries, and K. Shubane, eds., Apartheid City in Transition. Oxford University Press, Cape Town.
Shuenyane, E., S. Mashigo, C. Eyberg, B. D. Richardson, N. Buchanan, J. Pettifor, L. MacDougal, and J. D. L. Hansen. 1977. A socio-economic, health and cultural survey in Soweto. South African Medical Journal 51: 495-500.
Smith, A. H. 1971. Johannesburg Street Names: A Dictionary of Street, Suburb and Other Place Names, Compiled to the End of 1968. Juta, Johannesburg.
Solomon, D. 1992. Metropolitan Chamber. Urban Forum 3(1): 75-85.
Stadler, A. W. 1979. Birds in the cornfields: African squatter movements in Johannesburg, 1944-1947. Journal of Southern African Studies 6: 93-124.
Swilling, M., W. Cobbett, and R. Hunter. 1991. Finance, electricity costs, and the rent boycott. In: M. Swilling, R. Humphries, and K. Shubane, eds., Apartheid City in Transition. Oxford University Press, Cape Town.
The Star. 1987. Like It Was: The Star 100 Years in Johannesburg. The Star, Johannesburg.
Tomlinson, R. 1990. Urbanization in Post-Apartheid South Africa. Unwin Hyman, London.
Turok, I. 1993. The Metropolitan Chamber: A view from the sideline. Urban Forum 4(2): 69-81.
Urban Foundation. 1990. Population trends. Policies for a New Urban Future, Urban Debate 2010, 1, Urban Foundation, Johannesburg.
Urban Foundation. 1991. Informal housing, Part 1: The current situation. Policies for a New Urban Future, Urban Debate 2000, 10, Urban Foundation, Johannesburg.
Waal, G.-M. van den 1987. From Mining Camp to Metropolis: The Buildings of Johannesburg 1886-1940. Chris van Rensburg Publications, Johannesburg.
Wellings, P. and A. Black. 1986. Industrial decentralisation in South Africa: Tool of Apartheid or spontaneous restructuring. GeoJournal 12: 137-149.
Wentzel, C. A. (chairman). 1903. Report of the Johannesburg Insanitary Area Improvement Scheme Commission. Transvaal Government, Johannesburg.
---