This is the old United Nations University website. Visit the new site at http://unu.edu
---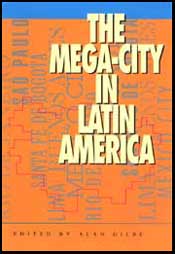 The mega-city in Latin America
---
---
Edited by
Alan Gilbert
United Nations University Press
TOKYO - NEW YORK - PARIS
The United Nations University is an organ of the United Nations established by the General Assembly in 1972 to be an international community of scholars engaged in research, advanced training, and the dissemination of knowledge related to the pressing global problems of human survival, development, and welfare. Its activities focus mainly on peace and conflict resolution, development in a changing world. and science and technology in relation to human welfare. The University operates through a worldwide network of research and postgraduate training centres, with its planning and coordinating headquarters in Tokyo.
The United Nations University Press, the publishing division of the UNU, publishes scholarly books and periodicals in the social sciences, humanities, and pure and applied natural sciences related to the University's research.
© The United Nations University, 1996
The views expressed in this publication are those of the authors and do not necessarily reflect the views of the United Nations University.
United Nations University Press
The United Nations University, 53-70, Jingumae 5-chome,
Shibuya-ku, Tokyo 150, Japan
Tel: (03) 3499-2811 Fax: (03) 3406-7345
Telex: J25442 Cable: UNATUNIV TOKYO
UNU Office in North America
2 United Nations Plaza, Room DC2-1462-70, New York, NY 10017
Tel: (212) 963-6387 Fax: (212) 371-9454
Telex: 422311 UN UI
United Nations University Press is the publishing division of the United Nations University.
Typeset by Asco Trade Typesetting Limited, Hong Kong
Printed by Edwards Brothers, Ann Arbor, Michigan, USA
Cover design by Andrew Corbett
UNUP-935
ISBN 92-808-0935-0
03000 P
---
---
1. The Latin American mega-city: An introduction
What is a mega-city?
Are mega-cities different from smaller cities?
Should anything be done to slow down the growth of Latin America's big cities?
The future for Latin America's cities
Structure of the book
References
2 Demographic trends in Latin America's metropolises, 1950-1990
Changing patterns of metropolitan growth
Causes of demographic change
The spatial pattern of metropolitan growth
The future of the Latin American metropolis
Notes
References
3. Contemporary issues in the government and administration of Latin American mega-cities
Introduction
Emerging imperatives for the 1990s
Structures of city government
Structures of government in Latin America's major cities
Conclusion
Acknowledgements
Notes
References
4. Land, housing, and infrastructure in Latin America's major cities
Housing conditions
The price of land
Residential segregation
Population density
The changing shape of the city
Conclusion
Notes
References
5. A hundred million journeys a day: The management of transport in Latin America's mega-cities
Urban growth and the evolution of transport systems
Institutional problems
Recent developments in the transport systems of the five cities
Do mega-cities have special transport problems?
Conclusion
Notes
References
6. Buenos Aires: A case of deepening social polarization
Population growth and structure
The urban economy
Income distribution
Living standards
Urban administration
Service provision
Population density and land-use structure
The environment
Conclusions
Notes
References
7. Lima: mega-city and mega-problem
The origins of lima's problems
Demographic growth
Employment and poverty
Housing
Infrastructure and services
Transport
Crime, violence, and terrorism
Urban management
Towards a more participative, denser, and more polycentric metropolis
Notes
References
8. Mexico City: No longer a leviathan?
Introduction
The Mexican urban structure: the roots of centralism
The debt crisis and its aftermath
Mexico City's changing urban structure
Administration and finance
Current issues and policy approaches
Conclusions
Notes
References
9. Rio de Janeiro: Urban expansion and structural change
Introduction
Population growth
Employment
Poverty and the distribution of income
Housing and infrastructure
Health and education
Transport
Pollution and environmental policies
Crime
Emerging issues for the coming decade
Acknowledgements
Notes
References
10. São Paulo: A growth process full of contradictions
Development of a metropolis
Metropolitan involution
Quality of life in the state of São Paulo
Metropolitan problems
Public administration
The future
Notes
References
11. Santa Fé de Bogotá: A Latin American special case?
Introduction
Population and demographic structure
Bogotá's national role
The economy
Employment
Poverty and social indicators
The shape of the city
Housing
Public services
The city's principal problems
Administration of the city
The future
Notes
References