This is the old United Nations University website. Visit the new site at http://unu.edu
---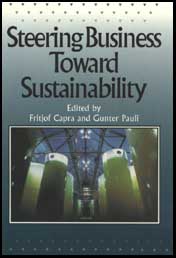 Steering business toward sustainability
---
---
Edited by
Fritjof Capra and Gunter Pauli (Eds.)
United Nations University Press
TOKYO • NEW YORK • PARIS
© The United Nations University, 1995
The views expressed in this publication are those of the authors and do not necessarily reflect the views of the United Nations University.
United Nations University Press
The United Nations University, 53-70, Jingumae 5-chome,
Shibuya-ku, Tokyo 150, Japan
Tel: (03) 3499-2811
Telex: J25442
Fax: (03) 3406-7345
Cable: UNATUNIV TOKYO
Typeset by Asco Trade Typesetting Limited, Hong Kong
Printed by Permanent Typesetting and Printing Co., Ltd., Hong
Kong, on totally chlorine-free (TCF) paper
Cover design by Joyce C. Weston
The cover photo shows a "living machine": a symbiotic association of algae and bacteria oxygenating the waste and degrading organic and toxic compounds. Photo by Dann Blackwood.
UNUP-909
ISBN 92-808-0909-1
02200 P
---
---
3. Educating the executive and students
4. The learning process within corporations

Introduction
Dialogues with forward-thinking customers
Adequate information
Benchmarking
Systemic planning
Individual and collective learning
Conclusions

5. Assessing corporate environmental performance

Introduction
Environmental awards
Assessing environmental performance
Diffusing environmental information
Social monitors: The case of CEP
Monitoring networks
Consumers of environmental information
Impacting business practices
Future improvements
Improving data availability
Improving data dissemination
Development of new and future-capable product
Closed-cycle economy and ecological enterprises
From nuclear to solar industry
Ecological pioneering

Introduction: Tax labor and income less, and tax resource throughput more
Allocation, distribution, and scale
Consumption and value added
Policy implications
Conclusions
References

9. New concepts of fiduciary responsibility

The prudent man
The question of scale
Asset management and the behavior of business
Social investing
Economically targeted investing
The Jessie Smith Noyes Foundation
Intel, SWOP, and the process of engagement
Corporate culture and sustainability
10. Industrial clusters of the twenty-first century

Zero defects, zero inventory, zero emissions
Front-end solutions versus end-of-the-pipe solutions
Economies of scale
Will Japan embrace the zero concept?
The new clusters
Recycling of ink and paper
Forestry, perfumes, and preservatives
Sugar, cleansing materials, water softeners and compostable plastics
Beer, salmon, and cattle
More to come
Rethinking industrial policies
Cuffing government costs
Revitalizing the inner cities
The case of China
The role of the United Nations University
Conclusion