This is the old United Nations University website. Visit the new site at http://unu.edu
---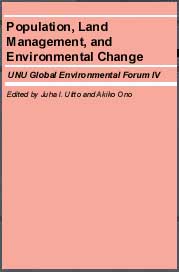 Population, land management, and environmental change
---
---
The UNU global environmental Forum IV
Edited by Juha I. Uitto and Akiko Ono
The United Nations University is an organ of the United Nations established by the General Assembly in 1972 to be an international community of scholars engaged in research, advanced training, and the dissemination of knowledge related to the pressing global problems of human survival, development, and welfare. Its activities focus mainly on peace and conflict resolution, development in a changing world, and science and technology in relation to human welfare. The University operates through a world wide network of research and postgraduate training centres, with its planning and coordinating headquarters in Tokyo.
The United Nations University Press, the publishing division of the UNU, publishes scholarly books and periodicals in the social sciences, humanities, and pure and applied natural sciences related to the University's research.
The UNU Global Environmental Forum IV, Population, Land Management, and Environmental Change, 25 May 1995, was organized by the United Nations University in cooperation with the United Nations Environment Programme. It was supported by the Global Environment Centre Foundation and sponsored by Obayashi Corporation.
The United Nations University
Tokyo, Japan
© The United Nations University, 1996
The views expressed in this publication are those of the authors and do not necessarily reflect the views of the United Nations University.
The United Nations University, 53-70, Jingumae 5-chome,
Shibuya-ku, Tokyo 150, Japan
Tel: (03) 3499-2811 Fax: (03) 3406-7345
Telex: J25442 Cable: UNATUNIV TOKYO
UNU Office in North America
2 United Nations Plaza, Room DC2-1462-70, New York, NY 10017
Tel: (212) 963-6387 Fax: (212) 371-9454 Telex: 422311 UN UI
Typeset by Asco Trade Typesetting Limited, Hong Kong
Printed by Permanent Typesetting and Printing Co., Ltd., Hong Kong
Cover design by Takashi Suzuki
UNUP-956
ISBN 92-808-0956-3
01500 P
---
---
1. People, land management, and environmental change: The problems that a United Nations University programme is studying
Background
Intensification and innovation
A case in East Africa
The management of degradation: A west African case
A case of stagnation in Papua New Guinea
Discussion and conclusion
References
2. Land management for sustainable development: Farmers' participation
Introduction
Sustainable land management is possible
Societies adapt and change
Farmer participation is essential
Conclusion: Components of participatory land management
Notes
References
3. Women farmers: Environmental managers of the world
Introduction
Access to resources
Women's agricultural work
Time as a resource
Conclusion
References
4. Land-use change and population in Papua New Guinea
Introduction
Traditional agriculture system
Land use before independence
Population dynamics
Patterns of land use
Conclusions
References
5. Agricultural sustainability and food in Papua New Guinea
Introduction
The sample populations
Agricultural sustainability in low population density areas
Agricultural sustainability in high population density areas
Population increase and agricultural sustainability
References
6. Population pressure and agrodiversity in marginal areas of Northern Thailand
Introduction
Background
Dynamics of highland land use
Role of biodiversity in sustainable use of marginal land
References
7. Managing the resources of the Amazonian Várzea
Background
A diversity of patterns
Diversity, complexity, and change: The case of Santa Rosa
Managing Várzea, forests
Managing bananas and diseases in the estuary
Notes
References
8. Global environment and population carrying capacity
Introduction
Criteria for sustainable development
Scenario of sustainable development
Supportable human population
Conclusions
References