This is the old United Nations University website. Visit the new site at http://unu.edu
---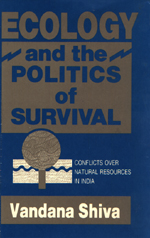 Ecology and the Politics of Survival
• Conflicts Over Natural Resources in India
---
Table of contents (365 p.)
---
VANDANA SHIVA
in association with
J. Bandyopadhyay · Pandurang Hegde · B.V. Krishnamurthy
John Kurien · G. Narendranath · Vanaja Ramprasad
S.T.S. Reddy
The United Nations University's Programme on Peace and Global Transformation was a major world-wide project whose purpose was to develop new insights about the interlinkages between questions of peace, conflict resolution, and the process of transformation. The research in this project, under six major themes, was coordinated by a 12-member core group in different regions of the world: East Asia, South-East Asia (including the Pacific), South Asia, the Arab region, Africa, Western Europe, Eastern Europe, North America, and Latin America. The themes covered were: Conflicts over Natural Resources; Security, Vulnerability and Violence; Human Rights and Cultural Survival in a Changing Pluralistic World; The Role of Science and Technology in Peace and Transformation; The Role of the State in Peace and Global Transformation; and Global Economic Crisis. The project also included a special project on Peace and Regional Security.
United Nations University Press
Sage Publications
New Delhi/Newbury Park/London
To the late Dr. B. V. Krishnamurthy who was part of the team and whose quiet and invisible contribution shaped this study
Copyright © The United Nations University, 1991
All rights reserved. No part of this book may be reproduced or utilised in any form or by any means, electronic or mechanical, including photocopying, recording or by any information storage and retrieval system, without permission in writing from the publisher.
First published in 1991 by
Sage Publications India Pvt Ltd.
32, M-Block Market, Greater Kailash I
New Delhi 110048
Sage Publications Inc
2455 Teller Road
Newbury Park, California 91320
Sage Publications Ltd
6 Bonhill Street
London EC2A 4PU
AND
United Nations University Press
The United Nations University
53-70 Jingumae 5-chome, Shibuya-ku
Tokyo 150, Japan
Tel.: (03) 3499-2811. Fax: (03) 3406-7345.
Telex: J25442. Cable: UNATUNIV TOKYO.
Published by Tejeshwar Singh for Sage Publications India Pvt Ltd. phototypeset by Mudra Typesetters, Pondicherry, and printed at Chaman Offset Printers.
Library of Congress Cataloging-in-Publication Data
Shiva, Vandana.
Ecology and the politics of survival: conflicts over natural resources in India Vandana Shiva in association with J. Bandyopadhyay... [et al.] p. cm.
Includes bibliographical references and index.
1. Natural resources-India.
2. Forest policy-India.
3. Water resources development-India. I. Bandyopadhyay. J. II. Title.
HC433 5.S55 1991 333.7'0954-dc20 91-13046
ISBN (0-80309672-1) (us.-hbk.)
81-7036-249-0 (India-hbk.)
---
---
Introduction: ecology movements and conflicts over natural resources
2 Forest ecology and forest conflicts
3 The survival economy and forest conflicts
4 The chipko movement
5. Afforestation programmes and land use conflicts
6 Wasteland development and conflict over commons
7 Conflicts over river waters
8 Large dams and conflicts in the Krishna Basin
9 Water scarcity and people's alternatives
10 Mining and water conflicts
11 Fisheries and conflicts at sea
12 Conclusion: towards sustainability with justice
---

Back to previous page