This is the old United Nations University website. Visit the new site at http://unu.edu
---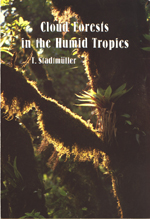 Cloud Forests in the Humid Tropics
• A Bibliographic Review
---
Table of contents (82 p.)
---
Thomas Stadtmüller
The United Nations University
Centro Agronómico Tropical de Investigación y Enseñanza
The United Nations University project Agro-forestry: An Alternative to the Destruction of Tropical Forests was initiated as part of the Natural Resources Programme in order to help develop more knowledge about this relatively new discipline focusing on soil use management. Agro-forestry, which is based on the traditional practice throughout the tropics of combining tree cultivation with crop or livestock production, has only recently gained formal recognition in land-use and development programmes It aims at contributing to the improvement of conditions of life for an estimated 400 million people practicing shifting cultivation and at helping to reduce pressure on the world's remaining forests, especially tropical rain forests. A brief study on cloud forests was included in the overall project because of the particularly important role they play in increasing precipitation and run-off, and the threat to their existence from accelerated clearing of "unused" lands in tropical regions.
Originally published in Spanish as Los bosques nublados en el trópico húmedo: Una revisión bibliográfica
Translated by Noël D. Payne
The views expressed in this publication are those of the author and do not necessarily reflect the views of the United Nations University.
© The United Nations University, 1987
NRTS-33JUNUP-670
ISBN 92-808-0670-x
United Nations Sales No. E.87.III.A.3
00600P
Printed in Costa Rica
United Nations University Press
The United Nations University
53-70 Jingumae 5-chome, Shibuya-ku
Tokyo 150, Japan
Tel.: (03) 3499-2811. Fax: (03) 3406-7345.
Telex: J25442. Cable: UNATUNIV TOKYO.
Centro Agronómico Tropical de Investigación y Enseñanza
Turrialba, Costa Rica
Tel.: 56-64-31 Telex: 8005 CATIE C.R. Cable: CATIE Turrialba
---
---
2. Cloud forest distribution in the humid tropics
Occurrence in terms of altitude (Altitudinal belts)
Area of distribution (Horizontal extension)
Climatic elements and factors
Edaphic characteristics
Hydrological characteristics at watershed level
Biotic factors
5. Structure, composition and silvicultural aspects
6. Conversion and conservation of cloud forests
7. Conclusions and recommendations
---

Back to previous page