This is the old United Nations University website. Visit the new site at http://unu.edu
---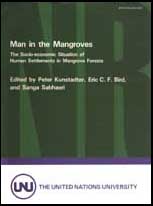 Man in the Mangroves
• The Socio-economic Situation of Human Settlements in Mangrove Forests
---
Table of contents (130 p.)
---
Edited by Peter Kunstadter, Eric C. F. Bird, and Sanga Sabhasri
Proceedings of a workshop held at Nong Nuch Village, Pattaya, Thailand, 27-31 May 1985, sponsored by the United Nations University and the National Research Council of Thailand
More than half the world's people live in coastal regions, utilizing such resources as salt, minerals, fish, and crustaceans, the products of mangroves, salt marsh, seagrass, and kelp, energy from wind, waves, and tides, and such materials as sand, gravel, clay, and limestone, all obtained from the coast or the adjacent sea. Moreover, the coast provides sites for settlement, agriculture and aquaculture, ports and harbours, industry, commerce, and recreation. The management of coastal environments and their resources has raised many problems in both developed and developing countries, and it was felt appropriate that the United Nations University should give emphasis to this field of study.
The Coastal Resources Management Project was initiated as part of the University's Natural Resources Programme. It was decided that the coastal environment - comprising the foreshore (between high and low tide lines), backshore (above high tide line to the landward limit of marine influences), and nearshore (from low tide line out to a depth of 20 metres) zones was a distinctive field for research and training that merited its own project within the programme.
A number of research studies and workshops were commissioned under this theme. Man in the Mangroves contains papers presented at a UNU-sponsored workshop. Three of the papers result from UNU research. The remainder were submitted by independent researchers. They focus on the socio-economic aspects of the use, development, and management of mangrove areas in relation to environmental and ecological factors.
Although the Coastal Resources Management Project has now been concluded, the University's new programme on Resource Policy and Management has undertaken to maintain an international dimension in research, training, and dissemination, stressing the interaction of resource management, conservation, and development.
© The United Nations University, 1986
The views expressed in this publication are those of the authors and do not necessarily reflect the views of the United Nations University.
United Nations University Press
The United Nations University
53-70 Jingumae 5-chome, Shibuya-ku
Tokyo 150, Japan
Tel.: (03) 3499-2811. Fax: (03) 3406-7345.
Telex: J25442. Cable: UNATUNIV TOKYO.
Printed in Japan
NRTS-29/UNUP-607
ISBN 92-808-0607-6
United Nations Sales No. E.86.III.A.7
01500 P
---
---
1. Socio-economic and demographic aspects of mangrove settlements
2. Mangrove resources and the socio-economics of dwellers in mangrove forests in Thailand
3. Health and sanitation among mangrove dwellers in Thailand
4. Human habitation and traditional uses of the mangrove ecosystem in peninsular Malaysia
5. Socio-economic problems of the kampung laut community in central Java
6. Human interactions with australian mangrove ecosystems
7. Ecological and socio-economic aspects of environmental changes in two mangrove-fringed lagoon systems in southern Sri Lanka
8. The distribution and socio-economic aspects of mangrove forests in Tanzania
9. Socio-economic aspects of mangrove vegetation in Japan
10. Traditional uses of south american mangrove resources and the socio-economic effect of ecosystem changes
Recommendations with respect to the special case of the mangrove forest of Thailand
---

Back to previous page