This is the old United Nations University website. Visit the new site at http://unu.edu
---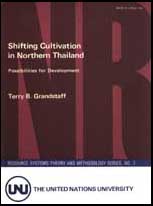 Shifting Cultivation in Northern Thailand
---
Table of contents (50 p.)
---
Terry B. Grandstaff
RESOURCE SYSTEMS THEORY AND METHODOLOGY SERIES, NO. 3
Possibilities for Development
THE UNITED NATIONS UNIVERSITY
RESOURCES SYSTEMS THEORY AND METHODOLOGY SERIES
Series Editors
Professor Josť I.D.R. Furtado (University of Malaya)
Dr. Terry B. Grandstaff (United States Agency for International Development)
Dr. Kenneth Ruddle (National Museum of Ethnology, Japan)
Terry B. Grandstaff is a Behavioral Science Advisor with the United States Agency for international Development in Bangkok, Thailand.
This study was sponsored by the Technology and Development institute of the East-West Center, Honolulu, Hawaii, USA. Some of the research used was sponsored by the Culture Learning Institute of the East-West Center. The study was a part of the Technology and Development Institute's Project in Renewable Resources Planning and Development, Kenneth Ruddle, Director. The author also wishes to acknowledge the assistance of the Tribal Research Centre, Chiang Mai, Thailand, Mr. Wanat Bhruksasri, Director. The concepts and interpretations expressed in this monograph, however, are the sole responsibility of the author. The study has no connection whatsoever with the United States Agency for International Development.
Chapter 3, The Development of Swidden Agriculture, is largely based on the author's article of the same title published in Development and Change, volume 9, number 4 (London, 1978). It appears here by kind permission of the publishers, Sage Publications.
©The United Nations University, 1980
NRTS-11 /UNUP-192
ISBN 92-808-0192-9
This report was published within the framework of the United Nations University's Programme on the Use and Management of Natural Resources. The views expressed are those of the author and not necessarily those of the United Nations University.
The United Nations University
Toho Seimei Building, 15-1 Shibuya 2-chome, Shibuya-ku. Tokyo 150, Japan
Tel: (03) 499-2811 Telex: J25442 Cable: UNATUNIV TOKYO
Printed in Japan
ABBREVIATIONS USED IN THE TEXT
FAO Food and Agriculture Organization
IRRI International Rice Research Institute
TAHAP Thai-Australian Highland Agricultural Project (Chiang Mai, Thailand)
TALD Thai-Australian Land Development Project
TRC Tribal Research Centre (an agency of the Royal Thai Government, Department of Public Welfare, Hilltribe Division; located in Chiang Mai, Thailand)
UNPDAC United Nations Programme for Drug Abuse Control
USDA United States Department of Agriculture
---
---
Preface: some underlying assumptions
1. The mountains of Northern Thailand and their inhabitants: some issues
1.1. Introduction
1.2. Who are the swiddeners (and why are people saying such terrible things about them)?
2. Two types of swidden systems
2.1. The ''established'' swiddeners

2.1.1. Principal natural resources
2.1.2. Principal resources produced
2.1.3. The transformation process
2.1.4. Ecological and socio-cultural constraints

2.2. The''pioneer'' swiddeners

2.2.1. Principal natural resources
2.2.2. Principal resources produced
2.2.3. The transformation process
2.2.4. Ecological and socio-cultural constraints
3. The development of swidden agriculture
3.1. Past experience: two forms of swidden ''development''

3.2 Technological possibilities for swidden development

3.2.1. Viability through forest fallow
3.2.2. Productivity
3.2.3. Cash-cropping and other income sources
4. Swidden improvement in Northern Thailand
4.1. Secondary forest swidden systems
4.2. Primary forest swidden systems
4.3. Conclusion
Appendix: upland rice yields in Northern Thailand
---

Back to previous page