Autumn 2010
WELCOME TO THE AUTUMN 2010 ISSUE OF THE UNU PRESS NEWSLETTER. Serving as a window into the activities of UNU Press, this quarterly update is designed to provide members of the UNU community and others interested in UNU Press with the latest information including new, upcoming and recently published titles, new initiatives, events, and reviews of UNU Press books in scholarly journals and other periodicals.

Featured Book
Political Violence in South and Southeast Asia: Critical Perspectives
Edited by Itty Abraham, Edward Newman and Meredith L. Weiss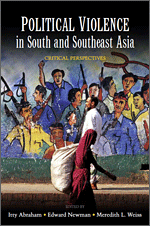 Political Violence in South and Southeast Asia brings together political scientists and anthropologists with intimate knowledge of the politics and society of the south and southeast Asian region who present unique perspectives on topics including assassinations, riots, state violence, the significance of geographic borders, external influences and intervention, and patterns of recruitment and rebellion.
What's New
Selected UNU Press titles now available at UNESCO Headquarters Bookstore and through UNESCO Publishing online
As a result of a recent agreement between UNU Press and the UNESCO Bookstore in Paris, selected UNU Press titles will be displayed and sold both in the UNESCO Bookstore and through UNESCO's online bookshop facility. This is a first for UNESCO which, until now, has only sold its own publications through both of these outlets
Find out more about UNESCO Publishing
Events
UNU Press title launched at Jindal School of International Affairs, Delhi, India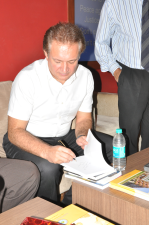 Vesselin Popovski signing a copy of Democracy in the South
Democracy in the South: Participation, the State and the People edited by Brendan Howe, Vesselin Popovksi and Mark Notaras was launched at O.P. Jindal Global University in Delhi, India on 17 September. Welcoming Remarks were made by C. Raj Kumar, Vice Chancellor, O.P. Jindal Global University (JGU) and Dean, Jindal Global Law School (JGLS) and introductory remarks by D.K. Srivastava, Pro Vice Chancellor (Academic), JGU and Vice Dean, JGLS. A presentation drawing upon issues contained in the book was then given by Vesselin Popovski, Senior Academic Programme Officer at UNU-ISP. Sreeram Chaulia, Vice Dean of the newly-established Jindal School of International Affairs, provided comments and moderated a lively question and answer session. Attendees had the opportunity to purchase copies of the book.
Find out more about the Jindal School of International Affairs
Director-General of UNESCO launches two UNU Press publications from the Trends and Innovations in Governance Series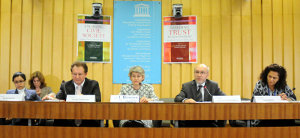 (L-R) Sol Iglesias, Vesselin Popovski, Irina Bokova, Luk Van Langenhove and Lidia Brito
Engaging Civil Society: Emerging Trends in Democratic Governance and Building Trust in Government: Innovations in Governance Reform in Asia, part of a series on trends and innovations in governance, were launched at UNESCO Headquarters in Paris on 4 October with the assistance of United Nations University's Office at UNESCO, Paris. UNESCO Director-General, Irina Bokova, opened the event and acknowledged the contribution of the two books to the essential debate on the kind of governance necessary to ensure globalization is more just, democratic and inclusive. Ms. Bokova reaffirmed the importance of collaboration between UNU and UNESCO as natural partners in building bridges between academia, policymakers, civil society and the private sector. Vesselin Popovski, Head of Section for Peace and Security at the United Nations University Institute for Sustainability and Peace, and co-editor of both volumes introduced the works. Luk Van Langenhove, Representative of the United Nations University, Office at UNESCO; Lidia Brito, Director of the Division of Science Policy and Sustainable Development, UNESCO; and Sol Iglesias, Director of the Asia-Europe Foundation, Singapore provided comments. The launch generated considerable interest in both books and copies were available for sale after a question and answer session.
The Future of International Environmental Law launched at The Climate Change Law and Policy Initiative, Faculty of Law, The University of New South Wales (UNSW)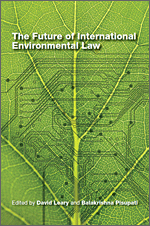 The Future of International Environmental Law, edited by David Leary and Balakrishna Pisupati, was launched at the University of New South Wales on 12 October by UNSW alumni and Greens Senator-elect for New South Wales, Lee Rhiannon, with commentary provided by Tim Stephens from Sydney University Law School. The book explores the future of international environmental law in a world of ever worsening environmental crises. It examines climate change, biodiversity loss, and pollution and overfishing of the oceans, and a range of emerging issues such as the environmental challenges faced by the Arctic, nanotechnology, biofuels and synthetic genomics amongst others.
More information UNSW Faculty of Law
UNU Press forges new partnerships at the Frankfurt International Book Fair
Held from 6–10 October, the annual Frankfurt Book Fair continues to be the catalyst which enables UNU Press to establish major new partnerships and to further its relationships with publishing partners. Meetings were held with online e-vendors and agreements were reached for UNU Press to promote and sell e-book editions through more third-party online outlets. Meetings were also held with partner publishers and a number of titles due to be published in 2011 were targeted for co-publication.
Back to top

Forthcoming Titles
The Dark Side of Globalization
March 2011. Edited by Jorge Heine and Ramesh Thakur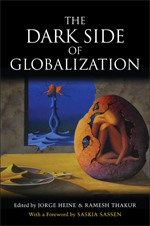 "Timed just right! This book will be welcome reading in classrooms and policy circles worldwide in which globalization is a problem as well as a solution to the ongoing financial and economic crisis. All aspects of the issue are dissected by an unusual group of contributors. These international voices are not the usual suspects. Indispensable reading for anyone who wants to understand the full range of contents and discontents caused by globalization."
—Thomas G. Weiss, Director, Ralph Bunche Institute of International Studies, CUNY, and past president, International Studies Association
Cross Border Governance in Asia: Regional Issues and Mechanisims
April 2011. Edited by G. Shabbir Cheema, Christopher A. McNally and Vesselin Popovski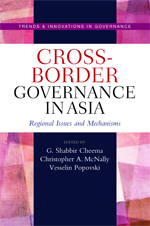 "Despite many predictions to the contrary, the countries of Asia are becoming ever more cooperative as their interdependence increases. Contributors to this timely volume provide in-depth analyses of the formal and informal mechanisms of Asian governance that are now dealing with a diversity of cross-border problems: migration, infectious disease, water management, trade and human trafficking. The book will be a welcome and insightful read for anyone interested in how globalization is actually playing out across Asia."
—T.J. Pempel, Professor, Department of Political Science, University of California, Berkeley
Designing Our Future: Local Perspectives on Bioproduction, Ecosystems and Humanity
February 2011. Edited by Mitsuru Osaki, Ademola K. Braimoh and Ken'ichi Nakagami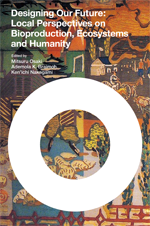 Designing Our Future focuses primarily on society at the local and regional levels and on a scenario in which human beings coexist harmoniously with nature. This ideal society is examined in terms of the relationship between villages or towns and their natural environment and how these villages and towns can achieve local or regional independence in the face of pressures toward centralization and globalization.
Climate Change and Global Sustainability: A Holistic Approach
February 2011. Edited by Akimasa Sumi, Nobuo Mimura and Toshihiko Masui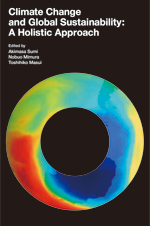 Climate change owing to global warming is a paramount concern for society in the twenty-first century, and it is not an issue that can be solved by individual academic or scientific disciplines working in isolation. Because climate change involves a wide range of interlinked problems, solutions must be pursued in an interdisciplinary manner. This book adopts just such a holistic approach in examining various aspects of global warming, and offers readers a comprehensive overview.
Back to top

Reviews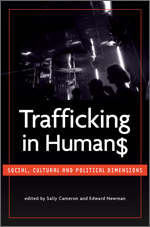 Edited by Sally Cameron and Edward Newman
"...this volume brings together an impressive group of contributors who demonstrate exceptional knowledge of the issues, and an impressive ability to articulate complex concepts such that both lay reader and seasoned scholar can comprehend."
Journal of Gender Studies Vol. 19 No. 2, June 2010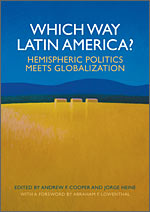 Edited by Andrew F. Cooper and Jorge Heine
"...addresses topics ranging from the alleged leftward turn in several countries to the reform of the Organization of American States (OAS). It also explores national and regional challenges such as Haiti's failed development and the impact of India and China on the region's future... [This book] offers a broad range of thought-provoking perspectives."
Americas Quarterly, Summer 2010
"This is a wide ranging, systematically organized, and highly informative collection on a continent that stands on the threshold of a new era…It is accessibly written throughout and contains excellent political and economic detail. It will be a valuable guide for academics, research students, and journalists as well as the increasing number of Indian public and private bodies, which have dealings with Latin America."
The Hindu, 31 August 2010
Back to top

How to purchase UNU Press books
All UNU Press publications can be purchased at UNU Headquarters by visiting the bookstore, UNU Books, on the second floor or the sales office (Room 918). Please send email orders to sales@unu.edu, and orders by fax to +81-(0)3-3406-7345. The sales office can also be contacted by phone on +81-(0)3-5467-1313; however, please note that orders cannot be taken over the phone, although inquiries are welcome.
UNU Press publications are also offered for sale through distributors in 69 countries worldwide, including major online retailers such as Amazon and Barnes & Noble.
The UNU Press publications catalogue is available for free online, and printed copies are available from UNU Books and the sales office. UNU Press is pleased to offer a 25% staff discount to UNU employees.
Browse books on Google Book Search.
Back to top