Edited by Tohru Morioka, Ke isuke Hanaki and Yuichi Moriguchi
Establishing a Resource-Circulating Society in Asia: Challenges and Opportunities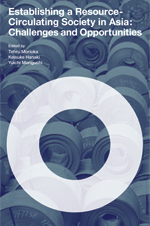 Establishing a Resource-Circulating Society in Asia: Challenges and Opportunities
Edited by Tohru Morioka, Ke isuke Hanaki and Yuichi Moriguchi
ISBN: 978-92-808-1182-7
375 pages; paper; US$37.00
March 2011
This book addresses the wide range of issues associated with sustainable resource-circulating societies. It has a particular focus on Asia, where both population growth and economic growth are increasingly prominent in the global context.
The authors examine theories and visions pertinent to resource-circulating societies, as well as relevant practices and initiatives at all levels—national, local and industrial—and through urban–rural linkages. They also propose an integrative approach combining the concepts of a resource-circulating society and a low-carbon society, both of which constitute fundamental components of a sustainable society.
Japan's initiatives and practices, which have always been at the forefront in the promotion of resource-circulating societies, may be expected to have a significant impact on Asian sustainability. This volume provides policy makers, business leaders and experts in the field with comprehensive and useful knowledge concerning future visions, initiatives and practical applications in the promotion of a sustainable resource-circulating society in Asia.
Tohru Morioka is a Professor of Environmental Management at Kansai University and Professor Emeritus at Osaka University, Japan. Keisuke Hanaki is a Professor of Urban Engineering as well as Adjunct Professor, Integrated Research System for Sustainability Science, at The University of Tokyo, Japan. Yuichi Moriguchi is Director of the Research Center for Material Cycles and Waste Management, National Institute for Environmental Studies, Tsukuba, as well as a Visiting Professor at the Graduate School of Frontier Sciences, The University of Tokyo, Japan.
Contents Overview
Introduction: Asian perspectives on a resource-circulating society—sound material metabolism, resource-efficiency and lifestyles for sustainable consumption, Tohru Morioka
Asian approaches to a resource-circulating society: Research framework, prospects and networking
Contributors include: Yasushi Umeda, Yusuke Kishita, Tohru Morioka, Terukazu Kumazawa, Takanori Matsui, Riichiro Mizoguchi, Keishiro Hara, Hiroyuki Tada, Helmut Yabar and Haiyan Zhang
Initiatives and practices for a resource-circulating society
Contributors include: Motoyuki Suzuki, Masao Takebayashi, Tsuyoshi Fujita, Rene van Berkel, Xudong Chen, Kunishige Koizumi, Weisheng Zhou and Yuichi Moriguchi
Designing a scenario for urban-rural symbiosis
Contributors include: Kazutoshi Tsuda, Toyohiko Nakakubo, Yasushi Umeda, Tohru Morioka, Mitsuru Osaki, Noriyuki Tanaka, Nobuyuki Tsuji, Toshiki Sato, Youji Nitta, Hiroyuki Ohta, Tasuku Kato, Ken'ichi Nakagami, Hironori Hamasaki, Myat New Khin, Ai Hiramatsu, Yuji Hara and Keisuke Hanaki
Biotic resources utilization and technology development
Contributors include: Kazuhiro Ueta, Shinya Yokoyama, Kiyotaka Saga, Takashi Machimura, Akio Kobayashi, Yoshihisa Nakazawa, Keisuke Hanaki, Noboru Yoshida, Tohru Morioka and Yugo Yamamoto
Exploring opportunities for sustainable city-region design
Contributors include: Masato Shiotani, Shuji Kurimoto, Tohru Morioka, Keisuke Hanaki and Yugo Yamamoto
◊◊◊
Page last modified 2019.04.16.
Top