Edited by Suneetha M. Subramanian and Balakrishna Pisupati
Traditional Knowledge in Policy and Practice: Approaches to Development and Human Well-being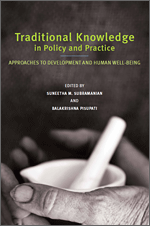 Traditional Knowledge in Policy and Practice: Approaches to Development and Human Well-being
Edited by Suneetha M. Subramanian and Balakrishna Pisupati
ISBN: 978-92-808-11919
384 pages; paper; US$38.00
November 2010
Sample chapter (536 KB PDF)
Traditional knowledge (TK) has contributed immensely to shaping development and human well-being. Its influence spans a variety of sectors, including agriculture, health, education and governance. However, in today's world, TK is increasingly underrepresented or under-utilized. Further, while the applicability of TK to human and environmental welfare is well-recognized, collated information on how TK contributes to different sectors is not easily accessible.
This book focuses on the relevance of TK to key environment- and development-related sectors, discusses the current debates within each of these sectors and presents suggestions as to how TK can be effectively integrated with conventional science and policy. A valuable resource to researchers, academics and policymakers, Traditional knowledge in policy and practice provides a comprehensive overview of TK, and its links and contributions to social, economic, environmental, ethical and political issues.
"This collection, which comprises chapters by experts from a wide range of backgrounds, including traditional knowledge-holding communities, should leave policy makers in no doubt that protecting TK is not only vital for indigenous peoples but for the common future of all of humanity."
—Graham Dutfield, Professor of International Governance, School of Law, University of Leeds
M.S.Suneetha is Research Fellow, in the Biodiplomacy Programme of the United Nations University-Institute of Advanced Studies, Yokohama, Japan. Balakrishna Pisupati is the Coordinator of Biodiversity at the Division of Environmental Law and Convention, United Nations Environment Programme, Nairobi, Kenya.
Table of contents
Introduction, Suneetha M. Subramanian and Balakrishna Pisupati
The diversity of worldviews, knowledge communities and science and the challenges of its co-evolution, Bertus Haverkort and Coen Reijntjes
Indigenous knowledge and indigenous peoples' education, Marie Battiste
Governance: indigenous institutions and contemporary development in Ghana: potentials and challenges, Stephen B. Kendie and Bernard Y. Guri
Gender and traditional knowledge: seeing blind spots, redressing inequities for women, Fatima Alvarez Castillo and Maria Nadja A. Castillo
Traditional knowledge, indigenous communities and ethical values, Doris Schroeder
Supplementary feature. Fostering 'mindfulness' in traditional knowledge research: the Code of Ethics of the International Society of Ethnobiology, Kelly Bannister, Sarah A. Laird and Maui Solomon
Making space for grandma: the emancipation of traditional knowledge and the dominance of western-style intellectual property rights regimes, Ikechi Mgbeoji
Characteristics, current relevance and retention of traditional knowledge in agriculture, R. Rengalakshmi
Supplementary feature. Traditional land management techniques for climate change mitigation, Idowu Oladele and Ademola K. Braimoh
Traditional knowledge and health, Gerard Bodeker
Supplementary feature. Knowledge and practitioners: is there a promotional bias? Unnikrishnan Payyappalli
Traditional knowledge: from environmental management to territorial development, Guillen Calvo and Salvatore Arico
Traditional knowledge and biodiversity: can the co-evolution of natural and social systems continue? Suneetha M. Subramanian
Supplementary feature 1. The complex rite of passage from invisible subjects to "subjects of rights" to attain benefit sharing in the implementation of the CBD: the case of the babassu breaker women in Brazil, Joaquim Shiraishi Neto, Noemi Miyasaka Porro and José Antonio Puppim de Oliveira
Supplementary feature 2. Hoodia and the San, Rachel Wynberg
Bridging formal and informal governance regimes for effective water management: the role of traditional knowledge, Alphonse Kambu
Supplementary feature: Cultural rehydration: towards sustainable water governance Alternatives, Ameyali Ramos Castillo
Integrating traditional knowledge in climate change adaptation, Agni Klintuni Boedhihartono
Traditional knowledge and economic development: the biocultural dimension, Kabir Bavikatte, Harry Jonas and Johanna von Braun
Traditional knowledge and indigenous heritage management: a practical approach (a case study of Moriori heritage management practice), Tom Lanauze, Susan Forbes and Maui Solomon
Conclusion, Suneetha M. Subramanian and Balakrishna Pisupati
◊◊◊
Page last modified 2019.04.16.
Top