Edited by Michio Umegaki, Lynn Thiesmeyer, and Atsushi Watabe
Human Insecurity in East Asia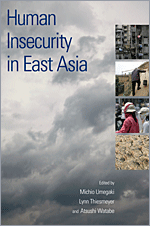 Human Insecurity in East Asia
Edited by Michio Umegaki, Lynn Thiesmeyer, and Atsushi Watabe
978-92-808-1164-3
308 pages; paper; US$36.00
May 2009
Sample chapter
(600 KB PDF)
Threats to human security do not necessarily take cataclysmic forms such as war or natural disaster. Nor does human insecurity exist solely within a suspended living environment like refugee camps. Often threats to human security are as subtle as a slow-rising tide, whose calamitous nature remains unknown till it breaks as a monstrous flood. The essays in this volume call attention to these less obvious threats to human security and how people and communities face them. Woven from the first-hand observations of life at various sites in East Asia, the narratives in these essays illuminate how uncanny the threats to human security can be.
East Asia, no stranger to regional wars or major natural disasters, is also known as the best performer in the United Nations poverty reduction program. The essays in this volume explore the interior of this dynamic and vibrant region and examine ordinary life as it illustrates the ubiquitous subtlety and obvious threats to safe and secure life.
Michio Umegaki is Professor of the Faculty of Policy Management, Keio University. Lynn Thiesmeyer is Professor of the Faculty of Environmental Information, Keio University. Atsushi Watabe is Research Fellow at the Institute for Global Environmental Strategies.
Table of contents
Introduction: Human security and East Asia, Michio Umegaki
Part I: Living with human insecurity
Embracing human insecurity: Agent Orange-Dioxin and the legacies of the war in Vietnam, Michio Umegaki, Vu Le Thao Chi and Tran Duc Phan
The ageing community: Human insecurity in a 'developed' society, Satoshi Watanabe
Choice of their own, choice of their need: People on the move in Isaan in Northeast Thailand, Atsushi Watabe and Chaicharn Wongsamun
Rural changes and ageing in human insecurity in Northern Thailand, Liwa Pardthaisong-Chaipanich
Part II: Intervening with human insecurity
Landlessness and development? Policy purposes and policy outcomes in Southeast Asia, Lynn Thiesmeyer
Policy coordination beyond borders: Japan-China environmental policy practices in Shenyang and Chengdu, China, Wang Xue-ping and Yoshika Sekine
ASEAN migrant workers: From poverty to human security-based competitiveness, Patcharawalai Wongboonsin
Pesticide dependence in agriculture: Policy for productivity and policy for security in Vietnam, Tran Duc Vien and Pham Van Hoi
Creating a community: Urban ageing in Japan, Daisuke Watanabe
Human security practises in a northern Thai minority project, Lynn Thiesmeyer and Seewiga Kittyuongkun
Epilogue: Research in human insecurity, Michio Umegaki
◊◊◊
Page last modified 2019.04.16.
Top