Edited by Jean Baxen and Anders Breidlid
HIV/AIDS in Sub-Saharan Africa: Understanding the Implications of Culture & Context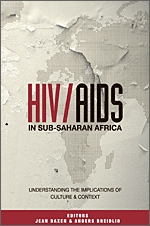 HIV/AIDS in Sub-Saharan Africa: Understanding the Implications of Culture & Context
Edited by Jean Baxen and Anders Breidlid
ISBN: 978-92-808-1179-7
160 pages; paper; US$25.00
November 2009
Sample chapter (1.5 MB PDF)
Popular understanding of the HIV/AIDS pandemic in Sub-Saharan Africa is riddled with contradiction and speculation. This is revealed in HIV/AIDS in Sub-Saharan Africa, which explores the various contexts in which debate about HIV/AIDS takes place and examines how the pandemic is perceived by scholars, religious leaders and traditional healers, among others – in communities in and around South Africa. Using a social theory lens, the book focuses on not only the cultural and contextual practices, but also the methodological and epistemological orientations around HIV/AIDS in education that shape community and individual interpretations of this disease.
The book avoids a simplistic approach to the pandemic, by exploring the complex and sometimes contradictory spaces in which HIV/AIDS discourses are negotiated, and thus goes some way to present a more hermeneutic profile of the HIV/AIDS problem. HIV/AIDS in Sub-Saharan Africa is as much about identity construction as it is about HIV/AIDS. The authors recognise the interrelatedness of sex, sexuality, identity and HIV/AIDS in the shaping of individual and collective identities and have thus gone beyond merely asking questions about what people know.
Jean Baxen is associate professor at the Faculty of Education, Rhodes University. Anders Breidlid is professor of International Education at Oslo University College, Norway.
Table of contents
Part I: Limitations in the educational research agenda (1994-2005)
Researching HIV/AIDS and education in Sub-Saharan Africa: Examining the gaps and challenges, Jean Baxen and Anders Breidlid
What questions? HIV/AIDS educational research: Beyond more of the same to asking different epistemological questions, Jean Baxen
HIV/AIDS, cultural constraints and educational intervention strategies, Anders Breidlid
Part II: Schools, community, culture and context
School culture, teacher identity and HIV/AIDS, Bernice Adonis and Jean Baxen
Examining religious leaders' and traditional healers' responses to HIV/AIDS in a modern community, Aysha Hattas
Part III: Youth, identity, sexuality and HIV/AIDS
Masculinising and feminising identities: Factors shaping primary school learners' sexual identity Construction in the context of HIV/AIDS, Hilda Rolls
Performing masculine and feminine identities: Sexuality and identity construction among youth in the context of HIV/AIDS, Mamatsoso Matsoso-Makhate and Gerald Wangenge-Ouma
Grade 10 learners' conceptions of risk of HIV infection in four secondary schools in the Western Cape, Julia Kate Nupen and Gerald Wangenge-Ouma
Cultural practices, gender and HIV/AIDS: A study of young women's sexual positioning in the context of HIV/AIDS in South Africa, Marit Petersen
Part IV: HIV/AIDS educational research: Epistemological and methodological implications
Afterword: Towards a hermeneutic understanding of HIV/AIDS in South Africa: Jean Baxen and Anders Breidlid
◊◊◊
Page last modified 2019.04.16.
Top