Edited by Michael H. Glantz
Heads Up! Early Warning Systems for Climate, Water and Weather-Related Hazards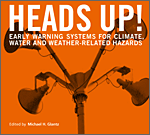 Heads Up! Early Warning Systems for Climate, Water and Weather-Related Hazards
Edited by Michael H. Glantz
ISBN: 978-92-8081169-8
214 pages; paper; US$19.00
May 2009
Sample chapter
(3.6 MB PDF)
The forces of nature can have deadly and damaging consequences for societies and ecosystems that stand in their path. Early warning systems offer one of the best defenses against the adverse effects of climate, water, weather and geologic hazards, although far too often this realization is made after disaster strikes.
Heads Up! provides a useful review of early warning systems in operation today, while exploring a range of hazards including hurricanes, heat waves, floods, droughts, tsunami and volcanoes. With contributions from an international team of scientists, this practical handbook serves as a valuable contribution to our awareness and understanding of the role early warning systems play in disaster avoidance and reduction.
Michael H. Glantz is director of the Consortium for Capacity Building in the Institute of Arctic and Alpine Research at the University of Colorado.
Table of contents
Foreword
Introduction
Interest in early warning
The "Precautionary Principle" as the basis of early warning
What constitutes an early warning system (EWS)
Some tools of the early warning trade
Indigenous knowledge
Geographic Information Systems (GIS)
Remote sensing
Forecast warning terminology
EWS quick facts
Threats: The perils that compel early warning
The perception of the role of EWSs
The reality of the role of EWSs
Surprises
The future has been arriving earlier than predicted... take global warming,
for example
Strengths, Weaknesses, Opportunities and Constraints assessment
Strengths
Weaknesses
Opportunities
Constraints
Climate-, water- and weather-related hazards
Hurricanes
Hurricane Katrina: Good forecast, poor response
Cyclone Nargis
Severe winter storms
Superstorm 1993: North America and the Caribbean
Heat waves
Heat waves can be killers
European heat wave 2003
Early warning system for heat waves in Galicia, Spain
Tornadoes
El Niño Southern Oscillation
Vector-borne disease
Climate-based malaria early warning system in Ethiopia
Avian influenza
Severe weather
Fire Danger Index (FDI)
Anatomy and Australian bushfires
Air pollution in metropolitan areas
Dust and sandstorm warning
Too much, too little
Floods
China's 1998 Great Yangtze River Floods
Flash floods
Droughts
The NOAA's Palmer Drought Severity Index and Crop Moisture Index
Drought in Africa
Famine Early Warning System Network
Australian monitoring for drought early warning
Drought in Latin America
Global warming
Global warming
The Polar Regions: A "place" as an EWS for global warming
Coral reef bleaching
The coral bleaching phenomenon
Sea-level rise
Integrated Vector Management
Earth hazards
Tsunamis
Indian Ocean tsunami 2004
Volcano early warning systems
Alaska Volcano Warming System
Development of the Mount Pinatubo Warning System
Earthquake early warning
Space weather
US ultraviolet forecasts
Concluding thoughts
Lessons learned about "lessons learned"
Foreseeability of hazards
Contributors
Jennifer Boehnert, GIS Coordinator, NCAR • Thomas Bogdan, Director, Space Weather Prediction Center, Space Environment Center (NOAA National Weather Service), Boulder, Colorado • Bureau of Meteorology, Australia Melbourne, Australia • Stanley Changnon Emeritus Climatologist, Illinois State Water Survey • S. H. M. Fakhruddin Early Warning Systems Technical Specialist, ADPC, Bangkok • Michael H. Glantz Director, Consortium for Capacity Building, University of Colorado • Eve Gruntfest Director, Social Science Woven into Meteorology, University of Oklahoma • Mary Hayden Postdoctoral Fellow, ISSE, NCAR • Stefanie Herrmann Postdoctoral Fellow, ASP, NCAR • Ilan Kelman Scientist, Center for International Climate and Environmental Research (CICERO), Oslo, Norway • Joanie Kleypas Scientist, NCAR • Janet Larsen Director of Research, Earth Policy Institute, Washington, DC • Margaret LeMone Scientist, NCAR • Michael McPhaden Scientist, PMEL, NOAA, Seattle, Washington • Paulette Middleton Scientist, Panorama Pathways, Boulder, Colorado • Rebecca Morss Scientist, NCAR • Susanne Moser Director, Susanne Moser Research and Consulting, Santa Cruz, California • Lino Naranjo Diaz MeteoGalicia, A Coruña, Spain • Natural Resources Canada Ottawa and Ontario, Canada • Douglas Pattie Scientist, International Strategy for Disaster Reduction, Bonn, Germany
◊◊◊
Page last modified 2019.04.16.
Top