Edited by Anna G. Jónasdóttir and Kathleen B. Jones
The Political Interests of Gender Revisited: Redoing Theory and Research with a Feminist Face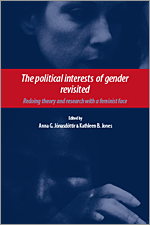 The Political Interests of Gender Revisited
Edited by Anna G. Jónasdóttir and Kathleen B. Jones
ISBN: 978-92-808-1160-5
256 pages; cloth; US$94.00
ISBN: 978-92-808-1161-2
256 pages; paper; US$36.00
November 2008
"In the last two decades," Anna G. Jónasdóttir and Kathleen B. Jones write in their introduction to this important new anthology, "two trends have characterised approaches to the concept of gender in political studies … one strategically centering gender in social and political analysis and the other deconstructing gender." Tensions between these trends led to an impasse in feminist theory, generating a "crisis in how to think about what we can do about gender, identity, or representation in the ethical/political sense." In this unique collection of theoretical and empirical research on gender and politics, the editors push past this impasse, assembling contributions from an impressive group of international scholars providing varied accounts of the political interests of gender. Investigating different institutional structures and discourses, contributors to this multidisciplinary collection illustrate concretely how to bridge the gap between discursive (post-structuralist, semiotic, philosophical, etc.) and socio-materialist accounts of gender relations and politics.
Structured around three conceptual guideposts—"politics," "interests," and "gender"—this anthology demonstrates the continued relevance of these concepts in the context of a theoretical and material landscape in flux. Offering fresh models for theoretical and empirical research, the first five chapters of the book provide a theoretical framework for the collection, while the following eight chapters shed light on key concepts through concrete case studies of such topics as human rights, women's movements, gendered labor markets, international monetary policy, equality policy, and queer politics.
Anna G. Jónasdóttir is Professor of Gender Studies in the Center for Feminist Social Studies at Örebro University, Sweden. Kathleen B. Jones is Professor Emerita of Women's Studies at San Diego State University, San Diego, USA.
Table of contents
The political interests of gender revisited: reconstructing feminist theory and political research, Anna G. Jónasdóttir and Kathleen B. Jones
Out of epistemology: Feminist theory in the 1980s and beyond, Anna G. Jónasdóttir and Kathleen B. Jones
Feminist questions, Marx's method, and the theorisation of 'love power,' Anna G. Jónasdóttir
Empowerment, development and women's liberation, Ann Ferguson
To teach 'the correct procedure for love': Matrilineal cultures and the nation state, Maria-Barbara Watson-Franke
Confronting power and politics: A feminist theorizing of gender in Commonwealth Caribbean societies, Eudine Barriteau
Men, power and the problem of gender equality policy implementation, Ingrid Pincus
Explanations of internal sex segregation in a male dominated profession: The police force, Berit Åberg
Queer citizenship/queer representation: Politics out of bounds? Sue Dunlap and Kathleen B. Jones
Injecting a woman's voice: Conservative women's organizations, gender consciousness and the expression of women's policy preferences, Ronnee Schreiber
Women in movement: Transformations in African political landscapes, Aili Mari Tripp
European Central Bank, monetary policy and the 'social Europe,' Brigitte Young
Private pain/public peace: Women's rights as human rights and Amnesty International's report on violence against women, Gillian Youngs
◊◊◊
Page last modified 2019.04.16.
Top