Edited by Martina Timmermann and Jitsuo Tsuchiyama
Institutionalizing Northeast Asia: Regional Steps towards Global Governance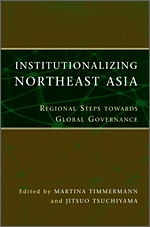 Institutionalizing Northeast Asia: Regional Steps towards Global Governance
Edited by Martina Timmermann and Jitsuo Tsuchiyama
978-92-808-1156-8
428 pages; paper; US$39.00
November 2008
Reviewed in ASIEN
The German Journal on Contemporary Asia, No 111, April 2009 (104 KB PDF)
With North Korea going nuclear, tensions ever present in the Taiwan Strait, and growing posturing over territories thought to be rich in resources, the question of how lasting peace, order, stability and prosperity can be achieved in Northeast Asia has become increasingly important. Globalisation and China's galloping economy have caused radically different economic growth rates in Northeast Asia, resulting in constant fluctuations in the balance of power among the nations in the region. With new emerging threats to security as well as threats posed by environmental degradation and disasters, the old concept of sovereign independence no longer offers satisfactory solutions for Northeast Asia.
Instead, alternatives are needed that provide more plausible answers to Northeast Asia's emerging challenges. In so doing, Institutionalizing Northeast Asia advances the notion of regional institutionalism as a counterweight to the principle of sovereignty, arguing that regional cooperation via regional institution-building is the right "recipe" for dealing with the growing intertwinement of global issues and developments with needs and interest at the regional and national levels, as well as the demand for supra-territorial policy responses to such issues as trade, finance, the environment, human rights and human security.
Martina Timmermann is Vice-President and Managing Director for International Projects of TIMA International GmbH. From 2004-2007, she served as UNU Director of Studies on Human Rights and Ethics in the Peace and Governance Programme in Tokyo/Bonn.
Jitsuo Tsuchiyama is Vice President, Professor and former Dean of the School of International Politics, Economics and Communication at Aoyama Gakuin University, Tokyo.
This impressive volume brings together many leading experts to provide a collective portrait of the logic and future of Northeast Asian regional cooperation. The result is a wide-ranging exploration of the ways that the countries in this transforming part of the world are grappling with new forms of governance and order. Compared to Europe, Northeast Asia is not highly institutionalized. But as the authors in this important book show, the region is following a path toward great institutionalizing – and doing so in its own distinctive way.
—G. John Ikenberry
Albert G. Milbank Professor of Politics and International Affairs in the Department of Politics and the Woodrow Wilson School of Public and International Affairs, Princeton University
•
This volume breaks new ground by analyzing the trends in and prospects for regional institutionalization in an area defined by long historical memories, simmering territorial conflicts, a shifting balance of power, and an uncertain global environment. It brings together a distinguished group of scholars who offer a full range of views on theories of institutionalization and on their application to issues of identity, security, economy, energy, environment, human rights, and human security. Institutionalizing Northeast Asia will serve as the point of departure for subsequent debates on this critically important subject.
—Jack S. Levy, Board of Governors' Professor at Rutgers University and President of the International Studies Association (ISA) 2007–2008
•
An illuminating, fresh approach to Northeast Asian regionalism. Reassessing the role of regional institutions such as the Six-Party Talks and ASEAN in promoting regional governance, the authors present indispensable food for thought for practitioners as well as theorists.
—Masashi Nishihara, President of the Research Institute for Peace and Security (RIPS) and former President of the National Defense Academy in Japan
•
This is a highly recommendable book, definitive as well as timely work on a most important subject. The book sums up and gives us a new perspective on the discourses which have been going on for the past several decades. It covers most of the topics related to the subject from analytical, normative as well as practical perspectives.
—Ra Jong-Yil, President of Woosuk University and South Korea's former ambassador to Japan
•
The book makes a fine contribution to the international literature on regional cooperation in one of the world's most conflicting regions. By bringing together an international panel of high ranking specialists, it provides a distinctive added value to comparative regionalist research and international relations. The readers will not only like the very rich empirical evidences regarding the ongoing multiple policy-cooperation and its limits. Moreover, the book's conceptual clarity and internal coherence help also by further deepening a broader and more sophisticated concept of regional institutionalization, including typology, functions, norm setting, historical legacies, security challenges, and processes of identity building. It is extremely appealing to a wide audience of students and international scholars of political economy, security studies, and international relations.
—Mario Telò, President of the Institute of European Studies at Free University of Brussels (Université Libre de Bruxelles) and Member of the Royal Academy of Sciences, Belgium
Table of contents
Introduction
Institutionalizing Northeast Asia: Challenges and opportunities, Martina Timmermann
Part I
Institutionalization in Northeast Asia: Is outside-in regionalization enough? Yoshinobu Yamamoto
Institutionalizing East Asia: Learning lessons from Europe on regionalism, regionalization, identity and leadership, Richard Higgott and Martina Timmermann
Normative regionalism in East Asia, Baogang He
Part II
Northeast Asian regionalism at a crossroads: Is an East Asian Community in sight? Gilbert Rozman
Overcoming a difficult past: The history problem and institution building in Northeast Asia, Thomas Berger
The function and dysfunction of identity in an institutionalizing process: The case of Northeast Asia, Takashi Oshimura
Do alliance networks in Northeast Asia contribute to peace and stability? The US-Japan alliance in focus, Jitsuo Tsuchiyama
Northeast Asian security community: From concepts to practices, Shin-wha Lee
The Chinese approach to regional security institutionalism, Seiichiro Takagi
The Proliferation Security Initiative from an institutional perspective: An "outside-in" institution? Chiyuki Aoi
Institutional linkages and security governance: Security multilateralism in the Korean peninsula, Tsutomu Kikuchi
Institutionalizing trade and investment in East Asia – The FTA and BIT strategies of Northeast Asian powers, Keisuke Iida
Firebreak: East Asia institutionalizes its finances, T. J. Pempel
China and its neighbours: Patterns of trade and investment, John G. Weiss
Institutionalizing Northeast Asia: The energy market, Stuart Harris
A small leap forward: Regional cooperation for tackling the problems of the environment and natural resources in Northeast Asia, Hiroshi Ohta
Multilevel regionalization through think-tanks, higher education and multimedia, César de Prado
International migration and human rights: A case for a regional approach in Northeast Asia, Tsuneo Akaha and Brian Ettkin
Human security and Northeast Asia: Seeds germinating on hard ground, Brian Job and Paul Evans
Conclusion: Challenges and potentials for institutionalization in Northeast Asia, Jitsuo Tsuchiyama
◊◊◊
Page last modified 2019.04.16.
Top