Edited by Oran R. Young, W. Bradnee Chambers, Joy A. Kim and Claudia ten Have
Institutional Interplay: Biosafety and Trade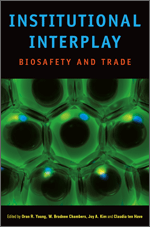 Institutional Interplay: Biosafety and Trade
Edited by Oran R. Young, W. Bradnee Chambers, Joy A. Kim and Claudia ten Have
ISBN 978-92-808-1148-3
200 pages; paper; US$30.00
February 2008
Sample Chapter (1.8 MB PDF)
International institutions and the consequences of their interplay are emerging as a major agenda item for research and policy. As governments enter into an ever-increasing number of international agreements, questions arise about the overlap of issues, jurisdiction and membership. Of particular interest to practitioners and analysts is how this mélange of institutions at the international level intersects and interrelates to influence and affect the content, operation, performance and effectiveness of a specific institution, as well as the functioning of the overall global governance context. Biosafety, which is an issue that is relevant to numerous institutions, offers an excellent case study for exploring and applying interplay in practical terms.
Oran R. Young is Professor and Co-Director of the Program on Governance for Sustainable Development at the Bren School of Environmental Science and Management at the University of California, Santa Barbara, USA. W. Bradnee Chambers is Senior Programme Officer of the United Nations University Institute of Advances Studies (UNU-IAS), Yokohama, Japan, and Senior Legal Fellow at the Centre for Sustainable Development Law. Previously he worked at UNCTAD in Geneva, Switzerland. Joy A. Kim is Senior Policy Analyst of the Trade Policy Linkages Division, OECD Trade Directorate, Paris, France. Claudia ten Have is a Japan Society for the Promotion of Science (JSPS) Fellow at the United Nations University Institute of Advanced Studies (UNU-IAS), Yokohama, Japan.
Table of contents
I. Overview: Introduction to the issues
The problem of interplay, W. Bradnee Chambers, Joy A. Kim and Claudia ten Have
Global biosafety governance: Emergence and evolution, Aarti Gupta
II. Institutional interplay and its application to the case of biosafety and trade
Analysing biosafety and trade through the lens of institutional interplay, Heike Schroeder
Overlapping regimes: The SPS Agreement and the Cartagena Biosafety Protocol, Are K. Sydnes
Disentangling the interaction between the Cartagena Protocol and the World Trade Organization, Sebastian Oberthuer and Thomas Gehring
III. Conclusion
Deriving insights from the case of the WTO and the Cartagena Protocol, Oran R. Young
IV. Remembering Konrad von Moltke
The WTO as an environmental agency, Steve Charnovitz
Compilation of additional tributes to Konrad von Moltke
◊◊◊
Page last modified 2019.04.16.
Top