Edited by Lynn K. Mytelka and Grant Boyle
Making Choices about Hydrogen: Transport Issues for Developing Countries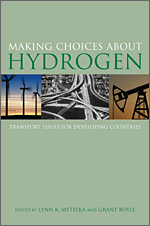 Making Choices about Hydrogen: Transport Issues for Developing Countries
Edited by Lynn K. Mytelka and Grant Boyle
978-92-808-1155-1
336 pages; paper; US$36.00
September 2008
Since the mid-1990s, the emergence of a hydrogen economy and the speed with which it will arrive have been vigorously debated. The debate has mainly been carried on among policymakers as well as oil and gas, automobile, fuel-cell and renewable energy firms in the countries of the North, where policies and the technological competences and competitive practices of firms have played a central role in shaping both the debate and the direction of technological change during this period. For developing countries, the current debate highlights the uncertainties involved in making choices about hydrogen and fuel cells in planning the development of their transport sector.
As a disruptive technology, dominant designs for the production, storage and distribution of hydrogen have not yet been established. Nor have performance characteristics been achieved that would make hydrogen proton-exchange-membrane fuel cells competitive with the existing combustion engine. Yet, costs are coming down and the efficiency and durability of hydrogen fuel cells (HFCs) are improving. How to deal with competing arguments that push the hydrogen economy into the longer term (2050) and those that place its advent in a shorter-term perspective (2020) is one key issue for developing countries today as they explore their options for the design of national energy, environment and transport policies.
Lynn K. Mytelka is a Professorial Fellow at UNU-MERIT in Maastricht, where she is Director of the Hydrogen Fuel Cell Project, and a Distinguished Research Professor at Carleton University in Ottawa, Canada. She formerly served as Director of UNU-INTECH.
Grant Boyle conducted policy research on energy and the environment at UNU-IAS in Yokohama, Japan, before serving as Associate Project Coordinator of the UNU HFC Project from 2004 through 2006. He is currently completing a law degree at Osgoode Hall Law School in Toronto, Canada.
Table of contents
Part I: Hydrogen and fuel cells – An ongoing debate
Introduction
Hydrogen fuel cells and alternatives in the transport sector: A framework for analysis, Lynn K. Mytelka
The Japanese strategy for R&D on fuel-cell technology and on-road verification test of fuel-cell vehicles, Hisashi Ishitani and Yasuko Baba
The US Hydrogen Fuel Initiative, Steven G. Chalk and James F. Miller
Passion, purpose and partnerships: Building the hydrogen infrastructure, Gabriel de Scheemaker
Part II: Making choices about hydrogen for sustainable transport
Introduction
Alternative transport fuels in developing countries and implications for approaching hydrogen, Grant Boyle
The ethanol and biodiesel programmes in Brazil, Paulo Teixeira de Sousa Jr, Evandro L. Dall'Oglio, José M. Marta, Michèle Sato, Rodrigo Aleixo Brito de Azevedo and Célio Spindola
Diversifying the energy portfolio: Competencies and investment opportunities in the Nigerian oil and gas industry, R. S. O. Samuel
Egypt's policies and measures for sustainable transport, Ibrahim Abdel Gelil
Practical pathways towards a ''hydrogen economy'': A view from Iceland, Agúst Valfells
Part III: Hydrogen fuel cells and the global automobile industry
Introduction
The strategies of the Japanese auto industry in developing hybrid and fuel-cell vehicles, Masaru Yarime, Hideaki Shiroyama and Yusuke Kuroki
The race to develop fuel cells: Possible lessons of the Canadian experience for developing countries, Maureen Appel Molot
Automobile emissions and the environment: The Malaysian experience, Fatima Kari and Rajah Rasiah
Part IV: Strategies and roadmaps
Introduction
Transition to hydrogen and fuel cells, Remco Hoogma
Future prospects and public policy implications for hydrogen and fuel-cell technologies in Canada, Kevin Fitzgibbons
Hydrogen and fuel-cell activities in China, Ming Pingwen, Lun Jingguang and Lynn Mytelka
Developing a strategy for the application of emerging hydrogen and fuel-cell technologies in Nigeria's transport Sector, A. O. Adegbulugbe, Adeola Adenikinju and Abiodun S. Momodu
Hydrogen and fuel-cell technology issues for South Africa: The emerging debate, Boni Mehlomakulu
Dealing with a disruptive technology: Issues for developing Countries, Lynn K. Mytelka
◊◊◊
Page last modified 2019.04.16.
Top