Sarah Birch
Full Participation: A Comparative Study of Compulsory Voting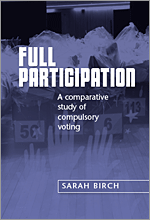 Full Participation: A Comparative Study of Compulsory Voting
Sarah Birch
ISBN: 978-92-808-1165-0
192 pages; cloth; US$83.00
ISBN: 978-92-808-1166-7
192 pages; paper; US$32.00
January 2009
Full Participation is the first book-length study of compulsory voting to be published in the English language. About a quarter of all democracies in the contemporary world legally oblige their citizens to vote, making this an important aspect of electoral systems in many settings. Moreover, numerous commentators and policy-makers in voluntary voting states are coming to see mandatory attendance at the polls as an attractive option in the context of declining turnout. Yet we know relatively little about this practice beyond its effects on rates of electoral participation.
There has been a dearth of systematic examination of the way in which compulsory voting shapes attitudes, behaviour and outcomes of the political process. This book seeks to fill that gap by providing a comprehensive description, analysis and evaluation of compulsory voting as it is practiced throughout the world. Specifically, the study systematically examines the history of the institution, the normative arguments for and against it, and the influence it has on a range of political phenomena. These include electoral campaigns, political attitudes, electoral integrity and legitimacy, policy outcomes, and turnout. The book also considers the feasibility of introducing compulsory voting in a contemporary democracy, as well as variations on the institution designed to broaden its appeal.
Full Participation will be of interest to a wide range of readers, from ordinary citizens who take an interest in public affairs to political commentators, policy-makers and academic researchers.
Sarah Birch is Reader in Politics at the University of Essex, UK.
Table of contents
Introduction
A history of compulsory voting and an overview of contemporary experience
Normative arguments for and against compulsory voting
Compulsory voting and electoral campaigns
Compulsory voting and electoral turnout
Compulsory voting, electoral integrity and democratic legitimacy
Compulsory voting and political outcomes
Conclusion
◊◊◊
Page last modified 2019.04.16.
Top