Ramesh Thakur
War in Our Time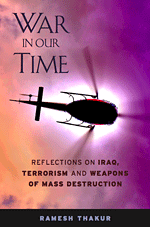 War in Our Time
By Ramesh Thakur
ISBN 978-92-808-1145-2
paper; 210 pp
US$20.00
June 2007
Sample Chapter (708 KB PDF)
Uniquely in the 62-year history of the United Nations, Ramesh Thakur was given and exercised the latitude to write for public consumption on the contested topics of the day, making it clear that he was expressing his personal opinion. This book brings together a collection of Dr Thakur's opinion articles from a number of newspapers around the world: The Australian, The Canberra Times, The Daily Yomiuri, The Globe and Mail, The Hindu, The International Herald Tribune, and The Japan Times, plus one article from the UN Chronicle. The book's three topics—the Iraq war, the war on terror, and weapons of mass destruction—are among the most critical issues of our times.
"I am a regular reader of Dr Ramesh Thakur's writings. I have been impressed by his clear thinking and analysis of world politics. Dr Thakur has challenged me many times to review my own thinking on important issues."
—Martti Ahtisaari, former President of the Republic of Finland and Chairman of the Crisis Management Initiative
"Ramesh Thakur has established a solid reputation for himself as an international public intellectual. The articles assembled in this book have contributed in no small measure to that achievement. Between them these articles show a keen understanding of the main currents of international affairs. Ramesh's subtle analysis is well served by an elegant and limpid writing style. Academics, diplomats, journalists as well as the wider public will all welcome the fact that these enduring essays have been brought together in one book."
—Lakhdar Brahimi, former Special Adviser to the United Nations Secretary-General
"In recent years Ramesh Thakur has provided the world with brilliant commentary on the passing global scene. To have this wisdom and insight gathered in a single volume provides an invaluable resource that should be made required reading for leaders and citizens alike."
—Richard Falk, Emeritus Professor, Princeton University
Ramesh Thakur is Distinguished Fellow at the Centre for International Governance Innovation and Professor of Political Science at the University of Waterloo in Canada. He previously served as Senior Vice-Rector of the United Nations University and Assistant Secretary-General of the United Nations.
◊◊◊
Page last modified 2019.04.16.
Top