Edited by M. Nadarajah and Ann Tomoko Yamamoto
Urban Crisis: Culture and the Sustainability of Cities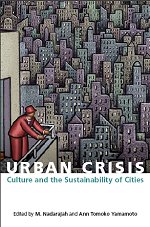 Urban Crisis
Edited by M. Nadarajah and Ann Tomoko Yamamoto
ISBN 92-808-1125-8
ISBN 978-92-808-1125-4
450 pages; paper; US$37.00
December 2006
Unprecedented urban growth makes sustainability in cities a crucial issue for policy makers, scholars and business leaders. This emerging urban crisis challenges environment-based and economic-based approaches to sustainability, and brings to the forefront the multi-faceted and critical role that culture plays in ensuring that cities are viable for future generations.
Culture provides fertile ground for new approaches to sustainable development at the local level. Urban Crisis: Culture and the Sustainability of Cities makes important contributions towards a theory on culture in sustainable cities, assesses the use of cultural indicators as a tool for policymakers, and includes useful case studies of Patan (Nepal), Penang (Malaysia), Cheongju (South Korea), and Kanazawa (Japan).
This book offers fresh insights into the role of culture in fostering community development, environmental awareness and balanced economic growth, and it will be of particular interest to students of urban studies, academics, and civil society groups working on urban issues.
Editor
M. Nadarajah is the Secretary of the Asian Communication Network (ACN) based in St. John's University, Bangkok, Thailand. Ann Tomoko Yamamoto is a PhD candidate in urban engineering at the University of Tokyo, Japan.
Contents Overview
Part I: Culture in sustainability of cities I
Introduction
Cultural frameworks
Voices I
Part II: Four Asian case studies
Introduction
Transforming cultural heritage into sustainable future: A case study of Patan, Nepal
Culture of sustainability: Multicultural reality and sustainable localism - A case study of Penang (George Town), Malaysia
Creating cultural identity for sustainability: A case study of Cheongju, Korea
Towards an urban cultural mode of production: A case study of Kanazawa, Japan, I
Sustainability in a traditional castle city: A case study of Kanazawa, Japan, II
Common themes and differences: Approaches to culture in sustainability of cities
Part III: Culture in sustainability of cities II
Approaches to cultural indicators
Voices II
Conclusion
Contributors
M. Nadarajah
Ann Tomoko Yamamoto
Ratna S. J. B. Rana
Awais L. Piracha
Sudarshan Raj Tiwari
Sang-Chuel Choe Masayuki Sasaki
Shigekasu Kusune
Peter J. Marcotullio
◊◊◊
Page last modified 2019.04.16.
Top