Edited by Jessica F. Green and W. Bradnee Chambers
The Politics of Participation in Sustainable Development Governance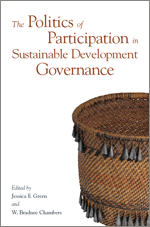 The Politics of Participation in Sustainable Development Governance
Edited by Jessica F. Green and W. Bradnee Chambers
ISBN 92-808-1133-9
ISBN 978-92-808-1133-9
300 pages; paper; US$34.00
November 2006
To be effective and legitimate, the governance of sustainable development requires the participation of a diverse set of actors ranging from transnational civil society groups to indigenous peoples. This book explores the extent to which the current system of governance allows for the participation of diverse actors, and finds that there are still many obstacles impeding the inclusion and influence of a number of different groups.
Written by leading experts and practitioners in the field of sustainable development, this book examines the obstacles to effective participation, and how they can be overcome to improve both the quality of engagement and the resulting systems of sustainable development governance. The authors offer a working definition of engagement, and describe formal and informal methods that actors may use to participate in and influence global policymaking. They examine a number of current policymaking processes, draw lessons from successful examples, and provide recommendations for future improvements in the governance of sustainable development.
As a thorough examination of the challenges of participation, this book is a useful resource for academics and policymakers, as well as groups seeking greater input into sustainable development governance.
Editors
Jessica F. Green is a doctoral candidate at the Woodrow Wilson School at Princeton University and a visiting researcher at United Nations University Institute of Advanced Studies. W. Bradnee Chambers is a Senior Programme Officer at United Nations University-Institute of Advanced Studies.
Contents Overview
Introduction: Understanding the challenges to enfranchisement, Jessica F. Green and W. Bradnee Chambers
Actors
Increasing disenfranchisement of developing country negotiators in a multi-speed world, Joyeeta Gupta
In tension: Enfranchising initiatives in the face of aggressive marginalisation, John W. Foster
Business-society interaction towards sustainable development—corporate social responsibility: The road ahead, Mikoto Usui
Developing country scientists and decision-making: An institutional perspective of issues and barriers, W. Bradnee Chambers
The legacy of Deskaheh: Decolonising indigenous participation in sustainable development governance, Leanne Simpson
Models
Civil society and the World Trade Organization, Kevin R. Gray
The politics of inclusion in the Monterrey Process, Barry Herman
The Åarhus Convention: Engaging the disenfranchised through the institutionalisation of procedural rights? Marc Pallemaerts
Promoting enfranchisement: New approaches for the climate talks, Gunnar Sjöstedt
Toward inclusion and influence: Strategies for enfranchisement, Jessica F. Green
◊◊◊
Page last modified 2019.04.16.
Top