Edited by Banji Oyelaran-Oyeyinka and Dorothy McCormick
Industrial Clusters and Innovation Systems in Africa: Institutions, Markets and Policy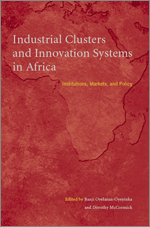 Industrial Clusters and Innovation Systems in Africa
Edited by Banji Oyelaran-Oyeyinka and Dorothy McCormick
ISBN 92-808-1137-1
ISBN 978-92-808-1137-7
400 pages; paper; US$38.00
May 2007
This book is the first to examine the incidence and role of clusters as a viable and increasingly important form of industrial organization in Africa. It presents a series of theoretically grounded case studies that analyze clusters in different industrial sectors and at different levels of economic development.
The overall aim of this book is to improve our understanding of how local clusters can be transformed into local systems of innovation and how local clusters can be better connected to global actors. The authors draw out implications for policy and practice and provide guidance to governments, private sector associations, and non-governmental organisations.
The book reaches two broad conclusions. Firstly the case studies show that any theoretical framework for analyzing innovation in clusters needs to closely reflect the role of policy, the State, the types of institutions, and the nature and distribution of power. Secondly, the findings illustrate the limitations of trying to transfer best practices onto programmes in a different context: policies can draw on others' experience, but they must be specifically designed for local realities.
Editors
Banji Oyelaran-Oyeyinka is a Professor of Technology, Innovation and Development and Senior Researcher at UNU-MERIT in Maastricht, The Netherlands. Dorothy McCormick is Associate Research Professor and Director of the Institute for Development Studies at the University of Nairobi in Kenya.
Contents Overview
Introduction: Clusters and innovation systems in Africa, Dorothy McCormick and Banji Oyelaran-Oyeyinka
Industrialisation through cluster upgrading: theoretical perspectives, Dorothy McCormick
From clusters to innovation systems in traditional industries, Lynn K. Mytelka
Industrializing Kenya: Building the productive capacity of small enterprise clusters, Dorothy McCormick and Mary Njeri Kinyanjui
Small and micro enterprise clusters in Tanzania: Can they generate industrial dynamism? Flora Mndeme Musonda
Learning in local systems and global links: The Otigba computer hardware cluster in Nigeria, Banji Oyelaran-Oyeyinka
Power and firm's learning in the Egyptian furniture cluster of domiatt (Damietta), Samah El-Shahat
Learning to change: Why the fish processing in Uganda learned to upgrade, Rose Kiggundu
The Durban auto cluster: Global competition, collective efficiency and local development, Jochen Lorentzen, Glen Robbins, and Justin Barnes
Global markets and local responses: The changing institutions in the Lake Victoria fish cluster, Dorothy McCormick and Winnie V. Mitullah
The role of government support for inter-firm cluster co-operation: Policy lessons from South Africa, Mike Morris and Glen Robbins
Institutional support for collective ICT learning: Cluster development in Kenya and Ghana, Banji Oyelaran-Oyeyinka, Kaushalesh Lal and Catherine Nyaki Adeya
Conclusion and policy implications, Banji Oyelaran-Oyeyinka and Dorothy McCormick
◊◊◊
Page last modified 2019.04.16.
Top