Edited by Larry Minear and Hazel Smith
Humanitarian Diplomacy: Practitioners and their Craft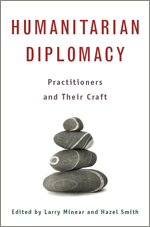 Humanitarian Diplomacy
Edited by Larry Minear and Hazel Smith
ISBN 92-808-1134-7
ISBN 978-92-808-1134-6
450 pages; paper; US$37.00
December 2006
Humanitarian professionals are on the front lines of today's internal armed conflicts, negotiating access through physical and diplomatic roadblocks to reach imperiled civilians. They frequent the corridors of power, interceding with politicians and diplomats in countries wracked by violence, in capitals of donor governments that underwrite humanitarian work, and at the United Nations Security Council. They provide the media with authoritative and catalytic information about situations of humanitarian extremity.
This volume provides a compendium of experiences presented and analyzed by 14 senior humanitarian practitioners who led humanitarian operations in settings as diverse as the Balkans and Nepal, Somalia and East Timor, and across a time frame from the 1970s in Cambodia and 1980s in Lebanon to more recent engagement in Colombia and Iraq. Their unique experiences and insights from the field are framed by context-setting essays on the theory and practice of humanitarian diplomacy and on the ingredients of the craft as practiced by humanitarian professionals.
Humanitarian Diplomacy provides a unique resource for the practitioner, policy communities and students of humanitarian action, as well as for the concerned international public on whose support humanitarian action in such settings depends.
"Written by humanitarian practitioners themselves, this volume provides invaluable insights into the crucial lessons learned from recent relief operations and considers what might be done to make this work more effective. This will be useful for policymakers, practitioners and the well informed public."
—Gil Loescher, Senior Research Fellow, Centre for International Studies, University of Oxford
Editors
Larry Minear is the Director of the Humanitarianism and War Project at Tufts University, USA. Hazel Smith is Professor of International Relations at the University of Warwick, UK.
Contents Overview
Foreword, Ambassador Lakhdar Brahimi
Introduction, Larry Minear and Hazel Smith
Craft and concept
The craft of humanitarian diplomacy, Larry Minear
Humanitarian diplomacy: Theory and practice, Hazel Smith
The Middle East
Protecting Palestinian refugees: The UNRWA experience, D. Sena Wijewardane
Negotiating for results in the Lebanon, André Roberfroid
Negotiating the legitimacy of humanitarian action in Iraq, Claudia Rodriguez
Asia
NGOS Break the Cold War impasse in Cambodia, Brian Walker
Negotiating with the Taliban, Antonio Donini
Principled humanitarian action in the East Timor crisis, Toni Pfanner
Steep learning curves in the DPRK, David Morton
Steering through insurgencies in Nepal, Erika Joergensen
Africa
Nurturing humanitarian space in Sudan, Masood Hyder
Military humanitarians in Liberia, 'Funmi Olonisakin
Negotiating the release and rehabilitation of child soldiers in Sierra Leone, Omawale Omawale
Blurring of mandates in Somalia, Karin von Hippel
Europe and the Americas
Protection through diplomacy in Colombia, Lizzie Brock
The limits of humanitarian action in the Balkans, Nicholas Morris
◊◊◊
Page last modified 2019.04.16.
Top