Edited by William A. Schabas, Ramesh Thakur, and Edel Hughes
Atrocities and International Accountability: Beyond Transitional Justice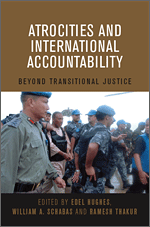 Atrocities and International Accountability: Beyond Transitional Justice
Edited by William A. Schabas, Ramesh Thakur, and Edel Hughes
ISBN 92-808-1141-X
ISBN 13: 978-92-808-1141-4
300 pages; paper; US$32.00
June 2007
Sample Chapter (232 KB PDF)
Rebuilding societies where conflict has occurred is rarely a simple process; but where conflict has been accompanied by gross and systematic violations of human rights, the procedure becomes fraught with controversy.
The traditional debate on 'transitional justice' sought to balance justice, truth, accountability, and peace and stability. The appearance of impunity for past crimes undermines confidence in new democratic structures and casts doubt upon commitments to human rights. Yet the need to consolidate peace sometimes resulted in reluctance on the part of authorities—both local and international—to confront suspected perpetrators of human rights violations, especially when they are a part of a peace process. Experience in many regions of the world therefore suggested a trade-off between peace and justice.
However, there is a growing consensus that some form of justice and accountability are integral to – rather than in tension with – peace and stability. This volume considers if we are truly going beyond the 'transitional justice' debate. It brings together eminent scholars and practitioners with direct experience of some of the most challenging contemporary cases of international justice, and illustrates that justice and accountability remain complex ideals.
Editors
William A. Schabas is Professor of Human Rights Law at National University of Ireland in Galway, and Director of the Irish Centre for Human Rights. Ramesh Thakur is Senior Vice-Rector of the United Nations University in Tokyo and an Assistant Secretary-General of the United Nations. Edel Hughes is a Ph.D. Candidate at the Irish Centre for Human Rights, National University of Ireland.
Contents Overview
Introduction, William A. Schabas, Ramesh Thakur, and Edel Hughes
How to Come to Terms with the Past, Peter R. Baehr
Reconciliation or Transitional Justice?, Rama Mani
Mozambique, Rwanda and South Africa Assessed, Helena Cobban
Dilemmas of Dealing with the Past in New Democracies, Jorge Heine
East Timor's Search for Justice and Reconciliation, Jeff Kingston
Why International Criminal Justice has a Bleak Future, Jeremy Rabkin
Prosecuting West Africa's Warlords, David M. Crane
Prosecutorial Discretion in Practice, Matthew Brubacher
Alternatives to Prosecution, Gerald Gahima
Independence and Impartiality of the International Judiciary, William A. Schabas
Impartiality Deficit and International Criminal Judging, Diane M. Amann
The Effect of Amnesties Before Domestic and International Tribunals, Leila N. Sadat
The Contemporary Law and Policy Debate, Michael P. Scharf
Conclusion, William A. Schabas and Ramesh Thakur
◊◊◊
Page last modified 2019.04.16.
Top