Edited by Béatrice Pouligny, Simon Chesterman and Albrecht Schnabel
After Mass Crime: Rebuilding States and Communities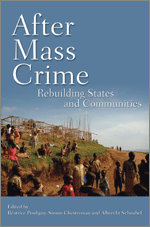 After Mass Crime: Rebuilding States and Communities
Edited by Béatrice Pouligny, Simon Chesterman and Albrecht Schnabel
ISBN 978-92-808-1138-4
340 pages; paper; US$38.00
December 2006
International interventions in the aftermath of mass violence tend to focus on justice and reconciliation processes, elections and institution-building. The frame of reference is at the level of the state, although the experience of mass crime by a population is also at the level of the community and individuals.
Insufficient attention has been paid to the radical transformations in their belief systems and codes of conduct after the experience of mass crime. This book seeks to bridge this divide by offering a trans-disciplinary analysis of the impact of mass crime on the rebuilding of social and political relations.
Drawing on historical and more recent cases—including examples from Bosnia-Herzegovina, Burundi, Cambodia, Indonesia, Peru, and Rwanda—the authors examine the impact of mass crimes on individuals, society at large, and the organizations involved in providing assistance in the post-conflict phase. While outside actors have a role to play in this difficult process, the hardest work must be done by those picking up the pieces of a community that has turned on itself.
Béatrice Pouligny is Senior Researcher at the Centre for International Studies and Research (CERI/Sciences-Po), Paris, France. Simon Chesterman is Global Professor and Director of the New York University School of Law Singapore Programme, Singapore. Albrecht Schnabel is Senior Research Fellow at swisspeace—Swiss Peace Foundation, Bern, Switzerland.
Table of contents
Introduction: Picking up the pieces, Béatrice Pouligny, Simon Chesterman and Albrecht Schnabel
Methodology and ethics
Methodological and ethical problems: A trans-disciplinary approach, Béatrice Pouligny, Bernard Doray and Jean-Clément Martin
Contested memories: Peace-building and community rehabilitation after violence and mass crimes—A medico-anthropological approach, Roberto Beneduce
Individuals and communities
The uses and abuses of culture: Cultural competence in post-mass-crime peace-building in Cambodia, Maurice Eisenbruch
Intimate enemies: Reconciling the present in post-war communities in Ayacucho, Peru, Kimberly Theidon
Origins and aftermaths: The dynamics of genocide in Rwanda and their post-genocide implications, Scott Straus
"You can't run away": Former combat soldiers and the role of social perception in coping with war experience in the Balkans, Natalija Bašiæ
Memories and representations
Mass murder, the politics of memory and post-genocide reconstruction: The cases of Rwanda and Burundi, René Lemarchand and Maurice Niwese
Speaking from the shadows: Memory and mass violence in Bali, Leslie Dwyer and Degung Santikarma
Shaping political identity through historical discourse: The memory of Soviet mass crimes, Thomas Sherlock
Insiders and outsiders
External contributions to post-mass-crime rehabilitation, Louis Kriesberg
Re-imagining peace after mass crime: A dialogical exchange between insider and outsider knowledge, Roberta Culbertson and Béatrice Pouligny
◊◊◊
Page last modified 2019.04.16.
Top