New from UNU Press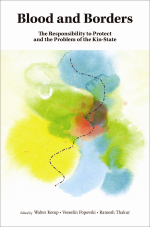 Edited by Walter Kemp, Vesselin Popovski and Ramesh Thakur
Map lines delineating statehood can become blurred by bloodlines of nationhood. Inter-ethnic conflict and genocide have demonstrated the dangers of failing to protect people targeted by fellow citizens. When minority groups in one country are targeted for killings or ethnic cleansing based on their group identity, whose responsibility is it to protect them? In particular, are they owed any protective responsibility by their kin state? How can cross-border kinship ties strengthen greater pan-national identity across borders without challenging territorially defined national security? Read more...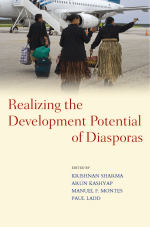 Edited by Krishnan Sharma, Arun Kashyap, Manuel F. Montes and Paul Ladd
In Realizing the Development Potential of Diasporas, a collection of international experts, including academics, policymakers, practitioners in the private sector and representatives of diaspora communities contribute to furthering our understanding of how the growing population of expatriates from the developing world can be effectively leveraged to promote development in their homelands. Read more...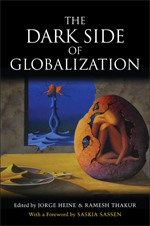 Edited by Jorge Heine and Ramesh Thakur
With a foreword by Saskia Sassen
Seen by some as a desirable and irreversible engine of prosperity and progress, globalization is resisted by others as the soft underbelly of a corporate imperialism that plunders and profiteers in the global marketplace. Globalization has brought many benefits, including the reduction of poverty in several countries. But it also has a dark side: the unleashing of negative forces as a result of the compression of time and space made possible by modern technology. Examples include the transnational flows of terrorism, drug and human trafficking, organized crime, money laundering, and global pandemics. Read more...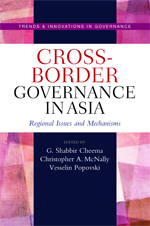 Edited by G. Shabbir Cheema, Christopher A. McNally and Vesselin Popovski
This book discusses regional governance mechanisms and institutional arrangements to respond to emerging cross-border issues and trends in Asia and the Pacific, such as the movement of people including refugees and illegal migrants, regional trade integration for human development, effective and efficient water management, human trafficking, and health focusing on infectious disease surveillance and response. Cross-Border Governance in Asia considers the following questions: What are the key cross-border governance issues in Asia? Read more...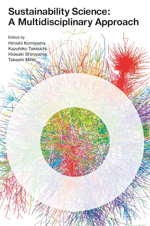 Edited by Hiroshi Komiyama, Kazuhiko Takeuchi, Hideaki Shiroyama and Takashi Mino
Sustainability science is a new academic discipline that has emerged in response to threats to the sustainability of the global environment. The purpose of this discipline is to help build a sustainable society by developing solutions to climate change, the exhaustion of resources, ecological destruction and other environmental crises that threaten the future of humanity. Read more...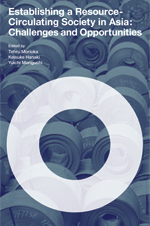 Edited by Tohru Morioka, Ke isuke Hanaki and Yuichi Moriguchi
This book addresses the wide range of issues associated with sustainable resource-circulating societies. It has a particular focus on Asia, where both population growth and economic growth are increasingly prominent in the global context.
The authors examine theories and visions pertinent to resource-circulating societies, as well as relevant practices and initiatives at all levels—national, local and industrial—and through urban–rural linkages. They also propose an integrative approach combining the concepts of a resource-circulating society and a low-carbon society, both of which constitute fundamental components of a sustainable society. Read more...
Policy & Research Briefs
Satoyama–Satoumi Ecosystems and Human Well-Being: Assessing Trends to Rethink a Sustainable Future
By Anantha Kumar Duraiappah, Koji Nakamura, Kazuhiko Takeuchi and Maiko Nishi

This brief suggests that the health of satoyama and satoumi ecosystems is interlinked with human well-being and biological diversity. Recommendations for policymakers based on the study's findings are presented.
About UNU Press
United Nations University Press is the scholarly publishing division of UNU. We publish high-quality academic research and scholarly publications. Our readers include scientists and scholars, policy-makers, UN and other international officials, economic and social leaders, agencies and organizations, and local communities and groups. We publish and distribute print publications and electronic content in English and other major languages to all parts of the world regardless of readers' circumstances.
All UNU Press titles are peer reviewed to ensure their relevance and academic integrity. UNU Press emphasizes research that addresses international policies and the issues facing the United Nations and its people and member states, particularly in the fields of peace and governance, multilateralism, and environmental and sustainable development.
◊◊◊
Page last modified 2019.04.16.
Top