International Order and Justice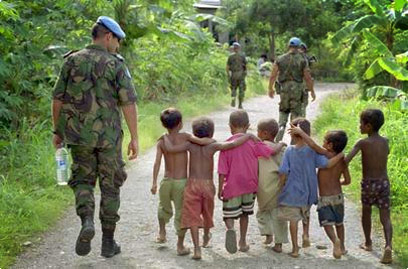 East Timor During the Transition to Independence. UN Photo/Eskinder Debebe.
The locus of power, authority, rights and duties in world politics is becoming more diffuse. The international public policy-making stage is becoming increasingly congested as private and public non-state actors jostle alongside national governments in setting and implementing the agenda of the new millennium.
The multitude of new actors operate below, between and above states, adding depth and texture to the increasingly rich tapestry of international civil society. Driven by this process, as well as driving this process, international organizations are becoming central - although limited and sometime problematic - actors in world politics. The United Nations plays an important role in this process.
The activities of the Peace and Governance Programme in this area analyze and contribute to the UN's roles in meeting some of the most pressing international challenges, in areas such as security, human rights and governance, and address proposals to reform the UN system to enable it to play a more constructive role in the creation and maintenance of international peace and security.
Research projects are a significant component of the UNU's activities - typically involving scholars and practitioners in projects that analyze and raise policy options related to peace and good governance. In addition, the Programme is strengthening its activities in the field of training and capacity-building, working with the UN, other international organizations and NGOs, to integrate analysis and policy.
Recently Completed Projects:
◊◊◊
Page last modified 2019.04.16.
Top