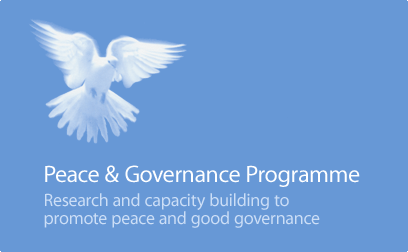 The Peace and Governance Programme is now part of UNU's Institute for Sustainability and Peace.

UNU-ISP was established on 1 January 2009 to exploit the strengths of the former UNU Environment and Sustainable Development and UNU Peace and Governance Programmes, as well as the Capacity Development Unit, in order to more effectively address pressing global problems of human survival, development and welfare. Visit the UNU-ISP website for more information.
Programme Areas
The Peace and Governance Programme contributes to the promotion of sustainable peace and good governance. It organizes and supports research that produces policy-oriented recommendations for current problems, and identifies longer-term trends and patterns in international politics that hold implications for peace, security and governance. It is also fully engaged in UNU's teaching activities.
Civil and ethnic conflicts, inter-state wars, terrorism, poverty, the threat of weapons of mass destruction, the scourge of small arms, the negative impacts of economic globalization, human rights abuses, and the problems experienced by transitional and democratizing societies portray a challenging list of the problems that confront us today.
These issues demand a forward-looking, innovative approach, and one that conceptualizes peace and security in the broadest sense. It is in this spirit that the Peace and Governance Programme formulates and directs its projects at the UNU in collaboration with scholars, institutions and practitioners world-wide.
Research Areas
P&G projects take place in four areas:
Recently Completed Projects:
Recently Completed Projects:
Recently Completed Projects:
Recently Completed Projects:
◊◊◊
Page last modified 2019.04.16.
Top