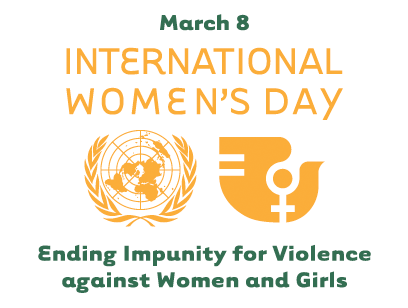 International Women's Day 2007 Public Forum

日本語はこちらへ
Media Release (112 KB PDF)
International Women's Day is commemorated annually by the United Nations on March 8. It is a time to reflect on accomplishments to date in advancing gender equality, and to look ahead to the challenges and opportunities that await future generations.
The theme for International Women's Day 2007, "Ending Impunity for Violence against Women and Girls", highlights the critical need to create and maintain a social and legal environment that does not tolerate violence against women and girls.
Such violence, unfortunately, remains one of the most pervasive of global human rights violations. It occurs in every country and cuts across boundaries of culture, class, education, ethnicity and age. While most societies publicly proscribe violence against women and girls, the reality is that it often is tacitly condoned by cultural practices and norms. And when habitual abuse or violence takes place within the home, it may be accepted or ignored by friends, neighbours and society in spite of the incalculable consequences.
Ending impunity for all forms of violence against women and girls — physical, sexual and psychological — is one of the most important challenges facing the world today.
To celebrate International Women's Day 2007, UN-related organizations in Japan are collaborating to organize a symposium on 8 March at UN House in Tokyo on the theme of "Ending Impunity for Violence against Women and Girls". We welcome you to attend this IWD 2007 Forum to hear from experts and reflect on ways to eliminate violence and discrimination against women.
Programme
MC: Junko Kubo, former NHK announcer
13:30
Registration
14:00

Opening

Video Message from Ban Ki-moon, UN Secretary-General
Welcome note from Ramesh Thakur, UNU Senior Vice Rector
Greeting by Mayumi Moriyama, Member of the House of Representatives

14:15

Keynote Speeches and Q&A

Sheila Sisulu, Deputy Executive Director (Policy and External Affairs Department), WFP
Mariko Bando, Vice President, Showa Women's University, Former Director-General of the Cabinet Office's Gender Equality Bureau

15:20
Break
15:30

Video introduction of UNIFEM and UNFPA

Panel discussion and Q&A

Momoyo Ise, Member of the Governing Board, UN Association of Japan
Andrew Horvat, Visiting Professor, Faculty of Economics, Visiting Scholar, International Center for the Study of Historical Reconciliation, Tokyo Keizai University
Douglas Lummis, Political Scientist
Ronni Alexander, Professor of Transnational Relations, Kobe University Graduate School of International Cooperation Studies
Ai Awaji, Staff Writer, Foreign News Desk, Jiji Press

Moderated by
Shun-ichi Murata, Director, UNDP Japan

17:00

Reception

All participants are invited to stay for coffee at the 2nd floor of UN House
Simultaneous English-Japanese interpretation will be provided.
国際女性の日2007 公開フォーラム
女性と女児は、女性と女児であるという事だけで、社会的に弱い立場に立たざるを得ない状況に遭遇することがままあります。こうした中で、女性と女児は、必要なケアや保護を受けるどころか、しばしば偏見や暴力の対象となっています。こうした不平等や差別は、長く歴史の中の真実であったにもかかわらず、国連や各国政府をはじめとするグローバル社会が、現状を認識し、女性と女児の権利を最優先課題として、このような不公正に終止符を打とうと立ち上がったのは、つい最近のことです。
3月8日の国際女性の日(IWD)には、毎年、世界中で記念イベントが開催されています。女性たちが、平等、安全や開発、組織への参加のための努力により、どこまで可能性を広げてきたかを確認すると同時に、今後のさらなる前進に向けて話し合う場となっています。
2007年3月8日(木)、国連機関は「国際女性の日」を記念して、UNハウス(渋谷区)においてシンポジウムを共同開催します。今年のテーマは、「女性と女児への暴力に終止符を」。当日は、専門家による講演やディスカッションを通じて、ジェンダーに伴う暴力や偏見をなくすことについて考えます。皆さまのご参加をお待ちしています。
プログラム
司会:久保純子 フリー・アナウンサー
13:30
受付
14:00

ご挨拶

国連事務総長 潘基文からのビデオメッセージ
国連大学上級副学長 ラメシュ・タクール ご挨拶
森山眞弓 衆議院議員 ご挨拶

14:15

基調講演および質疑応答

シーラ・シスル、WFP 国連世界食糧計画 事務局次長 (政策・機関間調整担当)
坂東眞理子, 昭和女子大学副学長、元内閣府男女共同参画局局長

15:20
休憩
15:30

活動紹介ビデオ: UNIFEM(国連女性開発基金)、UNFPA(国連人口基金)

パネル・ディスカッションおよび質疑応答

伊勢桃代、日本国連協会理事
アンドリュー・ホルバート、東京経済大学 客員教授、国際歴史和解研究所 客員研究員
ダグラス・ルミス、政治学者
ロニー・アレキサンダー、神戸大学大学院国際協力研究科教授
淡路愛、時事通信社 外信部 記者

モデレーター
村田俊一、国連開発計画(UNDP)駐日代表

17:00

レセプション (2階レセプションホール)

会場の皆さま全員に、ご参加いただけます。
英・日の同時通訳がつきます。
◊◊◊

Top