UNU Postgraduate Programme
Applications Invited for UNU-ISP 2011 M.Sc. Programme
The UNU Institute for Sustainability and Peace is now accepting applications for its Master of Science in Sustainability, Development, and Peace programme, which starts in September 2011 in Tokyo. For more information, please visit the UNU-ISP Master's Degree programme website.
News
Solving the E-waste Problem
StEP 2010 General Assembly Held in London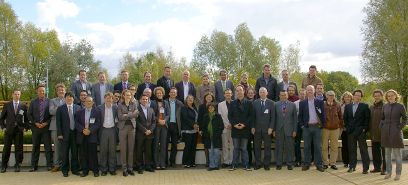 Participants at the StEP General Assembly in London. Photo: Charuek Hengrasmee
2010.11.24 • The 2010 General Assembly of the Solving the E-waste Problem (StEP) Initiative (a public-private sector initiative coordinated by UNU) was recently held in London. During this annual session, attended by more than 45 StEP members, two new members (from Australia and Nigeria) were voted in and a Memorandum of Understanding between StEP and the Global e-Sustainability Sustainability Initiative (GeSI) was accepted. The General Assembly also elected a new Steering Committee for the 2011/2012 term.
StEP is organized into five Task Forces (TF) – TF Policy, TF ReUse, TF ReCycle, TF ReDesign and TF Capacity Building – that conduct and facilitate global, regional and local research projects aimed at developing feasible, just and environmentally safe solutions for the e-waste problem.
For more information about the 2010 StEP General Assembly, please see http://isp.unu.edu/news/2010/StEP_general_assembly.html
Japan Iceland Geothermal Forum
Exploring the Potential of Geothermal Energy

Össur Skarphéðinsson, Iceland's Minister of Foreign Affairs and External Trade, delivers a keynote address at the Japan Iceland Geothermal Forum 2010 at UNU Headquarters in Tokyo. Photo: Sean Wood
2010.11.19 • On 16 November 2010, UNU Headquarters in Tokyo hosted the "Japan Iceland Geothermal Forum 2010". The event was co-organized by UNU, the Embassy of Iceland in Tokyo, the Japan Energy Association, the Icelandic Chamber of Commerce in Japan, and the Thermal and Nuclear Power Engineering Society.
This forum was intended, as Icelandic Ambassador to Tokyo Stefán Lárus Stefánsson noted, to balance both technical and financial considerations of the great potential for geothermal energy, particularly as a key element in the global strategy to reduce greenhouse gas emissions.
APABIS Annual Conference
Sustainable Decision-Making in a Time of Crisis: Public and Private Perspectives
2010.11.16 • UNU-ISP hosted the annual Asia Pacific Academy of Business in Society (APABIS) conference at UNU Headquarters in Tokyo on 4–5 November. In the week before the 2010 APEC Meetings in Yokohama, leading experts from academia, the private sector and the public sector assessed the current global financial and environmental crises, and explored new ways of governing and doing business.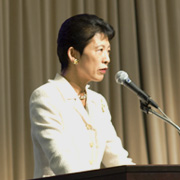 Her Imperial Highness Princess Takamado delivers the keynote speech. Photo: Stephan Schmidt/UNU
In a keynote speech, Her Imperial Highness Princess Takamado eloquently highlighted the urgency of the global climate change crisis.
The first plenary session examined the challenges and opportunities of the current global crises, with speakers emphasizing the need for responsible leadership to balance short- and long-term concerns. Harish Manwani of Unilever proposed reversing a common adage by encouraging us to "think local, act global". Participants then engaged in separate sessions on themes including governance, CSR, natural resources, climate change and sustainability.
UN University News
UNU plans new "twin institute" in Germany, Mozambique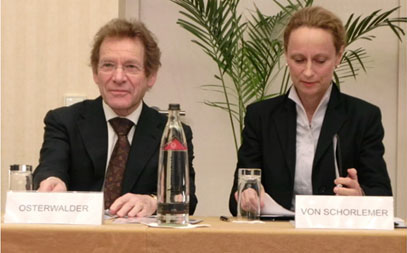 UNU Rector Konrad Osterwalder and Saxon State Minister for Science and the Arts Sabine von Schorlemer at the UNU-FLORES Scoping Workshop. Photo: UNU
2010.11.12 • On 11 and 12 November, UNU is organizing a workshop to solidify the scope and mission of the envisaged new UNU Institute for Integrated Management of Material Fluxes and Resources (UNU-FLORES). The focus of the new institute will be on sustainable management of resources, such as water, soil and waste.
UNU-FLORES, in line with the UNU "twin institutes" concept, will have two locations: one in Dresden (Germany) and one in Maputo (Mozambique).
Message of the Satoyama Governors' Summit
"Towards sustainable use of satoyama/satoumi landscapes and regional revitalization"
Read the full message presented at the Satoyama Governors' Summit on 20 October.
UNGA President Speaks at UNU
Reaffirming the UN's Role in Global Governance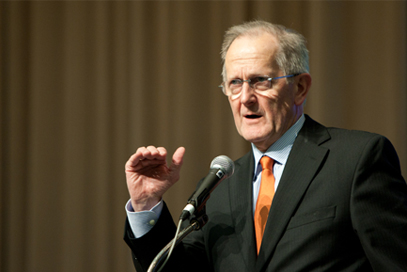 Dr. Joseph Deiss. President of the UN General Assembly, delivers a lecture at UNU Headquarters. Photo: Sean Wood/UNU
2010.11.03 • Dr. Joseph Deiss of Switzerland, President of the sixty-fifth session of the United Nations General Assembly, delivered a lecture entitled "Reaffirming the Central Role of the United Nations in Global Governance" at UNU Headquarters in Tokyo on Friday, 29 October 2010. Dr. Deiss opened his presentation by stressing that the world is at a critical juncture with regard to global governance for three reasons.
First, we are witnessing an increasing degree of global interconnectedness as well as a rise in both new and old borderless challenges, such as climate change, cybercrime and financial crises. Following the principle of subsidiarity, the global nature of these issues requires appropriate global responses. Second, the recent financial crisis illustrates a wider shift in political power towards emerging markets. Third, systems of global governance are becoming increasingly complex, encompassing civil society, multilateral institutions and informal intergovernmental frameworks (such as the G8 and G20).
◊◊◊
Page last modified 2019.04.16.
Top