This is the old United Nations University website. Visit the new site at http://unu.edu
---
| | |
| --- | --- |
| | |
| | February 1998 |
Learning about sustainable development from artists
---
"TTo see nature up close - through a potter's clay, a weaver's silk or the ironworker's fire - is to understand and appreciate both its potential and its limits," said UNU Rector Hans van Ginkel during his keynote speech at the international symposium titled "Traditional Industrial Arts and the Environment: Exploring Opportunities for Local Promotion." The symposium was held from 6 to 7 November in Kanazawa, Japan, and was organized by the UNU's Institute of Advanced Studies (UNU/IAS) and the Ishikawa International Cooperation Research Centre (IICRC). Its purpose was to explore how traditional industrial arts can be promoted as an ecologically friendly way of balancing cultural and economic development.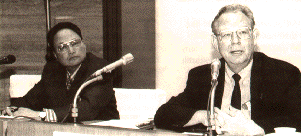 From left: Dr. Ratna S.J.B. Rana, Director, Ishikawa International Cooperation
Centre, and Rector Hans van Ginkel
UNU/IAS and the IICRC are partners in a recently launched venture that promotes research in science and technology, with a focus on eco-restructuring - the dramatic changes in daily consumer behaviour needed to bring about sustainable development. Those attending the symposium were shown how the host city of Kanazawa has developed a thriving, ecologically friendly craft industry out of the area's many talented artisans.
Rector van Ginkel suggested that because craftspeople work closely with the earth's natural resources they provide an ideal example of how technology can be harmonized with the environment.
"We need to look for technological, social and cultural solutions that are in harmony with nature and development," he told the audience, adding "in short, we are looking for technologies that serve to gentle the human condition, not brutalize it."
One of the most important outcomes of the symposium was the adoption of "the Kanazawa Appeal on Traditional Industrial Crafts and the Environment." This appeal should help stimulate more research on environmentally friendly industrial arts.