Motoyuki Suzuki
Vice-Rector
Environment and Sustainable Development Programme
1998 - 2003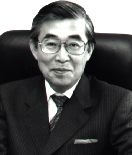 Motoyuki Suzuki is an environmental engineering specialist. He was appointed by UNU Rector Hans van Ginkel to the position of Vice-Rector, commencing on 1 April 1998 until his retirement in March 2003. He was a member of the UNU's senior academic staff and worked as part of the University's Environment Programme. Prof. Suzuki was born in Japan on 7 February 1941. He was educated at the University of Tokyo. After obtaining a Ph.D. in chemical engineering, he went to the University of California, Davis, as a Post Doctoral Fellow.

In 1968, he joined the University of Tokyo as an Assistant Professor in the department of chemical engineering. He then worked his way up to Lecturer, Associate Professor and Professor. He also served intermittently as Chairman of the University's Graduate School of Chemical Engineering. In 1995, he became the Director-General of the Institute of Industrial Science (IIS) at the University of Tokyo. IIS is the largest university-affiliated research institute in Japan, consisting of approximately 100 professors and numerous laboratories. During his term in office, the Institute improved its budgetary status and increased its academic activities. Prof. Suzuki encouraged international cooperative research links and instigated 14 such agreements with overseas universities, including a contract between IIS and the UNU's Institute of Advanced Studies (UNU/IAS). He also worked hard at improving the Institute's relations with private research centres and the business community.

Prof. Suzuki is actively involved in eco-restructuring initiatives. He is Principal Researcher on the project "Achievement of Zero-Emission Oriented Material Cycle Systems." This project involves 70 researchers and is funded by the Japanese Ministry of Education. And prior to becoming a Vice-Rector at the UNU, he was an Adjunct Professor at UNU/IAS where he advised the Institute's Director on zero-emission programme issues and assisted young scholars with their research.

Prof. Suzuki is the author of 10 environmental engineering books and has published more than 300 papers in scientific journals. He has received numerous awards for his work, such as the Scientific Achievement Award from the Japan Society of Water Environment, the Distinguished Research Award from the Society of Chemical Engineers in Japan, and the Doctoris Honoris Causa from Hungary's Veszprem University.

Prof. Suzuki is an active member of several professional associations. He is the President of the International Adsorption Society and President of the Japan Society on Water Environment. He also belongs to the American Institute of Chemical Engineers, the International Association of Water Quality, the Japan Absorption Society and the Society of Environmental Science.

His wife's name is Keiko. They have two children, Hiroyuki and Junko.
HOME