Hideo Sato
(in memoriam)
Senior Adviser to the Rector
1998 - 2001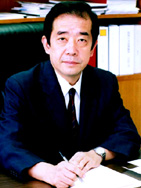 Hideo Sato (1942-2001) was an international relations specialist.

Prof. Sato was born in Japan on 25 August 1942. He spent the early part of his career in the United States. After graduating with a social science degree from Japan's International Christian University, he went to the University of Chicago as a Fulbright Scholar and subsequently received his Ph.D. in political science. He then worked for four years (1972-76) as part of the foreign policy research staff at the Washington-based Brookings Institution. And from 1976 to 1982, he taught political science at Yale University.

He returned to Japan in 1982 and joined the University of Tsukuba, where he gained a substantial amount of programme-building experience. He first served as Dean at the College of International Relations and afterward became Director of the Office of Academic Planning. In 1992, he helped found the Graduate School of International Political Economy and was appointed as its first Dean. He succeeded in setting up the World Bank Graduate Scholarship Programme at the School in 1994 and has since served as Chair. The programme teaches government officials from Third World countries about international development. Most recently, Prof. Sato was Director of the Special Research Project on the New International System, a multinational project involving 50 scholars.

Prof. Sato has actively participated in major academic associations. He was President of the 2,000-member Japan Association of International Relations (1996-98). He was Vice-President of the North American-based International Studies Association or ISA (1996-97) and is currently a Member of the Scientific Council of Japan. He has been actively involved in advisory activities for Japanese governmental and private organizations.

Prof. Sato took a keen interest in the United Nations from a young age. In the 1960s he was the Honorary Vice-Chair of the World Federalist Youth, which had observer status in the UN General Assembly. In 1964, he traveled around the world with a group of atomic bomb survivors from Hiroshima and Nagasaki, meeting many world leaders and former UN Secretary-General U Thant. And from 1996 to 1998, he was working with UNHCR officials on a unique undergraduate course at the University of Tsukuba called "The Refugee Problem and International Relations."

Professor Sato was appointed by UNU Rector Hans van Ginkel to the position of Senior Adviser to the RectorApril 1998. He was a member of the University's senior academic staff responsible for the Capacity Building Programme.

Prof. Sato has authored or edited thirteen books on U.S.-Japan relations, foreign policy and international relations, and published about a hundred book chapters and articles in Japanese and international academic journals, including International Studies Quarterly, International Journal of Public Administration, International Spectator, Current History, Journal of Northeast Asian Studies, The Pacific Review, The Korean Journal of International Studies, and Japan Review of International Affairs.

His wife's name is Akiko. They had a son named Hideaki.

HOME