Abraham Besrat
(in memoriam)
Vice-Rector
(1995 - 1999)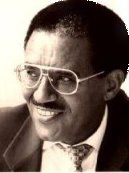 Abraham Besrat (1938-2002) was a nutrition and biochemistry specialist.

Professor Besrat was born in Ethiopia on 1 October 1938. After receiving his Ph.D. in biochemistry from the University of Minnesota, he returned to Ethiopia and joined Haile Selassie I University, which later became Addis Ababa University. He had many responsibilities during his time there. First, he was head of the Department of Arts and Sciences. Next, he was promoted to Associate Vice-President for Research and Publications. And then he became Dean of the College of Agriculture.

In 1975, he became the Provincial Programme Officer for Ethiopia's National Campaign for Development. This position entailed setting up and administrating a feeding and rehabilitation shelter for famine victims, under the direction of the Ethiopian Relief and Rehabilitation Commission. In 1978, he was appointed to be the founding Dean of the School of Graduate Studies at Addis Ababa University. While there he put together 23 new graduate studies programmes, some of which led to master's degrees and some to medical specialty certificates.

Professor Besrat went back to the US in 1981 under a UNU fellowship as a visiting scientist in the Department of Nutrition and Food Science at the Massachusetts Institute of Technology, where he worked on a UNU/UNICEF-supported research programme on primary health care. Following this, he worked for two years as a consultant advising FAO on nutritional considerations in their agriculture and rural development projects.

Professor Besrat joined the UNU in 1986 as a Training and Fellowship Officer. He served as the focal point for all of the University's training and fellowship activities and was involved with raising funds to support them. In 1989, he was promoted to Senior Academic Officer and took on added responsibility for providing technical backstopping from the UNU Centre for the Food and Nutrition Programme, the Programme for Biotechnology in Latin America and the Caribbean, the Microprocessors and Informatics Programme and later for the International Leadership Academy.

In 1995, he became Principal Academic Officer. This position gave him greater management-oriented duties, such as participating as part of the University's Executive Committee, helping to direct the Academic Division and developing new programmes. In 1997, he was appointed to the position of Acting Vice-Rector for seven months before becoming Vice-Rector in 1998. He was a member of the UNU's senior academic staff and was responsible for overseeing the University's postgraduate education programme.

Professor Besrat was married to Tsehai Gebre Selassie. They had two children, Hiruy and Naomi.

HOME