2006
UNU Global Seminar Series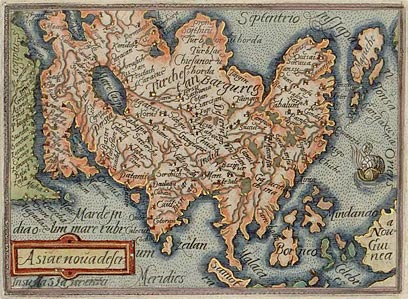 From Theatri Orbis Terrarum Enchiridion, text by Hugo Favolius with hand-coloured engravings by Phillipe Galle. Antwerp, 1585.
The UNU Global Seminars are held annually in Japan and abroad in an effort to increase awareness and enhance understanding of contemporary global issues and the role of the United Nations. This aim is achieved through close interaction of students and young professionals with scholars and experts working in the UNU's global networks.
The Hawaii Session will not held this year.
Jeju Session
Promoting Cultural Diversity in a Globalized World
Date: 18-22 July
Location: Jeju, Republic of Korea
Contact: gskorea@hq.unu.edu
Top

Shimane/Yamaguchi Session
Terrorism - A Global Challenge
Date: 5-8 August
Location: University of Shimane, Shimane Prefecture, Japan
Contact: shimane-yamaguchi06@hq.unu.edu
Programme (2.8 MB PDF, EN/JP)
Lectures
Public Keynote Lectures
International terrorism and the United Nations
Prof. Ramesh THAKUR, Senior Vice-Rector, United Nations University
Clash of civilizations or failure of politics?
Prof. SAKAI Keiko, Professor, Graduate School of Area and Culture Studies, Tokyo University of Foreign Studies
Session I: What is terrorism?
Terrorism in the 21st century
Prof. MIYASAKA Naofumi, Associate Professor, Dept. of International Relations, National Defense Academy in Japan
Religion, religious extremism, terrorism
Prof. IKEUCHI Satoshi, Associate Professor, International Research Center for Japanese Studies
Session II: Countering terrorism
National and regional approaches to terrorism: Lessons from Southeast Asia
Prof. TAKEDA Isami, Professor, Faculty of Foreign Languages, Dokkyo University
Mass media, terrorism and counterterrorism
Prof. Brigitte NACOS, Adjunct Professor, Dept. of Political Science, Columbia University
Session III: Outlook
Fight against terror and human rights - From the perspective of human security
Prof. MUSHAKOJI Kinhide, Professor and Director, Centre for Asia-Pacific Partnership, Osaka University of Economics and Law
Longer-term approaches to terror prevention with reference to social factors such as societal changes and the role of civil society
Ms. Nasra HASSAN, Director, United Nations Information Service in Vienna and Spokesperson for the UN Office on Drugs and Crime
Group Presentations
Top

Hokkaido Session
Economic Development in Northeast Asia and its contribution to the World: Economic Integration and Globalization
Date: 26-29 August
Location: Otaru University of Commerce, Hokkaido Prefecture, Japan
Contact: gshokkaido@hq.unu.edu
Programme (813 KB PDF, EN/JP)
Top

Shonan Session
Sustainable Peacebuilding and Development: A New Global Agenda
Date: 4-8 September
Location: Shonan Village Center, Kanagawa Prefecture, Japan
Contact: shonan2006@hq.unu.edu
Top

Kobe/Awaji Session
Global Order Adrift and Challenges in Peacebuilding
Date: 5-8 September
Contact: gskobe@hq.unu.edu, kic02@kicc.jp
Public Keynote Lecture 1
Public Keynote Lecture 2
Session 1: Consolidating Peace and Governance
Session 2: Towards Reconciliation and Coexistence
Group Presentations
Top

Tohoku Session
Crisis and Risk Management across the Globe
Date: 10-13 September
Location: Hirosaki University, Aomori Prefecture, Japan
Contact: gstohoku@hq.unu.edu
Registration is now closed for this seminar
Top

Kanazawa Session
Global Environment and Human Society: The Role of the UN, Government, and Civil Society
Date: 23-26 November
Location: Ishikawa Prefecture, Japan
Contact: iicrc-info@iicrc.jp
Website (in Japanese)
Media Release (56 KB PDF)
Programme (1 MB PDF)
Lectures
Public Keynote Lectures
Ecosystems and human well-being: findings of the millennium ecosystem assessment
Prof. A.H. Zakri, Director, United Nations University Institute of Advanced Studies
Satoyama problems in Japan: current state and response strategies, with special reference to biodiversity conservation in Ishikawa Prefecture
Prof. Koji Nakamura, Professor, Institute of Nature and Environmental Technology and Faculty of Science, Kanazawa University
Session 1: Global Environmental Change and Governance
1. Global change, ecosystem services and human well-being
Dr. Habiba Gitay, Visiting Fellow, Australian National University
2. The role of science in environmental policy making
Mr. W. Bradnee Chambers, Senior Programme Officer, United Nations University Institute of Advanced Studies
Session 2:Nature Conversation: The Roles of Local Communities
3. Economic development and natural cost in Mongolian Steppe
Prof. Yuki Konagaya, Professor, Center of Research Development, National Museum of Ethnology
4. Charcoal maker and forest regeneration
Prof. Satoko Yoshimura, Assistant Professor, History Division of Research Department, National Museum of Japanese History
Session 3: The Role of Governments and Corporations
5. Desirable policy and measures in line with millennium ecosystem assessment recommendations
Prof. Hiroji Isozaki, Professor, Faculty of Law, Meiji-gakuin University
6. Clean energy for future transportation
Mr. Yuichiro Shimura, Senior Consultant, Energy Policy and Technology Research Division, Mitsubishi Research Institute, Inc.
Group Presentations
Top

Okinawa Session
Globalization: What can we do to establish a peaceful coexistence?
Date: 16-19 December
Location: Okinawa Prefecture, Japan
Contact: okinawa2006@hq.unu.edu
Programme (716 KB PDF)
Media Release (47 KB PDF)
Lectures
Public Keynote Lectures
1. What is Globalization?
Prof. Toshio Iyotani, Graduate School/Faculty of Social Sciences, Hitotsubashi University
2. The Decent Work Agenda and Globalization in Asia
Ms. Lin Lean Lim, Deputy Regional Director, ILO Regional Office for Asia and the Pacific
Session 1: International Migration
3. International Labour Migration
Prof. Nana Oishi, Division of Social Sciences, International Christian University
4. Global Human Capital Development
Mr. Masaaki Nishizawa, General Manager, HR Strategy & Training, Nissan Motor Co., Ltd.
Session 2: Cross-border Movement and Conflict
5. International Transfer of Care Labour
Prof. Ruri Ito, Institute for Gender Studies, Ochanomizu University
6. Transborder as Essence of Religion and Commerce
Prof. Teiko Mishima, Department of Social Research, National Museum of Ethnology (MINPAKU)
7. Seeking the Way to Establish a Convivial Relationship between Japanese and Foreigners
Mr. Mohammad Anwer, Former Chiarperson, The Kawasaki City Representative Assembly for Foreign Residents
8. Emigrants' Expanded Network
Dr. Robert T. Nakasone, Founder, WUB (Worldwide Uchinanchu Business Association) International
Group Presentations
◊◊◊
Page last modified 2019.04.16.
Top