About This Site
Welcome to unu.edu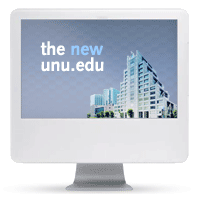 13 years on the web
Herein, some information on the design, development, and production of UNU's website.
Code
XHTML
Unu.edu is coded to the XHTML 1.0 Strict doctype and we intend all pages to validate according to World Wide Web Consortium standards.
The pages are UTF-8 encoded to increase their adaptability to other languages. (The new page templates are initially being applied across the English pages with Japanese soon to follow as we fine tune the new design. We hope to publish in additional languages in the future.)
Style Sheets
We've tried to separate the content of pages from the presentation of that content using cascading style sheets (CSS2). Here, too, we try to take a standards-compliant approach (the main style sheet should validate) but because of the way Internet Explorer handles some CSS instructions and font sizing, IE conditional code been used to pass that browser some different values.
Maintaining this separation of content and presentation makes pages faster to download and display, and easier to produce and publish.

Top
Layout & Typography
The style sheets also determine the layout of the pages, and with this new version of unu.edu we're trying to apply just a single page template across the entire site. The design of the template (which we hope you find quiet, comfortable, and practical) is intended to provide a framework in which the content is clear, legible, and accessible.
A single page template risks becoming a little predictable, perhaps, but we hope what we have to say will animate it in worthwhile ways. It's very easy to maintain, which is important, and spares the reader any surprises regarding where thing are on a page. Simple is hard to do, but it beats overwrought and confusing.


Just four of a variety of templates in use throughout the previous version of the site
The site has had a wide selection of designs applied to its pages over the years, and we hope to recognise the economies, consistencies, and comforts inherent in a more standardized approach.

Top
Production
There was a time when a site's design would be lovingly prepared, often down to the pixel, in something like Photoshop and then passed to desperate coders who would try to recreate it for various browsers, inevitably with mixed results. Another of the wonders of CSS is that it allows us to embrace those mixed results by keeping them completely cosmetic, and leaving the ultimate display of content up to the individual browser and its reader's particular preferences. It also allows the design of sites right in the browser just by editing a text file.
It takes just the simplest environment of computer plus text editor to publish a site. Unu.edu is being designed and produced with BBEdit on Apple Macintosh computers.

Top
Link Policy, Terms, &c.
Linking to unu.edu
UNU welcomes and encourages links to any page of the site and absolutely no permission is required to do so. Links, after all, "have become the currency of the web" (J. Walker, Hypertext 2002, PDF). If you do link to us, thank you, and by all means let us know, but we cannot promise return links. We do not participate in link exchange programmes of any kind.
Just as we might not necessarily endorse all links to us, outbound links should likewise not be read as endorsements.
Terms
Unu.edu strives to be an accurate and up-to-date representation of the University's work and activities, but the site is provided as-is, for informational purposes only and no warranties are expressed or implied nor liability assumed for the usage of anything contained herein.
Privacy
UNU values the privacy of its readers and will not rent, sell, or make available to third parties their e-mail addresses or any personal information we may gather for the purpose of subscriptions, event registrations, or any other reason.
Subscription to a particular service or event will not subscribe you to additional services or events.
We gather standard server log information on network activity to the site such as approximate number of visitors, number of page views, geographic dispersal and so on which we try to use to make the site better and more useful to visitors.
Copyright
At the moment, unu.edu is copyright by the United Nations University. We are investigating the adoption of some sort of free and non-restrictive licence and look forward to making an announcement in the near future.

Top
Special Thanks
UNU wishes to acknowledge a debt of gratitude to friends, colleagues, and contributors around the world whose insight, advice, and support help to constantly improve the site.
We especially wish to thank those on whose work and spirit of generosity we have so liberally drawn.
The style sheet code for the main navigation was adapted from cssplay's CSS flyout menu. Nicholl's elegant solution allows the presentation of site architecture simply and quickly, displaying as a fully-functional, semantically correct set of nested lists when style sheets are off or unavailable.
Foster's X cross-browser JavaScript library provides code that allows us to keep sub-navigation lists in view when scrolling through long pages, such as our Events page.
◊◊◊

Top