Dialogue, Capacity Building, Innovation
Priority Africa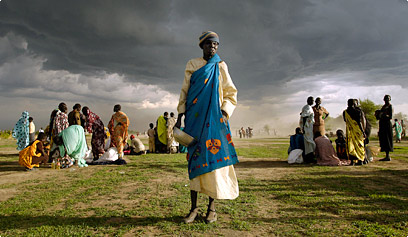 Agok, Sudan—An elderly woman, internally displaced from her home in Abyei by heavy fighting between the Sudan Armed Forces and the Sudan Peoples Liberation Army, gets ready to receive her ration of emergency food aid. UN Photo/Tim McKulka
New activities and an archive of public events & lectures recently added.
The United Nations University plays a strategic role in Africa as a facilitator of dialogue, a capacity builder, a provider of postgraduate training, and a promoter of innovation.
Through its activities in and on Africa, the UNU seeks to contribute to the integrated objectives of the New Partnership for Africa's Development (NEPAD) as well as to the achievement of the Millennium Development Goals on the African continent. Also of relevance to these efforts are the TICAD process, to which the UNU contributes, and the Africa Day Series which aims to inform not just the TICAD and G8 processes but a broader general understanding of the problems and immense potential of the continent through a focus on specific topics of relevance.
"Priority Africa" provides a portal to the scope and variety of the UNU's Africa-focused work, including research, policy studies and capacity development initiatives, as well as dissemination initiatives.
UNU Activities in and on Africa

UNU activities in and on Africa aim to foster knowledge creation with a strong emphasis on home-grown and participatory "made-to-fit" solutions linked to UNU's continuing efforts to promote endogenous capacity development.
UNU Activities in and on Africa
UNU & TICAD

Over the past decade, UNU has contributed to the TICAD process through its research and capacity development activities. For TICAD IV, UNU presents five official side events on topics of relevance to African development as well as other related public events.
Africa Day Series

The Africa Day Series provides a forum for frank discussion and open enquiry among heads of state, academics, ambassadors, and ministerial and development experts, creating a strong platform for innovative thinking on African development.
Voices of African Development

The Voices of African Development is a series of videos featuring African development experts. The experts, including a Nobel Peace Prize laureate, policy makers, academics and researchers, share their views and analysis on issues of relevance to the development African continent.
Resources

An extensive list of books, policy briefs, journals, reports, peer-reviewed articles, working papers and other resources haved been collected into the list below:
UNU Africa-related Publications (320 KB PDF)
Additionally, the UNU Library has compiled an even more comprehensive bibliography on Africa of 379 titles published from 1979 to the present.
See also:
"Africa" in the UN Bibliographical Information System
Spot photos (top to bottom): Djibouti—A health worker discussing food and nutrition with a young mother while on a home visit. Panos/Giacomo Pirozzi; Yokohama—Nobel Laureate Wangari Maathai is interviewed by the UNU video team at TICAD IV. UNU/Jeremy Hedley; Sudan—SLA Combatants Attend Meeting of Head of UNMIS. UN/Fred Noy; Sudan—UNMIS Assists in Training of Sudanese Police Officers. UN/Tim McKulka.
◊◊◊
Page last modified 2019.04.16.
Top