---
President Karzai speaks on "State Building in Afghanistan"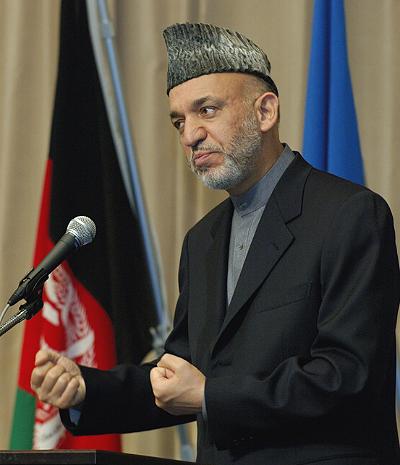 President Karzai makes a point during his speech at UNU Centre.
Afghanistan will need international aid for at least another decade but its people are making solid progress in their efforts to rebuild and once again stand on their own feet, the country's President, Hamid Karzai, told an audience at UNU Centre in Tokyo July 7.
Delivering a lecture entitled "State Building in Afghanistan: Past Progress, Current Opportunities, and Future Challenges", President Karzai said that in order to understand the Afghanistan of today, it is essential to comprehend the defining events of the past three decades. Afghanistan was actively developing its infrastructure and expanding its economy in the 1970s, but the Soviet invasion of 1979 disrupted those efforts. Some five million Afghanis fled, primarily to Pakistan and Iran.
The Soviet radicalism of the left was countered by a growing religious radicalism so that when the Soviets were finally driven out, the vacuum was filled by the Taliban and Al Quaida.

The events of September 11, 2001 alerted the rest of the world to the plight of the Afghan people, President Karzai said. Soon, with outside support, the Afghan people drove out the Taliban and paved the way for a new democratic state. Buoyed by the Bonn Conference and the emergency Loya Jorga, Afghanistan has now held two successful elections (for president and a parliament), and some 4.5 million refugees (including many of the educated elite) have returned.

The rebuilding process has begun, and the economy has improved with per capita income nearly doubling in the past four years. Nevertheless, President Karzai observed, Afghanistan remains among the world's poorest countries and ranks near the bottom in both literacy and child health.
Moreover, many people still must live with violence, since the Taliban, including many foreign recruits, are still terrorizing the populace and destroying schools and other infrastructure, particularly in the south of the country.

Looking to the future, President Karzai noted that Afghanistan is steadily rebuilding its police force and army to provide increased security. The nation is democratic and women are again taking a role in politics and society. The annual growth rate of the economy since 2002 has exceeded 20 per cent, and the government's foreign reserves have grown dramatically.

VIEW VIDEO
FRONT PAGE