---

To be Conducted in Four to Six Weeks Following the Training Exercises

---
Exploring the context of women's health
The domain of women's illnesses
Exploring women's health-seeking behaviors
---

Unit 9. Key Informant Interviewing: Examining the Context of Women's Thinking/Decisions about their Health
Purpose
To explore factors that influence how women define and seek treatment for their illnesses.
Data Collection
1. Develop a Guide for Interviews on the Context of Women's Thinking and Decision-Making about their Health.

A sample guide follows (Form 9.1). It should be modified for use in the research and incorporated into Form T1.1 (located in Appendix A- 1).

2. Translate Questions into the Appropriate Local Language. By now, most of the appropriate local terms for many concepts/illnesses should be well documented.

3. Select Informants. At least five women key informants should be interviewed as part of this exercise. You may wish to select women representing different subgroups in the village, such as high and low socioeconomic status, high and low education, different caste and ethnic groups, etc. In any case, your selection of informants should be representative of major sub-segments of the local community.

The field guide contains many questions which should be probed into deeply to obtain complete responses.

It may be necessary to conduct this interview over two or more sessions.
Data Analysis
1. Expand field notes collected during the interviews.

2. Code expanded field notes using the new coding system.

3. Draw a diagram of different factors influencing women's decisions about their health (see example below). Draw thicker arrows to represent more commonly mentioned relationships. Which factors are more important?
Interpretation Suggestions
1. How do economic factors influence the decision to seek treatment? Do women have access to cash? Are women's health problems a priority when cash is limited?

2. How do the household characteristics relate to the issues of status discussed in previous units? How might this affect decision making? What role do men play in treatment decisions? Does this differ by the type of problem (e.g., related to reproduction or not)? Who controls women's mobility? Does this differ by the age and status of women within the household?

3. Are resources distributed differently among different types of households? (e.g., poorer or wealthier households, joint or nuclear households)
DATA COLLECTION FORM 9.1
Sample Interview Guide: Examining the Context of Women's Thinking and Decision-Making about their Health
1. Community Organization (General)

"What organizations exist in your community, and what are some of the functions they perform?'!

"Who handles any problems with crime, with services such as water, electricity, schooling of children, agriculture extension, health services?"

Probe about clubs, religious, service, and occupational organizations.

"Who are the important people in your community? Are any of them appointed by district governments or other government levels?"

Is the person important because s/he is wealthy? Does s/he have important relatives? Is s/he considered wise or knowledgeable? Is s/he an elected or appointed local, regional, or national official?

2. Economic Characteristics of the Community

"Could you tell me about your daily routine? Start with the time you wake up until the time you go to sleep.

"What are all the activities you do?" (Probe to get a complete list).

"What are the major activities of men?"

"What are the most important activities of men?"

"What do men spend most of their time doing?"

"What would happen if there were no men to do those things in a household?"

"Would women do those things?"

"What are the major activities of women?"

"What are the most important things that women do?"

"What would happen if there were 710 women to do those activities in a household?"

"Would men do them?"

"What decisions can a woman in this village make about money that she earns?" "What does she spend this money on?"

'What would people think/do if she spent it 011 something else?"

3. Domestic/Household Organization

"Who are the people (relatives and non-relatives) who live in the household with you?"

"Who are the relatives who live near-by?"

"What interactions do they have with your hearth?"

"What are resources shared by family members or with close relations in nearby house holds (cash, food, house, land, plows, draft animals, labor, child care)?"

4. Communication

"In general, to whom do women talk about their health?" (Probe for details)

"If they have a specific woman's problem, to whom are women likely to go for advice?"

"When a decision needs to be made about their health involving money, to whom do women talk?"

"How do these things happen in your house?"

"To whom do you talk first, second, later when you have a health problem?"
FIGURE 2. Sample Diagram of Factors Influencing Women's Decisions about their Health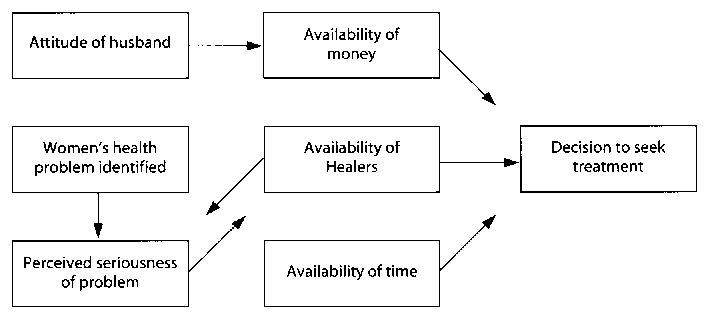 Unit 10. Key Informant Interviewing: Narratives of Women's Past Illness Episodes
Purpose
A good way to begin an interview is to ask for a full description of a past illness episode. Asking for such a narrative orients the person being interviewed to the subject matter of the interview and provides a frame of reference for later questions. It gives the researcher an opportunity to ask questions that demonstrate an interest in the experience and knowledge of the informant or respondent. This is one important way to establish rapport or a feeling of positive communication between interviewer and respondent.
While individual narratives may vary in content, each usually provides data on recognition of specific signs, symptoms, and related matters, on the selection of home management practices, care-seeking behaviors, as well as constraints to care-seeking. They illustrate what informants consider significant. It is important to make detailed notes of the narratives, tape recording them if possible. Because narratives recall events that may have occurred at varying times in the past, they cannot be regarded as completely accurate accounts of actual behaviors.
Data Collection
This research activity is relatively informal and open-ended. Unlike a structured survey, the interviewer does not ask the respondent questions in a fixed sequence with identical wording. Rather, the interview procedure is open-ended and the sequence of questions follows from the informant's initial narrative. The interviewer works from a list of topics that guide the interview, but these questions are not followed in a rigid manner.
1. Select Informants: Based on previous interviews with local health practitioners and other female informants, you probably already are aware of women in the community who have had specific illnesses. These women are a good place to start to search for women who have illness narratives to relate. Select at least three women for each main illness category.

2. Suggested Wording

a. The Initial Question

"As I explained, I'm trying to understand more about the illnesses of women here in (community). Have you had personal experience with a woman's illness?" If the informant or respondent answers affirmatively, ask her/him to tell you about it, beginning with who it was and when it happened. If she has no personal experience with women's illnesses proceed with other parts of the interview.

b. Topics to Cover in the Recall of an Illness Narrative

During the course of the narrative, the woman will include information about many of the topics listed below. The interviewer, however, will almost always need to ask further questions to get the full picture on all of these topics. When the respondent has finished her story, begin asking about the topics she has not discussed, asking for more details, as necessary, for those she has covered. For example, in connection with topic 1, ask if there were any other signs and symptoms, in addition to the ones she has already mentioned. The narrative recording form (Form 10.1) will assist in this probing.
Topic List
1. Signs, symptoms, and illness name (what the respondent thought she had).

2. Home care practices prior to seeking care. Obtain information on specific foods proscribed or prescribed for the illness.

3. Name and location of the first health care facility visited during the episode.

4. Duration of signs and symptoms prior to seeking care; signs and symptoms that triggered seeking of care from provider.

5. Who made decision to see provider? Who went?

6. Were any special financial arrangements necessary (e.g., borrowing money)? Were there any other constraints to care-seeking?

7. Was there a sequence of providers? Did family go to another provider? Why?

8. Were there any changes in signs and symptoms (improvement or worsening) after first treatment?

9. What treatment(s) were given by providers? (Also note any use of home remedies taken concurrently with the medications acquired from providers).

10. What was the level of satisfaction with care?

11. What changes occurred in the intake of food or drink by the sick person during the illness?

3. Recording the Interview

The interviewer can use Form 10.1 and 10.2 to record the narrative as she listens to the respondent and probes for more details. This is not an interview form. Questions should not he posed directly to the respondent. Rather, as the interviewer listens and takes notes, she can record the information in the relevant section. She can then use the form to go back and elicit further details on the items that have not been spontaneously mentioned. The interviewer must become thoroughly familiar with the recording form so that she can easily find the right place to write a piece of information.

The level of detail with which the woman can respond depends, in part, on how recently! the episode occurred. its severity, and duration. In some communities, the respondents will not object to having the narrative tape recorded. It may be useful to try this method out, to determine if the respondents are relaxed and offer no objections. Whether or not a tape is used, the form should also be used.
Data Analysis
Microcomputer Application (optional)

These data can be indexed and referenced using the ZylNDEX or DtSearch programs (Appendix C3).

1. Sort the Narratives by Illness Categories - Illness categories are the terms women use to identify the illnesses. As discussed above, "illness terms" may also be key symptoms since some symptoms are also illness categories. You might also want to sort the illnesses by some non-physical attributes of the illness, such as, "occurs in winter," "cannot go to temple with it," etc.

2. Write an Illness Summary. For each case of a particular illness write a summary that shows the signs, symptoms, causes, home treatments, and type of help sought, case by case (Form 10.3).

3. Tabulate the Results of the Case Summaries (on Form 10.4). This provides a general (preliminary) picture of the explanatory model for each illness, with some indication of the variation. Later, the results of the narrative tabulations can be compared with the sorting tasks, and adjustments and additions can be made.

4. Do additional Tabulations as you Require. Additional analyses should be carried out to summarize the other information from the narratives. This can be done by creating lists for "financial arrangements," "constraints to care," "who makes decisions," and so on. The topics from the "prompting guide" above provide guidelines for these lists, but the researchers may want to create additional ones based on main themes that emerge from the narratives, which reflect the specific cultural situation.

5. Construct a Flow Diagram of Treatment-Seeking Behavior (Form 10.5).

a. Sort Form 10.2 by illness category/type.

b. Write the name of the illness on the left side of a blank piece of paper.

c. Take the first informant's narrative of what she did on each day of the illness (Form 10.2). To the right of the illness term, write the name of the first treatment (or home remedy), connected with an arrow. Put a tick mark above the arrow to indicate that this pathway was used by one person (so far). Keep making arrows to indicate different stages in treatment-seeking behavior by the woman. A possible example follows.

Example Flow Diagram for the Illness Term Tiktok, Respondent A only

tiktok (r) HOME REMEDY (r) HERBALIST (r) GOT BETTER

d. Continue to draw this picture adding in the other women's narrative illness experiences. Each time a particular treatment-seeking pathway is utilized, place another tick mark over that arrow. The picture will get complicated, especially if you have many informants, with multiple overlapping lines. You will need to redraw the picture to get a clean copy. Here is an example of a finished diagram.
Example Flow Diagram for the Illness Term
Tiktok
10 respondents


| | | | | | | |
| --- | --- | --- | --- | --- | --- | --- |
| Tiktok | 8 | Home Remedy | 3 | Herbalist | 4 | Got Better |
| | | 5 | | 2 3 | | 8 |
| | 2 | Doctor | 7 | Health Clinic | | |
Interpretation Suggestions
1. How important is your organization's health clinic in the local people's treatment- seeking model for illness x? Do people avoid the clinic? How soon (or how late) in the illness do people come to your clinic?

2. What are the different decisions that women make regarding treatment of their illness? For example, when to seek treatment outside the home? Which provider do they select initially? When do they change providers?

3. What are the different criteria for each of the decisions? How do these relate to the characteristics of providers mentioned in the paired comparison unit (#7)?
DATA COLLECTION FORM 10.1
Illness Narrative Recording Form (sample)
| | | |
| --- | --- | --- |
| Interviewer: | Date: | |
| Name/lD No: | Age: | Marital Status: |
| Location: | No. of Children: | Years of Education: |
| Ethnic Background: | Occupation: | |
When episode occurred: 2 weeks ago
______________________________________________________________________
Main signs/symptoms: white discharge, backache
______________________________________________________________________
Illness name: safed paani
______________________________________________________________________
Perceived cause(s):

eating cold and sour foods

______________________________________________________________________
Triggering symptoms (or length of time that symptoms persist) for care-seeking:

after 1 week of white discharge

______________________________________________________________________
Home use of drugs before care-seeking (and who in the home suggested or prepared)
Remedies:

stopped eating cold and sour foods

Drugs:

none

______________________________________________________________________
Who made decision and who went to provider:

husband decided she should seek care

______________________________________________________________________
Financial arrangements and other constraints to care:

husband borrowed money from his brother

______________________________________________________________________
Appetite, fluid, and food intake during episode:

less appetite; Stopped eating cold and sour foods such as rice, yogurt, leafy vegetables
DATA COLLECTION FORM 10.2
Day-to-Day Illness Narrative Recording Form (sample)
Illness Term: Tiktok
Record sequence of symptoms and care, by day, in the calendar below:


Day of Illness Episode


Signs/symptoms


Home remedies used (give order)


Treatment sought


1


weakness


tea with ginger


none


2


weakness


nothing


none


3


weakness and fever


tea with ginger


medicine from a chemist


4


weakness and fever


nothing


gave medicine from chemist


5


fever stil there, bedridden


hot compresses


health clinic


6


felt better


nothing


none


7









8









9








DATA ANALYSIS FORM 10.3
Case Summary Form for an Illness Category (sample)
Illness Name: Safed Paani

| | | | |
| --- | --- | --- | --- |
| Signs and Symptoms: | Cause(s): | Home Treatment: | Practitioner: |
| white discharge | too much hot food | 1. eat cold food | 1. herbalist |
| fever | | 2. | 2. |
| backache | | 3. | 3. |
| weakness | | 4. | 4. |
| | | 5. | 5. |
| | | | |
| --- | --- | --- | --- |
| Signs and Symptoms: | Cause(s): | Home Treatment: | Practitioner: |
| white discharge | don't know | 1. none | 1. none |
| | | 2. | 2. |
| | | 3. | 3. |
| | | 4. | 4. |
| | | 5. | 5. |
| | | | |
| --- | --- | --- | --- |
| Signs and Symptoms: | Cause(s): | Home Treatment: | Practitioner: |
| white discharge | too much hot food | 1. rise with water | 1. village health worker |
| fever | | 2. eat cold foods | 2. |
| weakness | | 3. | 3. |
| | | 4. | 4. |
| | | 5. | 5. |
DATA ANALYSIS FORM 10.4
Illness Summary Sheet (sample)
Illness Name: Safed paani
| | | |
| --- | --- | --- |
| Signs and Symptoms: | Number | Comments: |
| white discharge | 9 | |
| fever | 5 | |
| stomachache | 4 | |
| backache | 2 | |
| Causes: | | Comments: |
| being in the hot sun | 7 | |
| too much hot food | 6 | |
| witchcraft | 1 | |
| don't know | 1 | |
| Home treatment : | | Comments: |
| rise with curds | 4 | |
| none | 4 | |
| eat cold foods | 3 | |
| herbal tea | 1 | |
| Practitioner: | | Comments: |
| village health worker | 6 | |
| herbalist | 5 | |
| doctor | 3 | |
| none | 3 | |
Unit 11. [Advanced] Direct Observation: Women's Daily Activities
---