International Order and Justice
World Religions and Norms of War
From UNU Press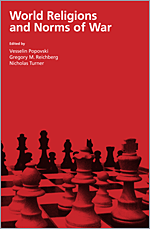 World Religions and Norms of War
A unique journey through the evolution within the major world religions of attitudes and teachings related to the ethics of war. Edited by Vesselin Popovski, Gregory M. Reichberg and Nicholas Turner.
Are the world's leading religious traditions united or disunited both in their assessment of what constitutes a justified resort to armed force as well as right conduct in wartime? Most, if not all, religious and ethical traditions include teachings on the ethics of the use of force as well as the methods and instruments of warfare.
This project, will study some of the leading religious traditions—Christianity, Islam, Buddhism, Judaism, Hinduism—based on the norms which guide the use of force, with respect both to the justification to engage in warfare and the just means of war. These terms are construed broadly to include wars between and within nations as well as between states and non-state entities. In some extreme cases, attempts at manipulation and distortion, driven by narrow political purposes, have led to dangerous encouragement of illegal methods of warfare.
Research will focus on how each tradition contributed to the development of the general prohibition of the use of force in the UN Charter, the prohibition of certain targets and weapons of war in the Hague/Geneva Conventions, the development of universal jurisdiction for international crimes, and the jurisdiction of international tribunals, resulting with the adoption of the Rome Statute for the ICC.
◊◊◊
Page last modified 2019.04.16.
Top