This is the old United Nations University website. Visit the new site at http://unu.edu
---
| | |
| --- | --- |
| | |
| | November 1997 |
Winners announced in 13th Eisaku Sato Memorial Prize Essay Contest
---
Eriko Matsuda, a 23-year-old student at Japan's Chuo University, is this year's winner of the Eisaku Sato Memorial Prize Essay Contest. Ms. Matsuda won the \500,000 (US$4,000) grand prize for her ideas on how the United Nations can best conduct research.
Atsushi Tago and Hidenobu Minejima, also students, were tied for second place. Yukimi So, Hachitaro Ikeda and Ramon A. Ray received Honourable Mention. A total of 40 essays were received from around the world.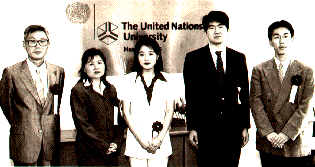 At the prize award ceremony held at the United nations University
Headquarters on 15 July 1997, from left: Mr. Hachitaro Ikeda, Ms.
Yukimi So, Ms. Eriko Matsuda, Mr. Hidenobu Minejima, Mr. Atsushi Tago.
Entries are now being accepted for the 14th Essay Contest. There are two topics to choose from this year:
Describe what Japan's international role should be for the 21st century, emphasizing what it should do in forming a "New World Order" and in reforming the United Nations (especially the Security Council).
Discuss what should be done at the G-7 Economic Summit to achieve world peace and advance human welfare. Support your ideas with innovative and concrete suggestions.
The contest is open to everyone, and essays are accepted in either English or Japanese. English essays should be typed on A4 size paper, be between 3,000 and 6,000 words, and have an accompanying 450-word or less abstract. Japanese essays should be between 8,000 and 16,000 characters and have an accompanying 1,200-character or less abstract. All entries must have a cover sheet listing the contestant's name, affiliation, age, gender, nationality, address, and telephone and fax numbers.